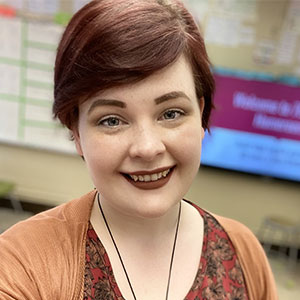 USF College of Education alumna leads her classroom through the COVID-19 pandemic while keeping students engaged and entertained.
With her USF degree in Elementary Education backing her, Abby Kieffer '17 has gone on to a job she loves: a middle school math and English teacher at St. Dominic School in Bolingbrook, Illinois. While she loves working in class with students, she has needed to adapt her teaching style and coursework as schools across Illinois moved classes online due to the COVID-19 pandemic. However, this strong Saint was up for the task.
"It has definitely been a challenge to adapt to teaching online. However, I have a wonderful principal and coworkers that have made the transition smooth. Our students are fantastic, and we all know that this is a learning experience for everyone," she said
Though the transition was difficult, it confirmed in Abby how important in-class teaching is for a lot of students and how much she misses being there in-person for their daily growth.
"I miss seeing my students every day, and not being able to see them has made it tough. We have found ways around it with weekly class meetings and I co-run our Quiz Bowl Club (which is like a Scholastic Bowl) with our associate pastor. We started to use Kahoot to do this over Google Meet and the students love it," Abby noted.
Passionate about education, Abby is working toward a master's degree in Curriculum and Instruction with a focus in Differentiation at the American College of Education.
"I will be finished with my classes this August and I am so excited! It is so awesome to further myself in this way and continue to learn and grow," she said.
We are so proud of her!