Many couples have met and married at the University of St. Francis and their stories are fantastic! Please read on for the love stories of some of our alumni and happy reading…
Submit your own Saints Sweethearts story here!
Matthew '10 and Michelle '10 Bisek
We met the first day of freshman year in the Duns Scotus honors program. We hung out frequently as we shared many of the same friends. We started dating midway through our sophomore year. As two poor college students, dating on campus was great because there were so many Student Activities Board events to enjoy together. We also lived on campus for two summers, and USF really felt like it was our home away from home. Soon after we graduated we were married. Currently, we live out on the Oregon coast, where we have met quite a few people who have heard of our small University. It's great to tell people about USF and the many fond memories we shared from our undergraduate experience. In August we had our first child, a sweet little girl named Evelyn. Maybe we should have named her Francis instead. (Submitted 2016)
Nick '15 and Miranda (Mayer '15) Bond
Nick and I met our freshman year at USF. Honestly, I don't remember much about meeting him except for thinking, "Wow, what a cool last name!" Throughout our first three years at USF, we did not see too much of one another, however, we always thought highly of the other, and would have a pleasant chat now and again if we happened to be going in the same direction. Senior year, Nick and I were in class together, and as a part of that, class we did some volunteer work, and had the opportunity to spend more time talking. We landed on the subject of soccer, which Nick had played in high school, and I had been to a soccer game when I studied abroad in Italy. He asked if I had ever been to a USF soccer game, which I had not, and that led to us attending one. Soon afterwards, he asked me on our first date, and a few weeks later we began dating. During the next semester, I had an internship in Independence, MO. When I completed my internship, Nick flew down so he could drive back with me, but before we left, we went on a picnic. He read me poem he had written and asked me to marry him! Exactly a year later, I became Mrs. Bond. We currently live in Lisle, IL and have a beautiful 9-month-old daughter! I'm so thankful that God brought us to USF and allowed us to find each other at the perfect time!
Sam Nantz '11 and Tony Burbatt
Tony and I met during our Writing Across The Media class in 2009; it was the first semester as Mass Communication students for both of us. We had several classes together but did not really make a connection past classmates until our senior year. Tony became the station manager for WCSF and I took a summer course of Applied Public Relations for Radio so we spent a lot more time just one on one. We have now been dating for three and a half years and became engaged on New Years Eve at midnight. We just snapped a few engagement photos at St. Francis for our upcoming wedding. We are both very grateful for USF and connecting us to each other. (Submitted 2016)
Robert '12 and Jennifer (Festin '12) Butcher
On June 20, 2015, alums Robert P. Butcher and Jennifer M. Festin were married in St. Joseph's Chapel at the University of St. Francis. It was only fitting that the 2013 graduates marry on the same campus where they met, dated and got engaged. The ceremony was officiated by Father Michael G. Foley. Photos were taken of family, friends and the bridal party on the outdoor staircase, near the fountain and Grotto area. A beautiful reception took place at Tuscany Falls in Mokena. The couple honeymooned in North Carolina (Go Duke!) and Mexico. Mr. & Mrs. Butcher currently reside in Joliet. (Submitted 2016)
Brandon '14 & Maggie (Bessette '13) Collofello
Maggie and Brandon met as Peer Ministers during their time at USF and became friends. They both admired each other's love for God and passion for life. It wasn't until after Maggie graduated that they ran into each other at Mass at St. Ray's, and Brandon asked Maggie out. Maggie happened to live close to the university and Brandon was still a Peer Minister on campus, so they would spend lots of time walking to see each other either at USF or in the Cathedral Area. The two fell in love and were married at the St. Joseph Chapel on June 26, 2015. Brandon and Maggie are now happily living in Chicago and love spending time with each other exploring the city. (Submitted 2017)
Darren '17 & Jacelyn (Daniels '17) Desmarais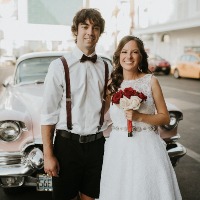 Darren and I met the summer before our senior year. We recognized each other from Chrysalis, a camp that all of us education majors had to participate in, that happened a year prior. On August 22, 2016, the first day of our senior year classes at USF, we officially began dating. Darren had changed his major to math while I continued to work toward my degree in special education. During our senior year, we always made time to meet up between classes to eat lunch together in the library basement lounge or at the Bistro in the Motherhouse. On May 6, 2017, we shared a big milestone together: our graduation from the University of St. Francis. Another milestone came on Valentine's Day of 2018, when Darren proposed to me. That same year, on September 22, 2018, we got married in Las Vegas. A few months later, on December 28, we bought our first home together and then, in February of 2019 we found out our family was expanding beyond myself, Darren, and our puppy Axl: we were pregnant with our baby girl. Cecilia Jayne was born on October 25, 2019, at 2:22 a.m. She was 5 pounds, 15 ounces, and 18 inches long. At almost three months now, CC is able to fit into the University of St. Francis onesie I bought her while I was pregnant. If it weren't for USF, I would have never met my soulmate and built this incredible life that we live. Thank you, USF! (Submitted 2020)
Anthony '14 & Amanda (Janovsky '10) Dore
Anthony and I met on the very first day of freshman orientation at USF in August 2006. We were with a group of people playing Catch Phrase in the Abbey of Marian Hall. He was seeing somebody else at the time, but we instantly connected and became friends. Anthony and I started dating right after our freshman year of school and quickly fell in love. After dating for three years, Anthony proposed by the fountain in the Quad on the last day of our senior year. Anthony and I got married in July of 2012 and we were able to take our wedding photos in the Quad, the same place where our romance began and where we got engaged. Anthony and I welcomed a handsome baby boy in December 2015 and we live in Joliet with our dog, Lizzy. USF will always hold a special place in our heart with so many wonderful memories. (Submitted 2017)
Scott '98 and Karen (Humann '98) Dvorak
Scott and I met in Schola Cantorum on campus. We had mutual friends as well, but we really didn't start talking until the end of the first year of school. We started dating the summer of 1995 and continued through graduation. About a year later, he proposed to me where it all began, at USF! Scott and I started our careers and then married in 2002 at Annunciation Church in Aurora. In 2004, we added to our family that now includes 8 children: James, Marie, Christopher, Thomas, Elizabeth, Emily, Grace and Katelyn. Life can be loud and chaotic, but it is faith-filled, fun and full of love. We pray God continues the tradition of a parochial education in our family. Perhaps there will be more Dvorak USF alumni! (Submitted 2018)
Stephen Hertzog '15 and Christiana Grabavoy '11
As I attended undergrad for elementary education I became good friends with a girl named Meghan Hertzog who often talked about her brother, Steve.
On July 30, 2010 I met Steve at a house party I attended with Meghan. We officially started dating when he surprised me by attending my undergraduate graduation for elementary education on May 7, 2011. We were engaged at the Morton Arboretum in the fall of 2013. I returned to USF to pursue my graduate degree in Reading while Steve pursued his degree in Health Care Administration. We were married on July 30, 2016, at the Cathedral of St. Raymond in Joliet and took our pictures with our wedding party in the quad at USF. We had our reception at the Bolingbrook Golf Club and honeymooned for two weeks in Hawaii. We now reside in Plainfield and enjoy every minute of married life, including our precious rescue tabby kitten! We feel very blessed to have attended the University of St. Francis. (Submitted 2016)
 Carl '80 and Debbie (Janik '80) Hunckler
My husband Carl and I have been together for 39 years and married for 35 as of August 8, 2016. We met freshman year and dated all through college. We are still close to many people we met at CSF. Members of the classes of 1977 thru 1981 were very close while we all attended USF and still meet and keep in contact. Several of us met our significant others at the College of St. Francis (CSF), married and are still together. My college friends are the absolute best friends I will ever have in my lifetime. No matter how many months or years go by without seeing each other, the bonds we made are still strong. These are solid people who were influenced by the teachers and coaches who gave of themselves to mold us during our time there and beyond. My husband and I and many of our friends will always owe CSF so much for making us the people we are and we are forever grateful! (Submitted 2016)
Ian '08 & Jennifer (Hogan '09) Jones
We met in 2007 in a finance class. Ian had transferred from another college to play basketball at USF. Both of us were finance majors but hadn't had a class together until this time. We began to talk during classes, doing homework together and getting to know each other. We started dating May 15, 2007 and were married May 15, 2010. USF will always hold a lot of good memories for us. (Submitted 2017)
Steve '09 & Candice (Sullivan '06) Kehr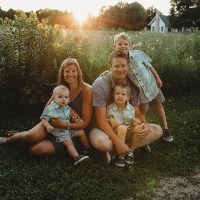 Candice and Steve met in the Fall of 2005. When Steve introduced himself to Candice, she thought he was the son of Chicago Bulls Steve Kerr. That conversation sparked the start of their friendship and they started dating about a month after that. Candice cheered on USF Spiritline and Steve would come watch her cheer, while Steve played baseball and Candice would go to all his home games and travel to most away ones. In the Fall of 2009 for their 5 year anniversary, Steve proposed to Candice while she was coaching cheerleading at Benet Academy during a timeout at a football game. They married in July 2010 and have built an amazing life together. Steve is a carpenter for Lakes and Rivers Contracting, while Candice stays at home during the day to raise their 3 boys (Cameron, Kiptyn and Brayden) and coaches competitive cheerleading in the evenings at Andrew High School. (Submitted 2020)
Ben '07 and Aubrey (Durish '04, '07) Knight
Ben and I met as students at USF, but we were both in other relationships at that time. We reconnected after graduation when he sold me my computer at Best Buy. We started dating in 2009 and instantly fell in love. We got married in 2012 and now have two beautiful children – Asher (2012) & Mila (2013) and three cats! We are looking forward to spending the rest of our lives together and all the amazing adventures along the way. (Submitted 2016)
Justin '15 and Renee (Shibley '16) Krolik
Justin and I met in December 2012. We kept bumping into each other through mutual friends and exchanged numbers before leaving for winter break. After talking nonstop over break, he asked me out the night we arrived back for the spring semester. Our first date was to Homecut Donuts in Joliet. Justin and I dated throughout college and after graduation, he moved to Washington, DC for a while. A few months after he returned, Justin proposed at midnight on New Year's 2018. We were married by Fr. Terry Deffenbaugh in the chapel at St. Francis on October 26, 2018. USF has always been our home and where our lives together began, so it was only fitting to be married in a place that held such a special spot in our hearts.
Dave '82 and Sandy (Fowler '83) Lang
  Dave and Sandy will be married 30 years this coming November. Dave said, "We are grateful to have met each other as well as so many lifelong friends we made while attending the then CSF. The years have certainly gone by, but the friendships remain strong." (Submitted 2018)
Kevin '07 & Christine (McGloin '07) Leonard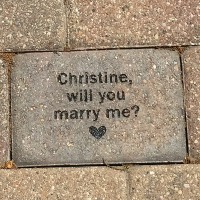 Christine and I both attended St. Francis at the same time, we went to the same events and would pass each other often on the way to class, but we never met. Well, not officially.
As undergrads, we were both at different points in our lives. The timing just wasn't right. The years past and we both went down very similar but separate paths. As luck would have it, we ended connecting on a dating website. When we first agreed to meet, one of the things that put our minds at ease was that we both were USF alum. Somehow, we reasoned that being former Saints meant there was a lesser chance of either one of us being as ax murder.
We bonded over similar interests, experiences, and our time at Saint Francis. Throughout our conversations, we realized we had seen each other before around campus. She remembered a boy who used to smile at her when she walked into the library. I remembered a girl with gorgeous green eyes that'd I see near the bookstore.
When I proposed, USF played a role too. Under the pretense of a reunion event, we ended up walking through the Quad. As we talked about how much has changed, I pointed out a brick with the big question engraved on it and got down on one knee. She said, "Yes."
We now live down the road from campus in New Lenox, raising our two kids. The second we welcomed in August. (Submitted 2020)
Zhi "Kris" '15 and Jessica (Kiely '17) Liu
A mutual friend introduced Juan and Jordan to each other while the two were taking a mass communications course at USF. Jordan says, "After the first time we met, the rest was history. Juan planned a scavenger hunt throughout the city when he proposed. We were married on September 23, 2016, and in 2017 bought our first home together." (Submitted 2018)
Jhoni '07 and Kristi (Trezek '08) Lopez
I first saw Jhoni at the very start of the USF soccer season in 2004. He was running the mile with the men's team while the women's team was also prepping for the season. I thought to myself, "Wow…I'm going to get to know that guy!" Sure enough, at a co-ed soccer gathering we were introduced and hit it off! We dated throughout all our years at the University of St. Francis. After we had both graduated, we continued to grow our relationship, became engaged, then married (in the beautiful chapel at St. Francis). We started our beautiful family in 2014, and are currently living back in Joliet! (Submitted 2018)
James '77 & Christine (Wuller '79) Myers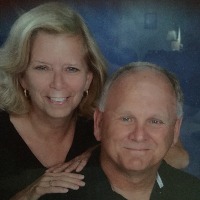 We met at the College of St. Francis at the start of the 1976-77 school year. Jim was a senior taking an Intro to Social Work class and Chris was a freshman taking that first class in her major. They started dating in 1977 and were married in 1980. Jim and Chris have twin daughters and one son, and are blessed with four grandchildren too. They reside in Dwight, IL where Jim farms and Chris is a social worker. Their years at CSF were filled with many fun times and memories and they have remained in contact with many friends from those college days. (Submitted 2020)
Brandon '16 & Katherine (Nork '17) Newberry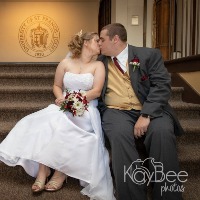 I met Brandon in Professor Terre Rosner's Intro to Communication class when I was a sophomore and Brandon was a junior. It wasn't until later in the semester that we became friends. After having a few classes together (and trying to set Brandon up with a friend of mine), we started dating! We got married in 2018 and took some of our wedding photos at St. Francis where it all began! (Submitted 2020)
John '15 & Donna (Aslakson '16) Niendorf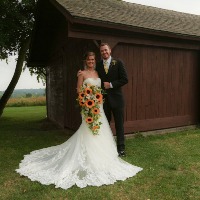 My husband and I met at the University of St. Francis in August of 2012. As teammates on the Cross Country/Track teams we saw the best and the worst of each other (running has a way of breaking you down). We were quick friends, constantly laughing and talking for hours about nothing in the cafeteria or the library. Our closest friends will swear to this day that they knew we would end up together, but our relationship did not begin until after John graduated in 2015. Since then we have endured a year of long distance, new jobs, wedding planning, and the trials and tribulations of home ownership. We have savored tropical vacations and toured some of the most beautiful sights in Europe. We still love to run and we are extremely proud of our expansive gardens. We were married at a barn filled with home grown sunflowers in Michigan by our teammate and peer minister Billy Klebenow, with countless USF alumni in attendance. Needless to say, the opening prayer at our wedding was the Prayer of St. Francis. We are best friends, we are husband and wife, we are Saints! (Submitted 2020)
Clayton '09 & Laura (Gosewisch '08) Norberg
Clayton and I met in Physics class when he was a sophomore and I was a junior. We were both biology majors and athletes, so our paths had to cross sometime. We were both seeing other people at the time, but we became friends pretty quickly. A year of friendship passed, and we both found ourselves single. We started dating in spring of 2008. Haven't looked back since! We were engaged in October 2010, married in March 2012 at the Cathedral of Saint Raymond near USF, and moved to Iowa shortly after, where Clayton is a college football coach. We have two daughters, Grace and Mary-Kate. [We're] thankful every day we both chose USF for our education because it brought us together and gave us the start to our happily-ever-after! (Submitted 2017)
Jason '08 and Melissa (Versetto '08) Novak
I scanned the classroom in search of a familiar face. Quickly, I recognized a friend and sat down next to him. He was the only person in the classroom of twenty or so students that I knew. The class was Church History. Two weeks into the semester, my friend dropped the class, and I scooted over into his seat to sit next to Jason Novak. Jason was taking the class as one of his theology requirements. I was taking it because I was a theology major. During the semester, we began talking. I took notes and doodled in Jason's notebook while he slept through class. Jason ended up getting "A" in the class, while I got a "B!" We were friends for a year, dated for two years, and we've been married for four years! Jason still has the notebook from that class. (Submitted 2016)
Tony '07 and Jamie (Redman '08, '12) O'Gean
Tony played baseball and I played softball for the University of St. Francis. The sparks flew, and from the first kiss, we knew it was love. After dating for five years we were married in 2011. We have two dogs, Walter and Payton, and are expecting our first child this month! (Submitted 2016)
Corbin '14 & Jessica Orr
Corbin and Jess met during the spring of Corbin's sophomore year and Jessica's freshman year at a meeting for a mission trip. Unfortunately, the mission trip was later cancelled, so they did not encounter each other again until the following fall at the back to school barbecue. The two became quick friends and began spending lots of time together, although it seemed they would never be more than friends. Corbin graduated in the spring of 2014, and returned home to Indiana. That summer, he reached out to Jess and rekindled their friendship. They quickly began dating, and were engaged in 2015. They were married at their home in 2016, and welcomed their first child, a daughter named Hartley, in the fall of 2018.
Michael '06 and Kerri (Watt '07) O'Shea
Our story began when we were introduced through mutual friends in fall 2004. We became good friends and quickly realized how much we had in common. It was only natural for our relationship to grow from there because it had felt as though we had known each other for much longer. We started dating in March 2005 just before Michael began his 3rd season patrolling the the outfield for the saints baseball team and I starting my first season pitching for the saints softball team. There are so many amazing memories we hold onto that we associate with St. Francis. My favorites… We would always go on walks around campus and I think we would walk around the entire campus at least 5 times. We would always go and work on hitting in the racquetball quarts at night in the Rec center. Little did we know, those memories were the start to many more. Michael graduated in spring 2006, and I graduated in spring 2007. We were engaged in October 2007 and married December 20, 2008. We just celebrated seven years of marriage this past December. We are proud to say we have accomplished amazing things in the past 7 years: We both completed our Master's Degree and have successful careers. Michael is the Athletic & Outdoor Facility Manager for the Downers Grove Park District, and I am the Women's Athletic Coordinator & Head Softball Coach at Joliet Junior College. The true blessing in our story is our family. We have two beautiful boys: Grady, age 5, and Finnegan, age 3. We have brought the boys back to campus to show them where we attended college. St. Francis will forever hold a place in our hearts. It was more than playing college sports and obtaining our degree. It was the start to all our greatest adventures… and for that we are eternally grateful. (Submitted 2016)
Steve '79 & Ann (Reedy '80) Randich
Steve and I met in a night class during his last semester at St. Francis. I was from a small town in central Illinois and Steve was a commuter from Joliet. One week, a group of students in the class planned to go to a local bar the following week to watch the World Series. It ended up on the planned evening, Steve and I were the only ones who ended up going out. We seemed to hit it off that night and started to see each other thereafter. I graduated the following May and never imagined that I would make Joliet my permanent home! We still remain involved with St. Francis almost four decades later. We both have fond memories of our time at St. Francis and the many friendships we made while students. Thanks, St. Francis! (Submitted 2017)
Juan '12 and Jordan (Halata '13) Santoliva
A mutual friend introduced Juan and Jordan to each other while the two were taking a mass communications course at USF. Jordan says, "After the first time we met, the rest was history. Juan planned a scavenger hunt throughout the city when he proposed. We were married on September 23, 2016, and in 2017 bought our first home together." (Submitted 2018)
Nathan '10 and Ashley (Kekelik '10) Schoell
Nathan and I met in 2006 as we started our freshman year on the men's and women's soccer teams. Between playing soccer and both of us majoring in Mass Communication, we spent a great deal of time together. We spent our summers visiting each other on the weekends and doing everything we could to make a long distance relationship work. I lived in Indiana at the time and Nathan was from Shorewood. After we graduated in 2010, we spent some time in Indiana and eventually ended up back in the Joliet area. We were married in August 2012 and welcomed a beautiful baby girl in September 2014. (Submitted 2016)
Tom '11 and Liz (Eldridge '11) Serruto
Liz competed on the USF golf team, and Tom played baseball for St. Francis. After dating for a few years at USF, Liz and Tom tied the knot on February 16, 2013.
Along with their dog, Otto, they bought a house in Winfield. In 2017, their family expanded with the addition of their son Will – possibly a future Saints baseball player! (Submitted 2018)
John "JC" '11 and Stacy (Heap '10) Schoop
I truly believe that everything happens for a reason. A small town boy from Sebring, Florida, and a small town farm girl from Minooka, chose the University of St. Francis on athletic scholarships to play football and softball. We remember having our first class together, Core 3, to be exact. We were the best of friends at the beginning and little did we know that years later we'd be married. We both had the best experience at St. Francis, in the classroom with some of the best professors and on the field playing the sport we loved. We thank God every day for our decision to go to the University of St. Francis. After dating for 6 years we just married this past June 2015 in our college town, Joliet, at the Jacob Henry Mansion Estate. Majority of our friends in our wedding party were friends that we met while attending the University of St. Francis. Therefore, our wedding pictures were taken at St. Francis. Today, we reside in Florida and proudly share our story of where we met. The song we danced to at our wedding was "The Keeper of the Stars" by Tracy Byrd. "It was no accident me finding you, someone had a hand in it long before we ever knew." We will forever have a special place in our heart for the University of St. Francis! Thank you for bringing two hearts, across the country, together. (Submitted 2016)
Kevin and Mary (Kroeger '03) Sepulveda
Kevin and I met my freshman year through a mutual friend. We hit it off right away. As we spent the evening hanging out at a party at the softball house, we came to discover that his mother had been witness to a car accident I was in a week earlier and had come over to help me. During that post-wreck conversation, I told her I went to USF & she told me her son was a sophomore basketball player at USF and she asked me if I knew him. The school year had just started so I told her that I didn't since I was just a freshman and didn't know many people yet. She told the story to Kevin that day and as luck would have it one week later we met! From the day we met we were pretty much inseparable. We shared a major so we did what we could to take all the same classes. Plus he was a basketball player and I was on Spirit Line so I was always at the basketball games cheering him on. We have so many special memories from our time at St. Francis and we now love to come back to campus and tell our kids stories of our time in college where it all started! (Submitted 2016)
Edward '93 & Christina (Stern '94, '01, '05) Soldan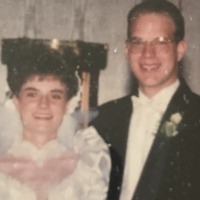 It was fall break and Christina went to visit Edward in Washington, D.C. He was interning for Mr. Sangmeister. Each day I received an envelope to tour the White House and other monuments. Edward proposed at the Washington memorial early morning after a boat ride on the Potamic and Georgetown basketball game. (Submitted 2020).
Jakub '11, '14 and Megha (Patel '14, '18) Szymanski
We first met at USF through the organization fair representing UVA and the International Club in September of 2011. We were both working to help make a difference in the lives of other students on campus. Through planning various programs, we worked with each other to put on events like exchanging cultures and international festivals. We continued our relationship long distance once Kuba graduated with his MBA from USF in 2013 and took a job in California. As the years went on our relationship grew and we continued to pursue our careers that started at USF. This year, I graduated once again from USF with my Masters in Physician Assistant at the Albuquerque, NM campus. We were married on June 22 and 23. Father Derran who worked at USF while we attended, performed our Catholic wedding ceremony. We are so thankful for all of his help. In addition, we had a traditional Hindu wedding ceremony. We couldn't be happier that USF lead us to each other unexpectedly at an organization fair 7 years ago.
Dan '93 and Tracy (Carmack '92) Vogen
Tracey and I met at the end of her sophomore year, the end of my freshman year (yes – the 'older woman' relationship). We started dating that summer. We worked an internship at Argonne National Lab and stayed on through the rest of our time at the college along with a lot of great classmates. We married in May of 1994 and have been blessed with, and staying very busy with, three children (Tyler, a high school senior, Allie, a high school freshman, and Jenna, a 7th grader). We love every minute of it and hope our kids find collegiate adventures and relationships like we did. USF holds a special place in our hearts and we try to stay around and involved as much as possible. (Submitted 2016)
Joseph '96 and Nicole (Basile '97) Walsh
I met my future wife during recruitment weekend in 1994. She was visiting from Peotone High School, and I was a Sophmore Recreation Major. I was the Recreation Club President, and part of our responsibilities were to go over to Marion Hall and say hello to all the recruits. I knocked on the door, and little did I know, my future bride was on the other side. She walked out wearing a Peotone Blue Devil Basketball Sweatshirt, I said I was From Braidwood, and the rest is history. We talked and hung around the rest of the weekend, even went to Mass together. Orientation Weekend rolled around, and I was so happy to see that she chose St. Francis. We started dating September 20, 1994, and it has been an incredible ride ever since. We married June 12, 1999 and welcomed our daughter, Gwendolyn, to our family in January of 2010. Our wedding song was Shania Twain's 'Still the One' and little did we know how perfectly that song would still fit us today. (Submitted 2016)
Dennis and Marilena (Fricano '08) Wozniak
My husband and I started dating July of 2006. On February 11, 2008, which was the feast day of Our Lady of Lourdes, Dennis took the day off work and came to University of St. Francis to attend classes with me that day. After I was done with classes, we went and prayed in front of the grotto of Our Lady of Lourdes in the court yard. It was so beautiful outside, and I remember it snowing while we were in front of the grotto. As we were praying, I started to realize that Dennis was proposing to me during our prayer time! It was the most beautiful proposal, and I will remember it forever! We were married on June 20, 2009, the feast day of The Immaculate Heart of Mary! We have been married 6 and a half years and have been blessed with four beautiful and healthy children– three boys and one girl! (Submitted 2016)
Lukas '16 and Krystal (Garritson '16) Wyss  
Luke and I met in October of our freshman year at USF while we were both studying in the library. After a few social interactions, star gazing at Four Seasons Park, and many games of ping-pong, we started to realize that this could turn into something serious. Luke went off to visit his brother in Washington that Fall break, and then headed back home to Colorado for winter break. When Luke got back on January 6, we officially began dating and the rest is history. Four years went by with baseball games, golf tournaments, visiting each other in the summer, and quite a few snack shop visits. Regardless of what we were doing or where we were at, there was always a connection between the two of us. Graduation came in May of 2016, and was followed with the purchase of our home and beginning our careers. Luke always gave me a hard time about when we would tie the knot, as he would always say, "another 8 years" in a joking manner. He always wanted the engagement to be a total surprise, and of course he didn't disappoint. On July 21, 2018, we had a nice lunch in Plainfield and were planning to meet up with my sister nearby USF. Luke had already planned with my sister that she would let me know she was running late, giving him the opportunity to say to me, "Let's go walk around campus for 'ole time sake." We checked out the new science building and then started walking through the quad towards the Motherhouse. We were reading the different bricks that alumni had placed in the walkway, specifically to try and find the one my parents had purchased for my sister and I. Little did I know, months prior to that day, Luke had placed his own order for a brick to be placed next to the one from my parents. When I finally spotted the brick we were looking for, Luke was standing on top of the brick he had ordered. He then stepped away from it and proceeded to say, "Look at this one!" The brick read, "Krystal Anne, where we met & where I asked you to marry me. Love Luke." He got down on one knee and said, "You are my best friend and I could never imagine life with anyone other than you. Will you marry me?" Of course I said yes! This was when I learned that Luke had hired a photographer to capture the entire moment for us. It was a weekend to remember, and we are thankful that USF brought us together. We plan to get married in the fall of 2019, and currently reside in Yorkville, IL with our pug named Gus.