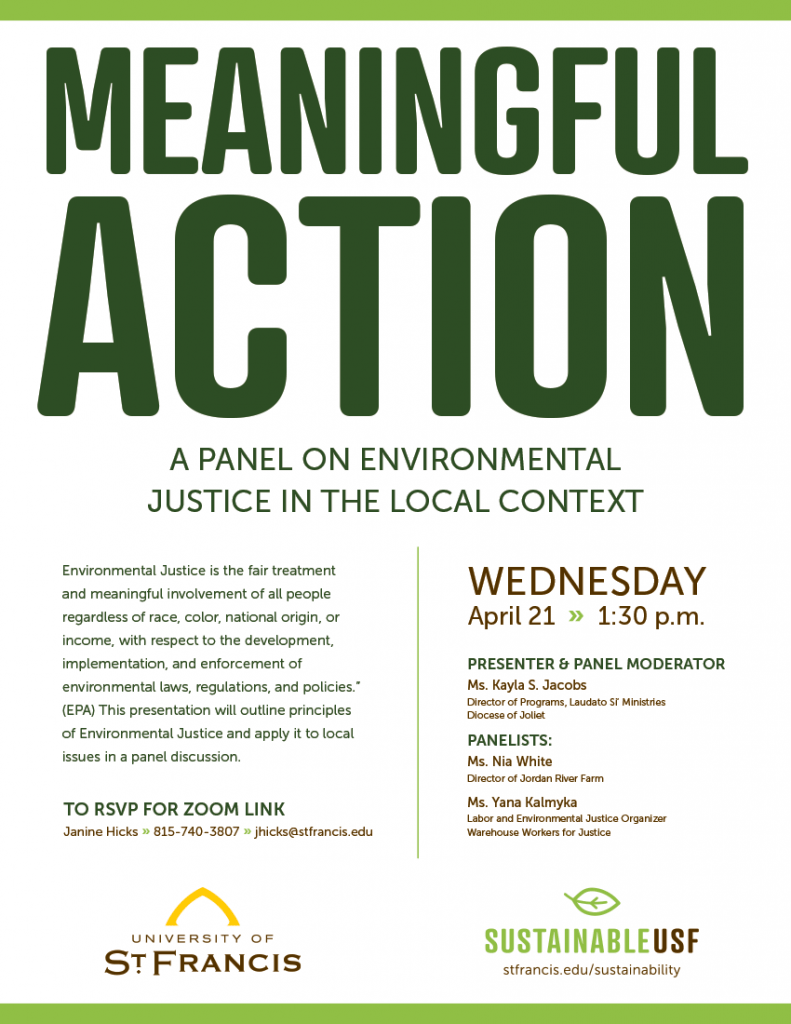 Joliet, Ill. – The University of St. Francis (USF) invites the community to a special Earth Month event titled "Meaningful Action: A Panel on Environmental Justice Work in the Local Context" on Wednesday, April 21, 2021. The event, which will take place virtually over Zoom, will begin at 1:30 p.m.
Environmental Justice is the fair treatment and meaningful involvement of all people regardless of race, color, national origin, or income, with respect to the development, implementation, and enforcement of environmental laws, regulations, and policies." (EPA) This presentation will outline principles of Environmental Justice and apply it to local issues in a panel discussion.
The presentation will be directed by presenter and panel moderator Kayla S. Jacobs, Director of Programs for Laudato Si' Ministries for the Diocese of Joliet, and will include panelists Nia White, Director of Jordan River Farm, and Yana Kalmyka, Labor and Environmental Justice Organizer Warehouse from Workers for Justice.
To RSVP and obtain the event Zoom link, contact USF Sustainability Coordinator Janine Hicks by email at jhicks@stfrancis.edu. For more information on sustainability efforts and events at USF, visit stfrancis.edu/sustainability.
: :
The University of St. Francis, in Joliet, Ill., serves close to 4,000 students nationwide and offers undergraduate, graduate, doctoral and certificate programs in the arts and sciences, business, education, nursing and social work. There are over 51,000 USF alumni across the globe. For information, call 800-735-7500 or visit stfrancis.edu.
University of St. Francis: Bigger thinking. Brighter purpose.
# # #