Alumni Spotlight: Leticia Garcia '13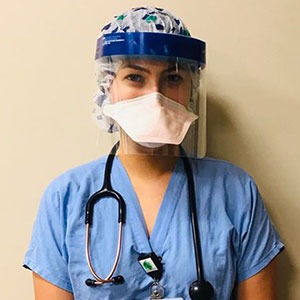 The outstanding LCON alumna is using her USF education in the fight against COVID-19.
We are thankful for nursing alumna Leticia Garcia, BSN '13 and the work she is doing in the fight against COVID-19. Here's what she has to say:
I graduated from USF in May 2013. I work in Labor and Delivery at Silver Cross Hospital, my dream job since I delivered my daughter at Silver Cross 11 years ago.
Due to the COVID-19 situation, patients are only allowed to have one visitor on our unit. As their nurse I have to take the place of their mom, their sister, or their best friend. It's sad that during such a special moment grandparents and siblings can't come visit. Our waiting rooms are empty. Everything keeps changing day by day.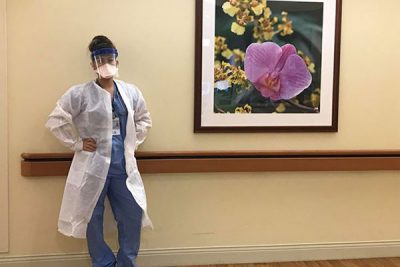 It's hard to take it all in, but as a nurse you have to stay strong for your patients and reassure them everything will be ok and "normal" soon, even though you yourself have no idea what's to come.
Patients and their one visitor are to wear face masks at all times. Imagine that, delivering a baby when it's already difficult to breath and now with a mask over your face. Nurses, OBs and staff have to wear an N-95 mask, a second mask over it, and a face shield during all deliveries—how impersonal! I just hope I can make my patients' experiences the safest and most memorable with these circumstances. They are the reason why I became an OB nurse.
Privacy & Information
We take your privacy very seriously and so should you. By using this website, you are agreeing to our university privacy policies.  So have a look to see what we're doing with your personal information and how we're keeping it secure. Read our privacy policy here.