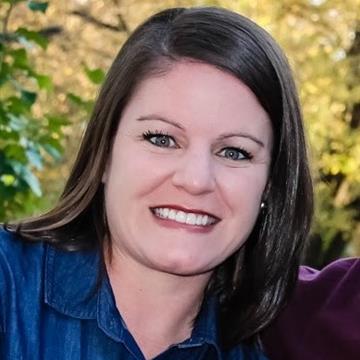 We're pointing a Saint Spotlight on Megan Kelly '03, an accomplished and passionate nurse who selflessly helps those in need through her position in Edward Hospital's Emergency Department.
What is your current position and employer? 
I am the trauma coordinator for the emergency department (ED) at Edward Hospital.  I cover both the ED at Edward Hospital in Naperville as well as the Edward-Elmhurst Health free-standing emergency center in Plainfield. In this position, I am a resource to the nursing staff when it comes to caring for injured patients in the ED.
How long have you worked as a nurse and what was included in your journey to become one?
I was inspired to become a nurse by my aunt who is a pediatric nurse. In high school I had the opportunity to work in the pediatric office where she worked. As an administrative assistant there, I was exposed to patient care and saw that rather than being the physician, I wanted to be on the nursing side of things, spending more time with each patient. Health care was always very interesting to me and truth be told, I was drawn to the old TV show, "ER." Something about that show made me feel like I belonged in a world of helping sick and injured people with the occasional adrenaline rush. 
Since graduating in May 2003 from USF with my BSN, I have worked as a registered professional nurse in a hospital setting. I started on a medical-oncology unit at OSF St. Joseph Medical Center in Bloomington, IL (where I grew up) while also working as needed as a nurse in the same pediatric office where I once filed charts and answered phones. I then moved back north in 2004 to marry my spouse, also a 2003 USF graduate (Shaun Kelly), and took a position on the cardiac telemetry unit at Edward Hospital. In 2006, I learned of a wonderful opportunity called a transition program where the hospital offers a prolonged orientation in preparing acute care nurses with floor experience to work in a critical care area. I was so glad that I was able to obtain inpatient floor experience as a new nurse, but I had found my niche in the ED. Over the years since then, I remained an ED staff nurse at either the Naperville or Plainfield ED. 
About 5 years ago, I took on a part-time role as Emergency Medical Services (pre-hospital/paramedic) Coordinator with Edward Hospital while also remaining a part-time staff nurse in the ED. That later evolved into becoming the full-time trauma coordinator in the fall of 2018. Edward Hospital is a level II trauma center and the Illinois Department of Public Health (IDPH) requires that all trauma centers have a full-time trauma coordinator/manager dedicated solely to the trauma program.
How has your position changed since the onset of the COVID-19 pandemic?
My position has not changed a whole lot since the pandemic. It is more the day-to-day that has changed for all ED staff.  The use of personal protective equipment (PPE) has increased. We wear masks all day when on hospital campus. I can no longer respond to a trauma in the ED without also putting on goggles. Gloves and gowns were already often part of the PPE donned for trauma patients. 
We certainly saw far fewer injured/trauma patients during the "shelter in place" period of the pandemic. The communities that Edward Hospital served certainly seemed to heed the warnings put out by IDPH and were staying home for the most part. While we were busy in the ED determining how we would care for patients with COVID, I had the unique opportunity to review trauma care with the staff during low census times. We practiced "mock traumas" in order to stay fresh on our skills and not get tunnel-vision on only respiratory illness, being that that is what COVID involved. But less injuries occur if you are staying home – not as many motor vehicle crashes, etc. Trauma numbers definitely tend to trend upward in the summer months when it is warmer and people are spending more time outdoors. During high census times, I mask and goggle up and get to work triaging patients and helping where there is a need. The ED is unpredictable – you never know what you're going to get. It I difficult to predict what will walk through the door next and how many people will require attention at any given time. That is what makes it interesting.
Another part of my position is injury prevention.  We try to teach the communities we serve about safety and how to prevent getting hurt.  That is something that has changed since the pandemic as large gatherings were put on pause.  Safety fairs and fire station open houses were all put on pause, which prevented me from talking to kids about wearing their helmet when they ride bikes or teach "Stop the Bleed" classes to adults if they're ever faced with an injury that causes hemorrhage. Same as many other careers, we have had to adapt to try to get safety and injury prevention messaging out to the community virtually.
What has been your favorite thing about working as a nurse? 
Absolutely, hands down, the best thing is when a patient is appreciative of how you helped support them in their time of need.  Whether a patient is sick or injured, it could very well be one of the worst days of his or her life when I encounter him or her, and so if I can help relieve any of the hurt or stress of what he or she is going through, then I have done my job.  Another part that I adore about my career is the opportunity to teach other health care providers.  Soon after I was hired at Edward to the cardiac floor, I became an American Heart Association Basic Life Support (CPR) and Advanced Cardiac Life Support instructor.  As the trauma coordinator, I teach a course for the Emergency Nurses Association (ENA) called Trauma Nursing Core Course (TNCC).  I adore supporting and empowering other nurses to provide exceptional trauma care.
What has been the biggest challenge as a nurse?
One of the most challenging thing as a nurse is making sure that each patient trusts me to give them my best and feels as important as the next. In the ED, we can be juggling all sorts of patient types at once, such as someone with a cardiac arrhythmia, someone having a heart attack or stroke, someone having severe pain from kidney stones or a gallbladder attack, someone experiencing a miscarriage, someone seeking help as they're contemplating thoughts of ending their life, someone who cannot help but abuse alcohol or illicit substances due to their addiction, someone who succumbs to their life-threatening injuries. It can be a challenge to put on a happy face and enter the next room of the next patient in need of the best care you can give.
How has the University of St. Francis prepared you for your career?
USF prepared me for a career in nursing in so many ways.  Of course the nursing program was wonderful – the course work and clinical time was priceless.  I would love to recognize Annette Mattea as a professor that really inspired me.  She taught the critical care portion, and I will never forget my clinical time spent in the ICU and ED at St. Joe's Joliet with her on the units providing us with guidance and feedback.  She is someone that to this day, while she was tough, I know helped me forge my professional path.  Another way that USF prepared me for nursing though is through the volunteer opportunities.  Before the nursing school moved locations, the Guardian Angel Home was a place I would go and volunteer my time helping to care the children of mothers seeking refuge there after suffering domestic violence.  My heart has always gone out to those that are injured, especially in a violent way. Thus, landing me where I am today, in emergency and trauma nursing.
How have you stayed engaged with USF as an alumna? 
I have participated in the Student Alumni Mentor program a few times and always enjoy engaging with nursing students on their journey through nursing school. I also love to come back for homecoming festivities. My husband and friends from USF each have a brick on campus that we will go back and look at on occasion and admire the ever-improving changes to campus since we attended in the early 2000s.
What is your advice to USF students studying nursing?
Never stop asking questions. As we learned this past year, health care is very dynamic and ever-changing. Please don't ever be too intimidated to ask your professor, a preceptor, a co-worker, your charge nurse, a physician a question!  It helps you to grow in your profession. Nursing school might seem overwhelming with all of the studying and book content, but where you will really learn the most is your clinical time, applying that knowledge. ASK QUESTIONS!