In July 2021, Sarah Monroe '12, '16 is taking over as principal of Walnut Trails Elementary School in Shorewood, Illinois as current principal Kathleen Cheshareck, Ed.D. '15 transitions into retirement. Sarah shares her journey in education and advice for alumni and students wishing to pursue a career in education, specifically as a principal.
How long have you worked in education and what was your professional journey to becoming an assistant principal?
I have been in the field of education for 12.5 years. I began my career in January 2009 as a special education teacher in Joliet School District 86. In August of 2009, I was hired at Jones Elementary School in Minooka School District 201 as a second grade teacher. I remained a second grade teacher at Jones for seven wonderful years. During the course of those years, I had many opportunities to take on leadership roles within the building and district, such as mentoring a first year teacher, acting as a cooperating teacher to a student teacher, assisting with creating curriculum maps and teaching resources, piloting new Mathematics and ELA curricular programs, participating on building and district-based committees, etc. Those experiences and the mentorship of Principal Rodney Hiser led me in the direction of administration. I also had a desire to reach more students and families. I truly cherished my time as a second grade teacher and all of the close knit bonds I had created, but felt that I could do more and wanted to do more on a global level. In 2016, I was named Assistant Principal of Jones Elementary School and Walnut Trails Elementary School. I have been in that role for the last five years and have loved every second of it!       
How long have you worked at Walnut Trails, and what is your favorite part about the school? When will you be stepping into your role as principal?
I began working at Walnut Trails in 2016. Upon completion of the 2020-21 school year, I will have been in the assistant principal role for five wonderful years. Beginning in July, I will step into my new role as principal, which I couldn't be more excited about. Walnut Trails is an incredible school! Asking me to name just one favorite part about our school is impossible. The kiddos, families, and staff are second-to-none. It is a beyond welcoming environment where everyone feels like family and considers one another extensions of their family. We have high expectations but support one another to reach our goals. Every day I am grateful, I am honored, and I am blessed to be a part of Walnut Trails Elementary School!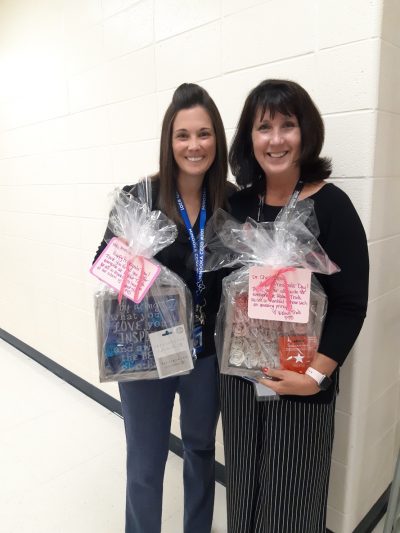 What has been the best part about working with Dr. Cheshareck?
This question could take me years to write a response to. Dr. Cheshareck is not only my boss and colleague, but she has also been an incredible mentor and friend whom I now consider my family. Dr. Cheshareck, or KC as I have lovingly nicknamed her, is one of the hardest working people I know. Her dedication to this profession, passion for everything she does for the school and community, leadership, professionalism, and genuine love and caring for every aspect of her job is unmatched! I would not be where I am today if it weren't for her and I am eternally grateful to her for that. Over the last five years we have been through a lot together. During all of the ups and downs and twists and turns that can happen in the life of an administrator, Dr. Cheshareck has always led with a positive and professional attitude and demeanor that is contagious, has taught me the art of patience and resiliency, has shown a devotion to her career through her incredible work ethic and presence at every single school event and around our great building, and truly is a legend in the field of education and our district. The shoes she leaves behind are incredibly large ones to fill and I will miss her more than words can say. I have sincerely cherished every day that I have been able to learn and grow under Dr. Cheshareck and hope to make her proud, continue her legacy, and build upon the road that she has so beautifully paved.          
What has been your favorite thing about working in education?
While this may sound cliché, I cannot remember a time, even growing up, where I disliked school or wouldn't beg my brother to play school with me during our evenings or weekends off. I have always wanted to be in education in some capacity and I truly feel it has just been a part of me and who I inherently am. I love everything about education. Families entrust their kiddos to us. That comes with a huge responsibility I have never taken lightly. There is nothing better than a child succeeding and having those "aha moments," a child's excitement and passion when they love school and their teachers, and the connections and relationships that are built over the course of a year but extend well beyond that. Those same pieces that I loved as a teacher I continue to cherish as an administrator.    
How has the University of St. Francis prepared you for your career?
Having incredible professors like Trevor Harris and Ardeen Hoke made a huge impact on my preparedness and desire to move into an administrative role. They not only taught the curriculum necessary to prepare us in terms of "book smarts," but also provided real life examples, situations, and day to day insight that was necessary for us to ensure we were moving into the right career path and could be successful. Their passion for the field of education was contagious and I am beyond appreciative for their support and leadership. To this day, I know that I could reach out and would be greeted with a helpful hand and a listening ear. That level of commitment and ongoing development even after graduation is something special.  
How have you stayed engaged with USF as an alumna?
I do my best to stay up-to-date by reading the USF newsletters and staying in contact with fellow alums from both of my master's programs I completed at the University of St. Francis. The small size of the cohorts and years you spend together advancing and bettering yourself allows you to walk away with not only friends, but also professional allies that you can call upon for advice, different perspectives, and support from others that know what you are going through. The collegiality built at USF has been a blessing and something I have greatly appreciated.     
What is your advice to USF students and alumni hoping to step into a principal role?
There is not a single day that I don't wake up and love what I do! So, my advice is simple: Go into administration because you truly have a passion for education and intend to live and love it every day regardless of the situation or what lands on your desk. It won't always be exciting, and there will be hard days and situations you never in your wildest dreams thought would happen, but that is also the beauty of being an administrator. You will continue to grow and evolve in ways you never expected and at the end of the day you get to see the hundreds of smiles on the faces of littles which is the greatest feeling in the world. Eat, sleep, breathe, and love what you do and the field will be beyond fulfilling!