June 20, 2019 | Joliet, Ill.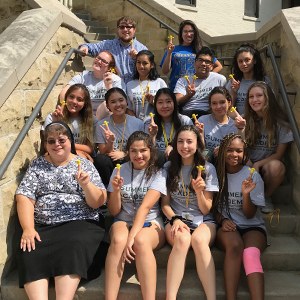 Sr. Gayle Rusbasan, OSF, coordinator of USF's Summer Academy (SA) program and University Ministry team member, is encouraging students to register. Summer Academy will be held in two sessions: July 27-31 and August 3-7.
Summer Academy offers a residential experience on campus, designed to smooth students' transition to college. Participants live on campus for a five-day period and participate in academic activities, enrichment seminars and college life workshops.
"As the coordinator of Summer Academy for the past two years, I have seen a number of students come through the program," explained Rusbasan. "Many mentioned they were reluctant to be a part of it, but before the end of the week, each one was happy they came. Why? Because they became part of a group who shared an experience and left with new friends and a new confidence in starting college. Last summer's group bonded very quickly. Students, along with the mentors and SA staff, gathered around a bonfire the first evening and got to know each other while enjoying s'mores."
She continued, "The following days were filled with faculty and staff presentations and the evenings with short reading and writing assignments and some socializing. Some meals were in the café, but we also had Chinese take-out one night. Another evening, we went to Haunted Trails for pizza, mini golf and go-karts and stopped for ice cream on the way back. I rode one of the rides with some students, and we laughed ourselves silly. It was a fun night. The students were able to tour Inwood Athletic center—where USF students get a free membership—which has a pool and an ice rink and they enjoyed a movie night with popcorn."
Rusbasan says Summer Academy provides a good balance of college life, which includes socializing, studying and teamwork. Participants also get to tour USF's St. Clare and St. Bonaventure Campuses, and student mentors walk academy participants through their class schedules so they know where to go on that important first day of school. They also answer questions and share their advice on how to succeed.
"The SA Class of 2018 took full advantage of their new peer group and arranged to sit together in the auditorium during orientation," remembered Rusbasan. "It made me smile to look out from the stage and see them in a group. They also met for breakfast regularly throughout the school year. During our follow-up meetings that fall, the SA group shared how SA had helped them during that crucial first semester. Some of them will be the student mentors for SA 2019 and are excited to share their experience with new participants."
The cost of the 2019 program is $150, which includes food, lodging and one elective class credit. Registration deadline is July 15. Register today by clicking here.
———-
The University of St. Francis, in Joliet, Ill., serves over 4,000 students nationwide, offering undergraduate, graduate, doctoral and certificate programs in the arts and sciences, business, education, nursing and social work. There are over 49,000 USF alumni across the globe. For information, call 800-735-7500 or visit stfrancis.edu.
University of St. Francis: Bigger thinking. Brighter purpose.