"The effects of intensive exercise on the knee angle flexion while changing direction and thus the correlation with ACL strain"
As the SURE (Summer Undergraduate Research Experience) program carries on, senior biology majors and student-athletes Brittany Cook and Leon Laskowski are researching how higher levels of fatigue may affect the angle that the knee flexes when performing cutting motions. Under the guidance of Susan Renner, Ph.D., Cook and Laskowski designed the research project of analyzing the knee flexion angle while cutting (i.e. changing directions) under increased physical fatigue and its correlation with ACL strain. As athletes on the USF women's and men's soccer teams, respectively, Cook and Laskowski are especially passionate about the subject.
"As scholar-athletes we witness many knee injuries, especially of the ACL, within the athletic department across contact and non-contact sports. We researched that different knee angles determine how much stress is put on the ACL while moving. With this information we designed our research question to see how the knee flexion angle moves away from a desirable, 'healthy' angle during increased physical fatigue while cutting," Laskowski explained.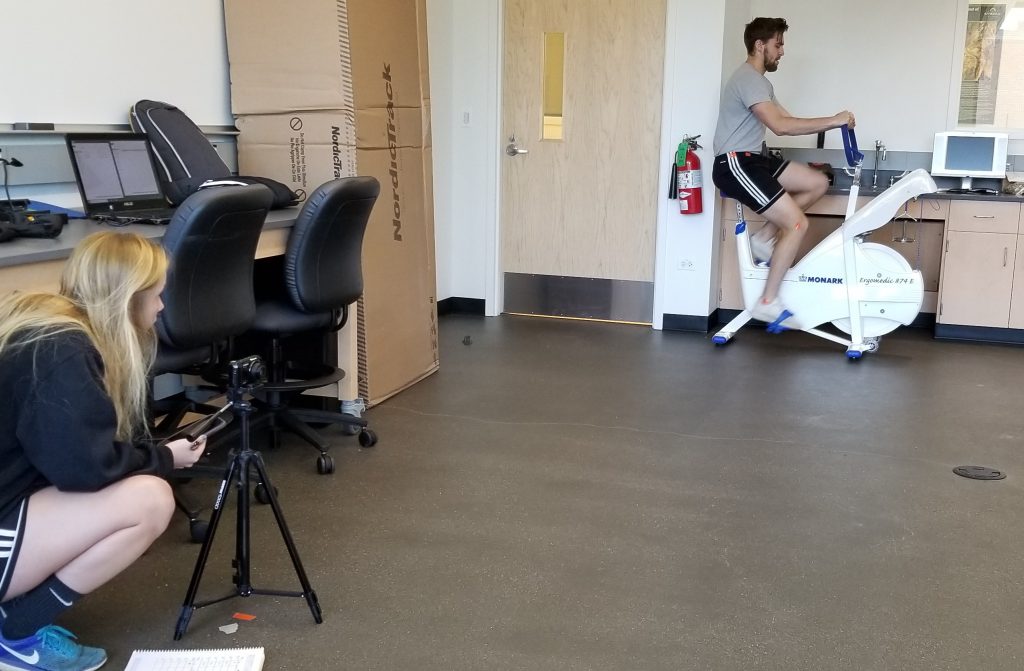 Carrying Out the Research
To carry out the research, subjects run to a designated line and turn. The subjects perform this same task first without warming up, then once they ride a stationary bike until their heart rate reaches increasing intervals (simulating increasing fatigue). Cook and Leon film the participants, paying special attention to the angle of the knees' flexion, to examine at what point the participants' form changes and puts them at increased risk of injury. Why the focus on cutting motions? Most ACL injuries in soccer and football occur during cutting, either non-contact or while being tackled.
Explaining what interested the duo about the project, Laskowski explained, "Both Brittany and I wanted to do research in our field over the summer to have the experience of designing and to exercise a research project outside of the regular class schedule. We see this experience necessary for our future in the field of medicine, as we both desire to become doctors in our field of expertise."
These future doctors are certainly getting valuable research experience this summer!