A Summer Undergraduate Research Experience (SURE) Program Feature
"Creating a Record Label to Promote the Success of Artists at St. Francis"
Junior Digital Audio Recording Arts (DARA) major Donovan Summers hopes to make a name for himself on the business side of the music industry one day, and he is spending his summer conducting undergraduate research on the modern record label, creating a comprehensive database of resources for aspiring DARA musicians to use to make it big in the industry.
"By researching this topic, I believe that the information I find could help the artists of DARA be more successful in today's internet-driven music world," Summers wrote.
The Modern Music Industry
Up until the early 2010s, traditional record labels were the only way for artists to get their music distributed. Today, artists can self-publish without going through a record label. Music is mainly streamed, and there are more than a dozen internet-based distributors. However, according to Summers, having a manager and label has proven to be the most successful way for an artist to break through the scene. By creating a database of tools and resources, Summers is helping make it easier for musicians to publish and promote their music on their own.
"Personally, as someone who wishes to enter the business side of the industry, I would like to not only gain information for myself, but also leave something behind for the other music entrepreneurs," Summers noted.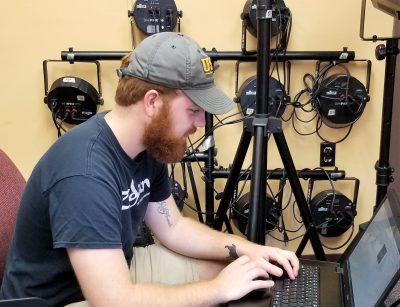 The bulk of the project includes gathering information on self-distribution sites and performing a cost versus benefit analysis. Summers, under the guidance of faculty supervisor Alby Odum, looks for every available service to create a comprehensive list. Factors for analysis include price, time of distribution, amount of platforms distributed to, and other available services. Additionally, Summers is researching music bloggers, who are instrumental in helping up-and-coming artists get recognized, to create a database of contacts focusing on rising artists, as well as streaming service curators.
Upon completion of the project, information will be organized in a single database.
A possible DARA record label?
Summers hopes that if his experiment is successful, a DARA record label could be put in place for all artists pursuing music.
"The DARA program would benefit from a record label, but it needs the resources to get there. One day, I hope for a class where students…get to manage an artist for one to two semesters. This means that even after the research project is finished, there is more work to be done," he said.
Summers' research will certainly help the record label get a head start.