Alumni Spotlight: Diane Habiger '77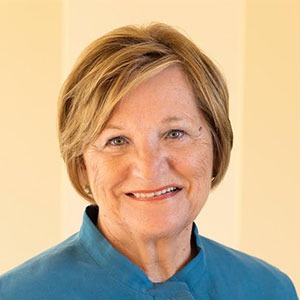 This Thursday, September 17th, the virtual dedication of USF's Centennial Gateway and Benoit Commons will take place, marking a milestone for the Centennial Campaign. Diane Habiger '77 has been the alumna chair of the campaign, working alongside co-chairs including her husband, Bill, and Edward and Gloria Dolinger. The chairs had quite the task.
"Our goal has been to raise money for scholarships and to improve the campus. We are nearing our goal, which is $2 million," Diane explained.
Of that goal, $1 million will be designated for student scholarships, which will give more students the opportunity to learn and grow at USF.
"I hope that there are students out there who will be able to attend USF and graduate because of the scholarships that will be made available. The cost of education has increased so much since I was a student. My sisters and I would not have gotten degrees if USF (then College of St. Francis) was not in Joliet," Diane explained.
Another $500,000 of the campaign is being raised for the Centennial Gateway, which will celebrate 100 years of Franciscan leadership. This Gateway is also a way of recognizing so many alumni, faculty, administrators, and benefactors of the university. Diane hopes it will add an additional space on campus for students and visitors to interact and grow.
"I also hope that the Gateway will attract students to USF and that the Quad will give students and visitors a place to exchange ideas and grow in the values of respect, integrity, service, and compassion," she continued.
Finally, the remaining $500,000 is designated to redesigning the Quad to serve as a gathering place and a common area where students can study and socialize.
"It is an exciting project and I am very proud to be part of it," Diane explained.
Reaching the Centennial Campaign's $2 million goal required the contribution of many amazing alumni, among other benefactors, who have come together to help others.
 "Over the past year it has been inspiring to see how many other alumni have stepped up and contributed to this campaign. I would never have imagined myself heading up this Centennial when I was a student here. I am grateful to all who contributed to our scholarships, the Gateway, and the Quad. Our alumni are incredible. They are almost 50,000 strong. It is very humbling," she said.
Besides being an outstanding chair of the campaign, Diane is also a member of the Board of Trustees.
"Being a trustee got me involved in what was happening at USF.  Bill and I started participating in different programs and events going on at USF. We both believe that education is a way for so many to move forward in their lives. We decided to contribute annually to the growth of the university. We believe in what the Franciscan Sisters started 100 years ago and want to see USF grow and prosper," she said.
The University of St. Francis is so grateful for Diane's co-leadership on the Centennial Campaign and for all she has helped accomplish. For Diane, she simply wishes that other students can experience the same blessings she received from USF and for the university to have another successful 100 years.
"My life has been so connected to the University of St. Francis and the founding Sisters. I know my life has been blessed by this connection and I have learned so much from both. I love being Franciscan and wish that all who come through this beautiful university will be as blessed in their lives as I have been. USF is fortunate to have such dedicated faculty, trustees, administrators, staff, benefactors, and president. I am grateful to Bill and to Ed and Gloria Dollinger for co-chairing this campaign. I know we are headed to another growth-filled 100 years," Diane said.
#EveryGiftMatters. For more information on the Centennial Gateway or to donate to the Centennial Campaign, visit stfrancis.edu/centennial. #USF100