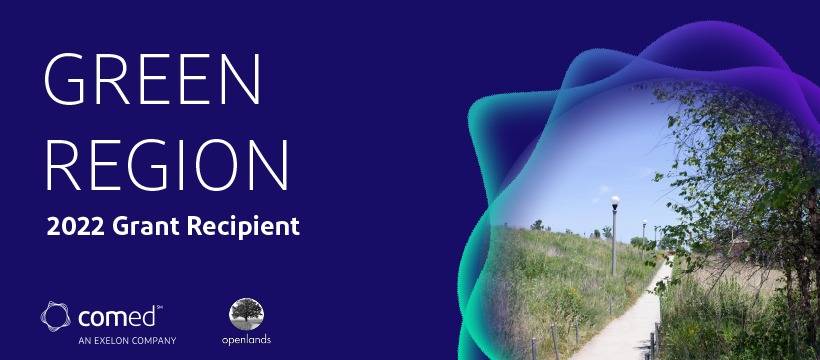 Joliet, Ill. – Once covering over 21 million acres, less than 0.1% of Illinois' native tallgrass prairie remains. A $10,000 matching grant awarded to the University of St. Francis (USF) and its 'Reestablishing Illinois Prairie Land: Ongoing Tallgrass Prairie Restoration at Charlotte Codo Prairie in Frankfort, IL' project through the ComEd Green Region Grant program looks to reverse that trend.
The Charlotte Codo Prairie, gifted by the Codo family to USF, is a local prairie restoration site approximately 15 miles east of Joliet. The restoration was initiated by the Codo family in 2014 and is maintained by USF today. Currently, this 47-acre property houses 24 acres of restored tallgrass prairie. Tallgrass prairie fields are used by USF faculty and students for research and educational purposes, including studying biological diversity, learning species identification, and contributing to future restoration practices. Codo Prairie is a site of active restoration.
"We plan to expand the acreage of the restored prairie in a multi-year, multi-stage project," said Chloe Lash, Ph.D., assistant professor of biology at USF and project director for the university's ComEd Green Region grant.
"Seventeen acres of alfalfa field on the property will be the next stage of prairie restoration at Codo. While restoring native tallgrass prairie, we also wish to expand public engagement at Codo," Lash said.
The project, supported by $10,000 in matching funds by USF, will be pursued through four stages, including (Stage 1) the establishment of native plant seed gardens, (Stage 2) the expansion of community outreach at Charlotte Codo Prairie, (Stage 3) the harvesting seed from the seed gardens, purchasing seed to supplement harvested seed, and planting of the native seed in the alfalfa field (using current best practices for prairie restoration), and (Stage 4) the planning of controlled burns at the restored site. The ComEd Green Region grant will support efforts for Stages 1 and 2 of this multi-phase project.
Lash sees the benefits of this project reaching beyond USF.
"This project will not only benefit the University of St. Francis (USF) community but will engage the broader local community in prairie restoration. USF faculty and students will continue to use Codo Prairie for engagement in scientific research and education. Beyond USF, the Codo Prairie Committee is working on establishing approval processes for research by universities and other scientific groups beyond USF affiliates. We are also working on making Codo Prairie more accessible to the public through community partnerships and long-term plans for the property," Lash said.
Ultimately, Lash sees the restoration of native Illinois habitat in Will County as the ultimate goal and is grateful to the ComEd Green Region Grant program for helping USF to embark on that journey.
"We are so thankful for the support from the ComEd Green Regions Grant. This award will allow us to build on our educational efforts at the Charlotte Codo Prairie and will support the next stage of prairie restoration at this USF property. Increasing prairieland will support local pollinators, enrich local biodiversity, improve soil health, and assist in climate resiliency research. We are so excited to contribute to restoring native Illinois habitat in Will County," Lash said.
For more information on the ComEd Green Region Grant program, click here.
: :
The University of St. Francis, in Joliet, Ill., serves close to 4,000 students nationwide and offers undergraduate, graduate, doctoral and certificate programs in the arts and sciences, business, education, nursing and social work. There are over 53,000 USF alumni across the globe. For information, call 800-735-7500 or visit stfrancis.edu.
University of St. Francis: Bigger thinking. Brighter purpose.
# # #