A Summer Undergraduate Research Experience (SURE) Program Feature
"Discover and Analysis of Antibiotic-producing Microorganisms from Agricultural and Forest Soils"
Sophomore biochemistry major Luke Laschober and junior biology major Hanah Mastandrea have been busy sampling soils this summer, working to find microorganisms that can be used for new antibiotics. The research is part of USF's SURE program.
Discovering new antibiotics for bacteria is important as bacteria create resistances to existing antibiotics quickly when a bacterium changes a certain part of its DNA. Bacteria has become resistant to the antibiotics for numerous reasons, including the overuse of common antibiotics in the medical field. Eventually, some bacteria can become immune to most types of antibiotics, making them hard to treat. Because of this, finding new antibiotics is important.
Under the guidance of Professor Ben Whitlock, Ph.D., the duo has been collecting soil from several locations, including prairie land recently donated to USF. The soil samples are then put through a serial dilution. The dilutions are then placed onto TSA plates for growth to occur and bacteria to be extracted.
From there, the isolated microorganisms are tested against pathogens with a high prevalence of antibiotic resistance to determine if the isolates will continue to inhibit the bacteria with consistent resistance. Isolates that produce antibiotic microbial bacteria are then further characterized and tested against other strains of the pathogen. The isolates are tested for motility and if the isolate is aerobic or anaerobic to determine if it needs oxygen to survive or not. This will give a basic understanding of the isolates and their function of survival. 
Describing what interested her about this project, Mastandrea said, "This program interested me because the microbiology and the BIEB [Beginning Investigative Experience in Biology] classes I took with Whitlock made me want to do research with something related to microbiology. We also did the same process we are doing now in the BIEB class and we are taking it into more detail and processes, which interested me a lot!"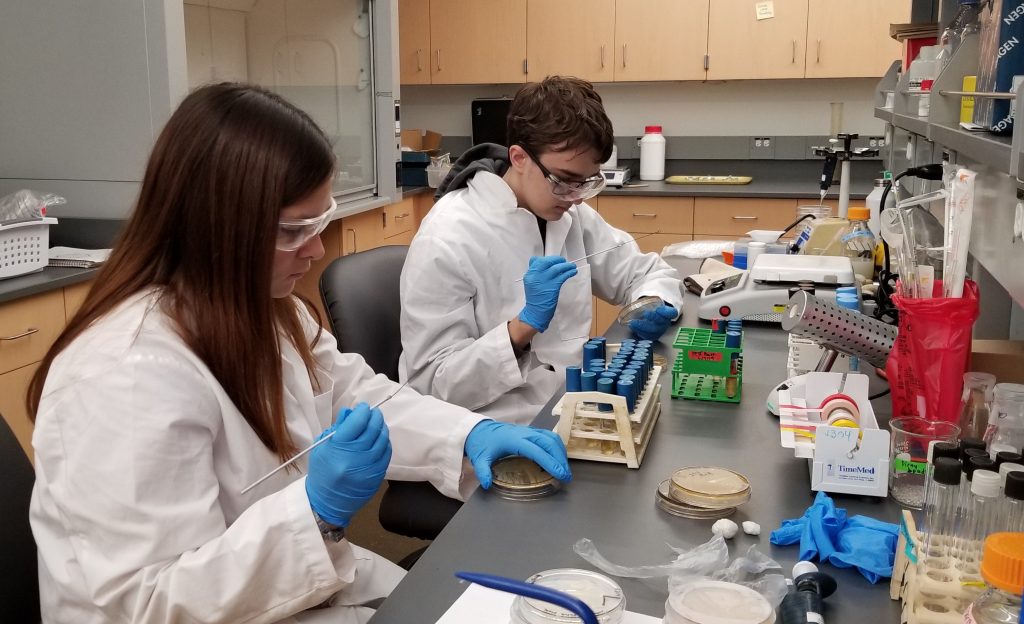 The overall goal of this study is to lower the rates of antibiotic resistance that is increasing in many individuals and to discover new potential antibiotics. Overall, there is a possibility that a novel antimicrobial could be discovered in agricultural soils. Time will tell!