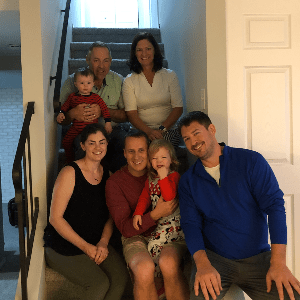 For the Mulcahy family, attending USF has become a family tradition. Jim Mulcahy '85 originally attended University of New Orleans, but transferred to USF (then College of St. Francis) to be closer to home and study computer science. On a university-sponsored ski trip, he met his future wife, Patty (Barc '86), who was majoring in therapeutic recreation. After the two graduated, they married and got to work putting their degrees to use. They bought Siebert, Inc., a press cleaning solutions and services company, a business they have greatly grown and still own today.
"Then I showed up," joked Jim Mulcahy, Jr. '11.
While Jim, Sr. and Patty were running and growing a business, they were also growing their family. Along with Jim, Jr. came Maggie Mulcahy '12, and a younger brother (who attended Lewis University). As fate would have it, Jim, Jr. and Maggie attended USF, but not necessarily to follow in their parents' footsteps – it was just the right fit for each of them.
Jim Jr. originally wanted to go to a larger school, but his parents encouraged him to take one more look at USF. While visiting campus, they ran into accounting professor Tony Zordan, Ph.D., who taught Jim Sr.
"Professor Zordan's first class teaching at University of St. Francis, my dad was in that class," Jim Jr. said. "They started connecting the dots, which created a unique sense of comfort for me."
Compiled with enjoying the campus and receiving academic and golf scholarships, the reasons to attend USF and study management started to pile up for Jim, Jr.
"I felt like there was kind of a niche for me to fill in," he said.
Soon after, Maggie considered USF because of her interest in its prestigious nursing college. But before Maggie committed to USF, she and her brother had to figure out if they could both be on campus together.
"We initially had to discuss whether or not we could make the small campus work for the two of us," Jim mentioned.
However, they decided that being in separate academic programs and in different activities would allow them enough space to grow as individuals but still have opportunities to hang out…when they wanted. Maggie attended USF and worked hard toward her nursing degree.
Looking back, Jim Jr. recalls a healthy competition between classmates in the classroom and on the golf course, but never jealousy. "There was always a push to better," he said. "No one at any point rooted against each other."
That encouragement has led the Mulcahy family to achieve great things. Not only do Jim Sr., and Patty own Siebert, but Patty also owns several other companies, including a distribution company for Siebert, a soda pop manufacturer, and Bacino's Italian Grill in Chicago. Jim Jr., his brother, and brother-in-law all work for Siebert, which has been busy expanding. Meanwhile, Maggie has been working diligently as a cardiac nurse, specifically with pacemakers, providing excellent care and working with cutting-edge technology. She's also staying busy raising two children with her husband, Rob.
As proud as USF is of the Mulcahy family, the family is also proud to call themselves alumni.
"It's certainly a sense of pride for us," Jim Jr. said. "Representing the school well is something all of us has aimed to do."
Indeed, each alum of the Mulcahy family is a shining example of what a USF education can help alumni to achieve, and we can't wait to see what this family does next!