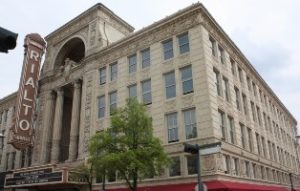 Center for Art & Design
5 E. Van Buren St.
Joliet, IL 60432
In this space, the Art and Design Department offers students the unique opportunity to study at the center of the new Rialto Arts District artist community. Located in the developing Joliet City Center, Art and Design Department is on the third and fourth floors of the Rialto Square Theater building in some 16,454 square feet of space. The newly renovated facilities in the historic Rialto building were specially designed for arts students. Along with arts majors, the facility will serve community outreach initiatives.  The USF gallery is located street side at the corner of Van Buren and Scott streets. 
The Art and Design Department is within easy walking distance from Union Station and is also on the city's bus routes. Shuttle service is provided from the main USF campus to the Downtown Campus.