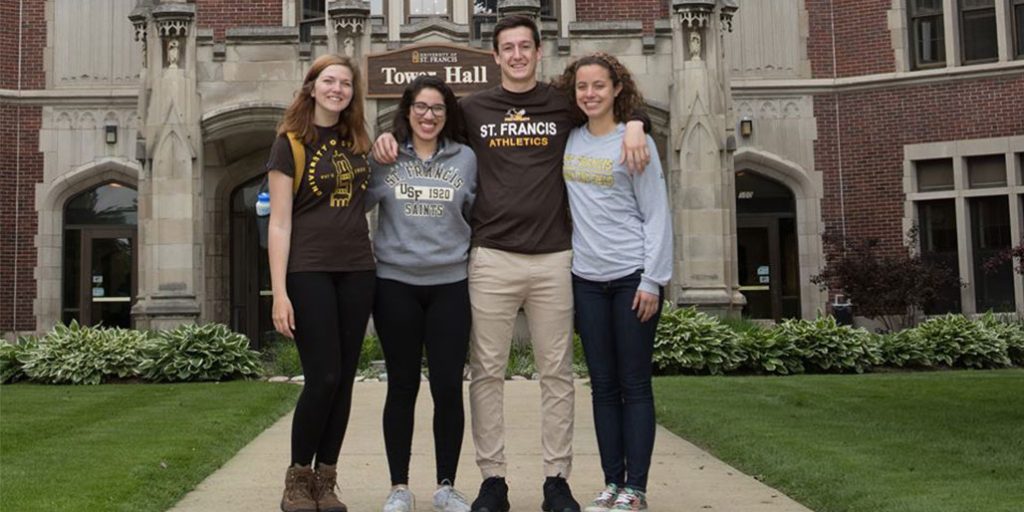 COVID-19 Relief for Graduate Students
The Chronicle of Philanthropy subscribers also have full access to GrantStation's searchable database of grant opportunities. For more information, visit philanthrophy.com/grants.
Regular Annual Financial Aid for Graduate Students
The University of St. Francis is committed to making quality, private higher education affordable.
During the 2018-2019 academic USF graduate students received $1,070,000 in gift assistance from USF, federal, state and other outside sources.
During the 2018-2019 academic year 643 graduate students borrowed $8,400,000 in loans from the Federal Direct Loan Program for an average of $13,000 per student.
During the 2018-2019 academic year 211 graduate students received $580,000 in some form of tuition reimbursement from their employers (check your own employer for possible benefits).
USF offers a tuition reimbursement deferment plan for students who will use this benefit.
Graduate students can enroll in our convenient four payment plan each semester at a cost of $40 per semester.
USF participates in all of the Veterans Administration Education Programs

Chapter 30 (Montgomery GI Bill)
Chapter 31 (Vocational Rehabilitation)
Chapter 33 (Post 9/11 GI Bill—including Yellow Ribbon)
Chapter 35 (Dependent Educational Assistance)
Chapter 1606 (Reserve Education Assistance Program)
Chapter 32 (Post Vietnam ERA GI Bill)

All students should apply using the Free Application for Federal Aid (FAFSA) at fafsa.ed.gov/.
Corporate Educational Partners
USF offers tuition discounts to graduate students employed at companies or agencies participating in our Corporate Educational Partners program. During the 2016-2017 academic year 249 graduate students received $476,000 in tuition discounts from USF. Ask your HR Office if your organization participates or they can contact the University to see how to become a member.
Advocate Christ Medical Center
Advocate Good Samaritan Hospital
Advocate Good Shepherd Hospital
Advocate South Suburban Hospital
Archdiocese of Chicago
Archdiocese of Chicago – Catholic Schools
Baptist Health of South Florida Systems
Carle Hospital
Caterpillar (USA Operations)
Catholic Health Care West-Arizona
Diocese of Joliet
Diocese of Joliet – Catholic Schools
Froedtert Memorial Lutheran Hospitals, Inc
Froedtert Community Memorial Hospital
IL State Soc. Radiation Therapists (ISSRT)
Jesse Brown VA Medical Center
NorthShore University Health Systems
NuMark Credit Union
Provena Health Systems
Shriners Hospital
St. Joseph's Hospital and Med Center
Tennessee Hospital Association (THA)
U.S. Veterans Administration Employees
Wheaton Franciscan Health Care
Graduate Scholarship Resources
Graduate Federal & Outside Programs