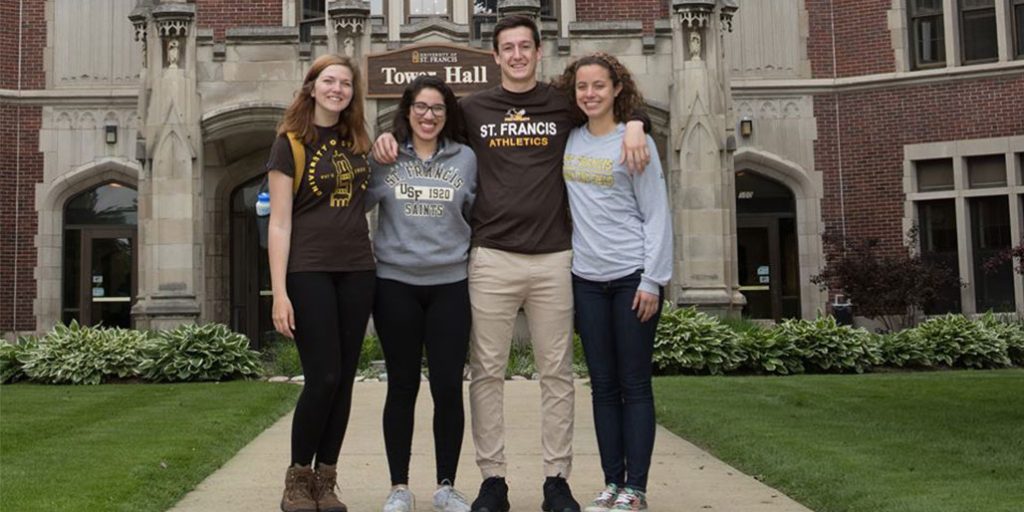 The University of St. Francis is committed to making quality, private higher education affordable.
We want talented students, and we support you...
At USF last year, we provided our full-time undergraduate students with over $19 million in USF financial assistance with academic, athletic and need-based awards.
Our students also received more than $5.4 million in assistance from federal, state and other sources.
Our average financial aid assistance package, from all sources, for a full-time transfer student was $16,197.
It adds up: Most full-time transfer students qualify for federal, state and other assistance programs in combination with USF aid.
Veterans & Their Families Are Welcome!
USF participates in all of the Veterans Administration Education Programs:
Chapter 30 (Montgomery GI Bill)
Chapter 31 (Vocational Rehabilitation)
Chapter 33 (Post 9/11 GI Bill—including Yellow Ribbon)
Chapter 35 (Dependents Educational Assistance Program
Chapter 1606 (Reserve Education Assistance Program)
Chapter 32 (Post Vietnam ERA GI Bill)
Duns Scotus Fellow Scholarship (Honors Program)
Additional $1,000  – interview and application required.
For future math and science teachers
Science Fellows Scholarship
$3,000 annually – awarded to select students majoring in the natural sciences with a minimum 3.25 GPA. Interview and application required.
Catholic Community College Transfer Scholarship
$1,000 annually – available to incoming transfer students who transfer from a Catholic College with an AA or AS degree.
Alumni Legacy Scholarship
$300-$700 annually – for relatives of alumni.
Leach Endowed Scholarship
Awards vary – for nursing majors with demonstrated financial need.
Athletic Scholarship
Awards vary – athletic scholarships may be given in conjunction with academic scholarships.
USF Music Scholarship
$100 -$2,500 annually – music scholarships are available for students participating in the Schola Cantorum, the Singing Saints, and the Joliet Symphony Orchestra.
Awards are given based on talent and financial need, and an audition with the Music & Performing Arts Department is required. Auditions are done during the Freshman Scholarship Competition or by appointment.
USF Grant
Based upon financial need as determined by FAFSA and USF awarding policy.
USF Family Discount
5% of full-time traditional undergraduate tuition
Available for immediate family members when two or more students are registered full-time in a traditional undergraduate full-tuition rate program.
Phi Theta Kappa Scholarship
$13,000 annually (and a $1,000 on-campus housing grant!) – you must be a member of PTK National Community College Honor Society.
Transfer Scholarship
$7,000 annually (2.5 – 2.99 GPA) and a $400 on-campus housing grant
$9,000 annually (3.0 – 3.49 GPA) and a $600 on-campus housing grant
$11,000 annually (3.50- 4.00 GPA) and a $800 on-campus housing grant
Private Illinois Colleges and Universities (PICU) Scholarship
$500-$1,000 one-time scholarship
Student must be enrolled in an Illinois community college, complete a minimum of 30 credit hours, have a 3.0 GPA and enroll in one of the 48 PICU member institutions.
Offered every semester.
For more details, visit picuonline.org/scholarships.