Meet the Undergraduate Admissions Staff
Interested students can communicate with the USF Admissions team in a variety of ways. Want to set up an appointment? Find your counselor and click the link to schedule your appointment.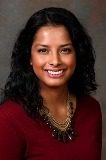 Elisabet Miramontes
Associate Director of International Admissions
All International students
Elisabet grew up in Cicero, Ill. and was the first in her family to graduate from a university. She graduated Summa Cum Laude from USF in 2013 with a Bachelor of Arts in Criminal and Social Justice and minor in Spanish, and has been her greatest achievement thus far. Her passion has always been education and community outreach which is very evident not only in her college but also in high school years. She was president of Unidos Vamos a Alcanzar (our Latino organization on campus), Co-founder of H.O.U.S.E (established to serve the unprivileged students on campus), mentee for the Student Alumni Mentoring Program, University Success Scholar, member of Delta Epsilon Sigma and Board Member for Big Brothers Big Sisters of Will and Grundy County Latino Advisory Board. During her time at the University of St. Francis her passion for helping students stemmed with assisting undocumented and DREAMer students and only grew from there, by the end of her college years she knew she wanted to work in higher education. Coming from a family of immigrants it has only propelled and inspired her towards success and hopes to spread that with the student body. Her favorite quotes: "Education is power" and "Si se puede"!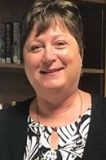 Kelly Manning
Assistant Director of Regional Admissions
Students outside of Illinois
(non-international)
Kelly was a collegiate athlete and graduated with a Bachelor of Arts in Communications from Hanover College. Kelly grew up a Hoosier in Indiana but lived in Sydney, Australia with her Aussie husband, Anthony, for 8 years and has been back in Indiana since 1998. Kelly has three sons. For the past 20 years, Kelly's professional as well as personal mission and passion has been helping students navigate through the college admission and financial aid maze. Kelly loves to cook and golf but most of all spend time with family and friends.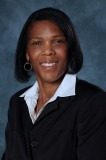 Eloise Billups
Associate Director of Admissions
Students with last names A – Co
Eloise graduated from the University of St. Francis with a Bachelor of Science in Applied Organizational Management. In 2006, she began working at the USF in the Graduate and Degree Completion Admissions Department as an Admissions Counselor. Prior to joining the admissions team, she worked in Financial Aid Services as a Loan and Scholarship Coordinator. Eloise is currently pursuing her Master of Science in Management degree at USF.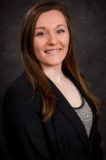 Nicolina Diorio 
Admissions Counselor
Students with last names Cp – He
Nikki graduated from USF in May 2018 with a Bachelor in History. She held a leadership role in the USF History Club and was a member of the Phi Alpha Theta Honor Society. After graduating with her BA, she completed an internship at the National Archives in Chicago. Her hobbies and interests include working out and reading historical memoirs.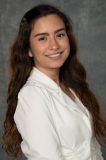 Yareley Gonzalez
Admissions Counselor
 Students with last names  Hf – Mc
Yareley grew up on the East side of Joliet for most of her life. She graduated from Joliet Central and was then the first in her family to pursue a degree in higher education. Yareley graduated from the University of St. Francis with a Bachelor of Science in Biology and a minor in Psychology ('19). During her time at USF, she was a part of many multicultural organizations as a Latina. Afterward, Yareley joined the undergraduate admissions team to help others pursue a college degree. She loves to see others rise, especially when it comes to education. Yareley also enjoys singing mariachi, playing guitar, and being an ally to marginalized communities. She hopes to be a mentor to all students as they travel through their educational journey at USF.
Alejandro Campos
Admissions Counselor
Students with last names  Md – Ro
Alejandro was born in Wisconsin, but raised in Joliet. He attended Joliet West High School, and after graduating from Joliet West he went into the United States Marine Corps Reserve. Alejandro served with Echo Company 2nd Battalion 24th Marines 3rd Platoon out of Chicago. He served as the 2nd squad leader and achieved the rank of Sergeant. Alejandro is a proud alum of the University of St. Francis, where he graduated in December 2015 with a Bachelor of Arts in Political Science. Alejandro has a strong connection with the school due to his mother ('92 & '17), father ('06), and grandmother ('85) all receiving their Bachelors and/or Masters degrees from USF. In his free time, you can find him watching or working with the Chicago White Sox and being with family & friends.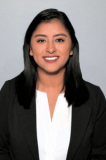 Crystal Macias
Admissions Counselor
Students with last names Rp – W
Crystal grew up in the area and graduated from Governors State University in 2018 with a Bachelor in Arts in Psychology. She is a first generation college graduate. Crystal has a background in Criminal Justice, with a combination of both psychology and criminal justice. "Working with children in any capacity and being able to assist in aiding in their future is a high interest of mine." She enjoys reading, arts, and crafts as well as spending time with friends and family.
Eric Ruiz
Director of Undergraduate Admissions
Students with last names  X-Z
Eric graduated from USF in 2007 with a Bachelor of Business Administration in Accounting and Finance and joined the admissions team in the same year. During college, Eric had fun being the man in the mascot suit, Bernie! He also was the vice president of finance for the Student Business Association, a Ministry Staffer and Saints Ambassador. Eric also earned his Masters of Business Administration from USF. He really enjoys spending time with his family, friends, and staying active. He grew up in Evergreen Park, and now resides in Joliet.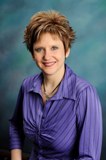 Annette has been with USF since March of 1988. She began in the Health Arts Program and joined the Undergraduate Admissions area in 2001. She is a mom to 35 kids– the Saints Ambassadors, who are her greatest enjoyment at USF! Annette was born and raised in Joliet and is very proud of and active in her Croatian heritage.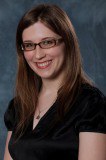 Emily has lived in Joliet for most of her life and graduated from Beloit College in 2008 with a degree in Studio Art and Museum Studies. Emily enjoys baking, reading and spending time with family and friends. She is excited to be a part of the Welcome Center.
Eric came to USF in 2017 and is a graduate of Indiana State University and the University of Essex. Eric has held staff, faculty, and leadership roles at Ancilla College, Governors State University, Purdue University Calumet, and Valparaiso University.
Privacy & Information
We take your privacy very seriously and so should you. By using this website, you are agreeing to our university privacy policies.  So have a look to see what we're doing with your personal information and how we're keeping it secure. Read our privacy policy here.