Coronavirus Aid, Relief, and Economic Security (CARES) Act Reporting
The University of St. Francis is taking part in the federal and state responses to COVID-19 including the recent CARES Act funding for students.
University of St. Francis has received the student portion of CARES Act funding in the amount of $769,837.
To date, University of St. Francis has distributed $724,750 of CARES Act funding to undergraduate students.  The university plans to distribute the remainder of the funds on a case-by-case basis until it is fully expended.
There are approximately 1,848 students who appear to meet basic eligibility for Title IV funding, of which approximately 627 were attending in solely online programs and thereby ineligible for CARES Act Funding.
University of St. Francis determined that funding would be distributed not solely to the neediest students, but there would be graduated awards that took into consideration the cost to the students and the student's inherent ability to pay the costs. Differential grouping and amounts delegated appear below: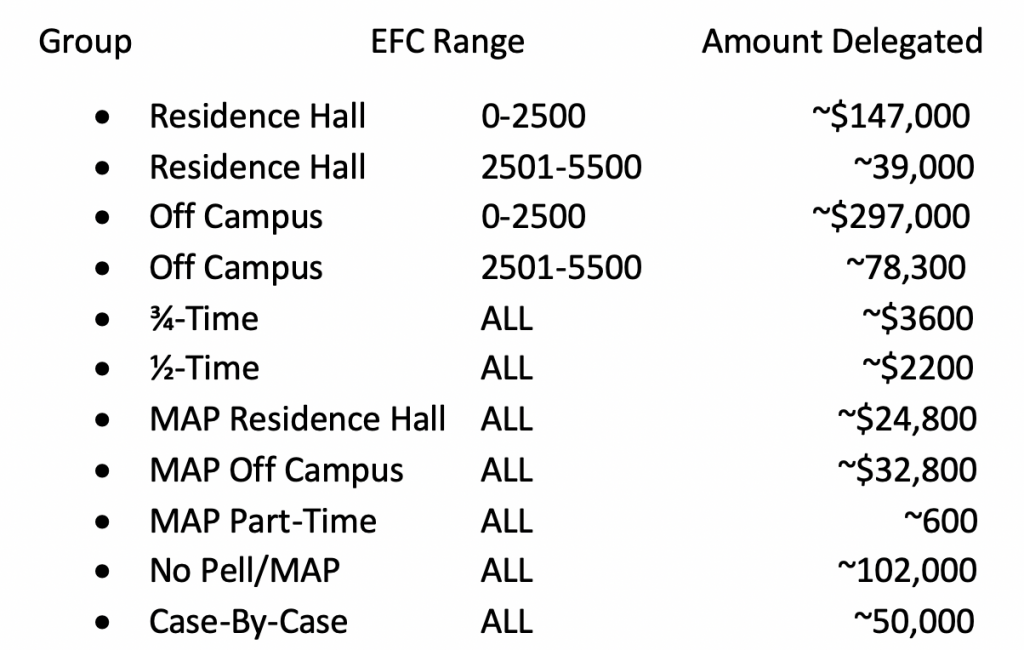 The following guidance was given to all students who received the first round of CARES Act Funding:
These emergency grant funds have been given to you as a result of the Coronavirus Aid, Relief, and Economic Security (CARES) Act.  The funds are designed to help you with expenses incurred as a result of the disruption of campus activities due to coronavirus.  Specifically these funds are to help cover such expenses as food, housing, course materials, technology, health care, and childcare.
The amounts of these grants were determined using an average cost method.  If you feel your expenses were significantly more than the grant funds you received, you may E-Mail us at finaid@stfrancis.edu and request additional funding. The subject line should read CARES Appeal Request.  In your E-Mail, please include your name and Student ID number, as well as an itemized listing of your expenses.  Please understand that we will review all of the requests we receive within the next 10 days, in the order in which they are received, and will respond to you by E-Mail with our determination.  These funds are limited, so we cannot guarantee that any additional funding will be available, nor can we estimate when available funding will be exhausted.
Thank you for your interest in University of St. Francis!  Please continue to meet the shelter at home guidelines of your particular state and keep you and your family safe.