The Noyce STEM Educator Scholarship provides scholarships for qualifying students who major in Biology or Mathematics with Secondary Licensure at USF. Scholarships are awarded for the final three years of the 4+1 program.
Noyce Scholarship recipients are required to teach in a high needs school for four (4) years after graduation. Scholars are selected based on qualities that indicate their potential to become exemplary teachers.
The Noyce STEM Educator Scholarship is made possible through the generous support of the National Science Foundation. Its goal is to help recruit, prepare, place, and mentor excellent STEM educators in high needs schools in Joliet and the surrounding communities.
When Life Hands You Lemons: Pandemic Creates Opportunity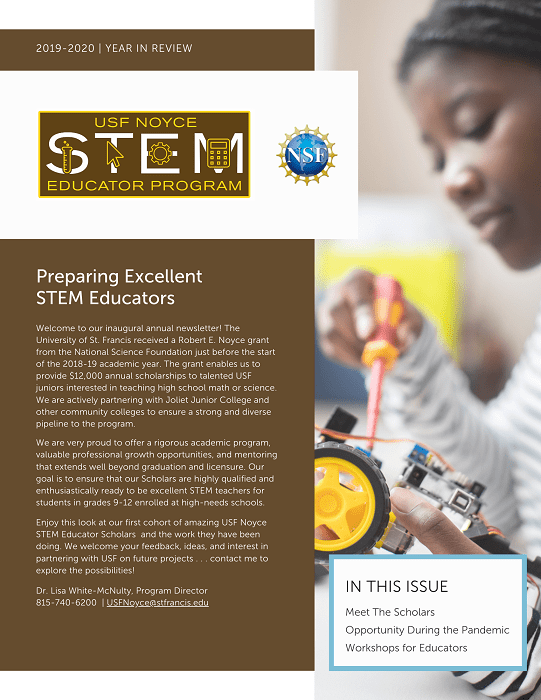 Like most institutions and schools, the University of St. Francis closed its campus in March in response to the COVID-19 pandemic. As a result, several STEM Service Learning projects scheduled for spring as well as the STEM camp planned for the summer were canceled.
Rather than throwing in the towel, the USF Noyce Team pivoted, with an eye toward helping teachers struggling with teaching STEM topics in a remote environment. Read the entire story (and much more) in our inaugural annual newsletter!