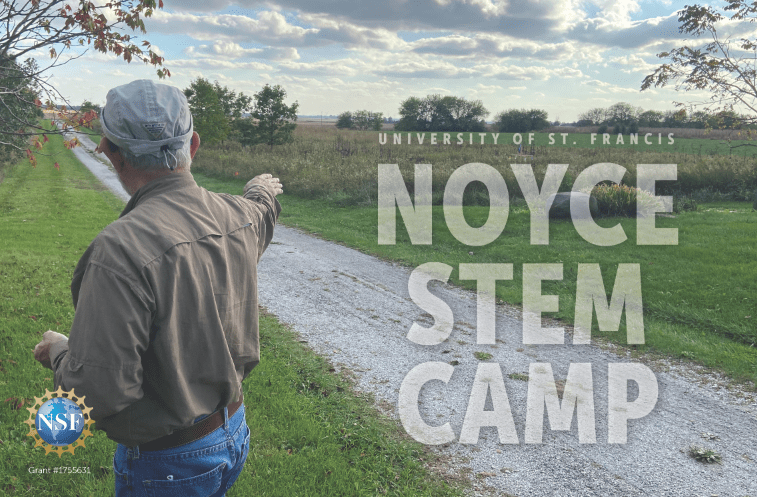 July 11 – 15, 2022

Join USF Noyce Scholars and local middle school teachers for a free STEM summer camp experience for students in grades 6-9.
We will use problem-based learning to tackle local issues. Come learn science and mathematical problem-solving approaches for environmental topics–and win daily door prizes!
Camp meets daily | 9 AM – 1 PM
University of St. Francis Main Campus (Joliet)
Download | Print | Share
This year's camp focus is the environment. Campers will learn about local environmental issues, such as ​declining biodiversity, habitat loss, and water quality. We will then use science, technology, engineering, and math concepts and approaches to develop ways to tackle the issues.
We will be on campus in classrooms and labs, and we'll be traveling via USF Shuttle bus to Codo Prairie and​/or Pilcher Park for field-based work.
Questions? 
Contact Dr. Chloe Lash, Camp Director, clash@stfrancis.edu.
Camp meets daily | 9 AM – 1 PM at USF's Main Campus (Joliet)
Box lunch provided. Please share special dietary needs via the registration form.
Daily door prizes! (Campers must be present to win)
Schedule will available July 8
What to Wear
Campers should wear comfortable clothing and shoes. On field days, ​campers should wear hats, sunscreen, long pants, ​long socks, and close-toed shoes. Please bring a water bottle
Drop Off and Pick up
Brown Science Center | USF Main Campus (Joliet)
530 Wilcox St, Joliet, IL 60435
​Directly across from the Pat Sullivan Center
Campus Map
Space for 15-minute parking is limited by the Science Center. Additional parking can be found across Douglas Street in the University Parking Lot. ​Please enter through the main door and we'll have a table set up to meet you in the lobby.
University COVID-19 Policy
Campers and parents are expected to follow all university-, state-, and federal-Covid-19 policies. Current campus policy (subject to change) requires proof of vaccination or proof of a negative Covid test (taken within the last week) to be shown by all campus visitors upon arrival to campus.
Supplemental Forms
Additional permission forms/acknowledgement will be required for each camper. All forms must be completed (with signatures as requested) to be eligible to participate in the camp. Registrants will be sent a link to required forms by mid-June.
Register Here for the Noyce STEM Summer Camp
Questions? 
Contact Dr. Chloe Lash, Camp Director, clash@stfrancis.edu.
Additional permission forms/acknowledgement are required for each camper. All forms must be completed (with signatures as requested) to participate in the camp.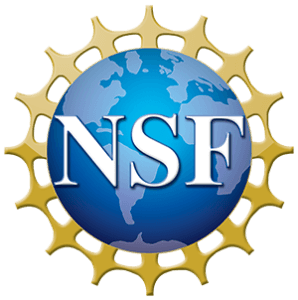 GRANT #1755631
The USF Noyce STEM Educator Scholarship and Noyce STEM Educator Stipend are made possible through the generous support of the National Science Foundation, grant #1755631. Its goal is to help recruit, prepare, place, and mentor excellent STEM educators in high needs schools in Joliet and the surrounding communities.
Are you seeking a Bachelor's degree in math or science with secondary education?
Applicant Critera
Have junior standing at USF for the academic year for which the application is being completed*
Majoring in Biology or Mathematics, with Secondary Licensure
Have earned a grade point average of 3.0/4.0 in both content area and education courses
Be a U.S. citizen or an eligible non-citizen
*Applicants can complete the first two years of their degree program either at USF, a community college or other accredited institution. Transfer students must have applied for admission to the university at the time the application is submitted, and must be admitted to USF to be eligible for the scholarship.
Special consideration given to first-generation college students and groups underrepresented in STEM fields.
Award Package
Maintaining Eligibility
Scholarships for Years 1-2
Teaching Requirement
Transfer Students
Do you already have a degree in a STEM field and want to earn a teaching license?
Applicant Criteria
Have earned undergraduate or graduate degree in NSF-approved STEM discipline
Be in good standing in USF's M.Ed. Program, ready for the final year of the program
Complete the FAFSA
Be a US citizen or eligible non-US citizen
Special consideration given to applicants of groups underrepresented in STEM fields
Award Package
Maintaining Eligibility
Teaching Requirement