The Noyce STEM Educator Scholarship and Noyce STEM Educator Stipend are made possible through the generous support of the National Science Foundation. Its goal is to help recruit, prepare, place, and mentor excellent STEM educators in high needs schools in Joliet and the surrounding communities.
Are YOU seeking a Bachelor's degree in math or science with secondary education?
Do YOU already have a degree in a STEM field and want to earn a teaching license?
Noyce Stipend recipients are required to teach in a high need school for a minimum of two (2) years following graduation. Scholars are selected based on qualities that indicate their potential to become exemplary teachers.
ONE-YEAR STIPEND PROVIDES
Tuition and fees up to $9,500 in the final academic year of the Education with Licensure (M.Ed.) program
Opportunities for STEM teaching with a additional stipend of up to $2000 for one summer
Funding for conference travel
Advising support for academic and professional success
Mentoring for new teachers for their first two years
APPLICANT CRITERIA
Have earned undergraduate or graduate degree in NSF-approved STEM discipline
Be in good standing in USF's M.Ed. Program, ready for the final year of the program
Complete the FAFSA
Be a US citizen or eligible non-US citizen
Special consideration given to applicants of groups underrepresented in STEM fields
REQUIREMENTS TO MAINTAIN ELIGIBILITY
Remain in good academic standing and successfully proceed through program assessment levels
Engage in at least one STEM service project
Be available to represent the University of St. Francis as a Noyce STEM Educator Stipend recipient

Commit to teaching in a high need school district for at least two years after graduation

Actively participate in the STEM Educators' Professional Learning Committee during the first two years of teaching
Noyce Scholar Integrated STEM Units
Noyce Scholar News & Resources
When Life Hands You Lemons: Pandemic Creates Opportunity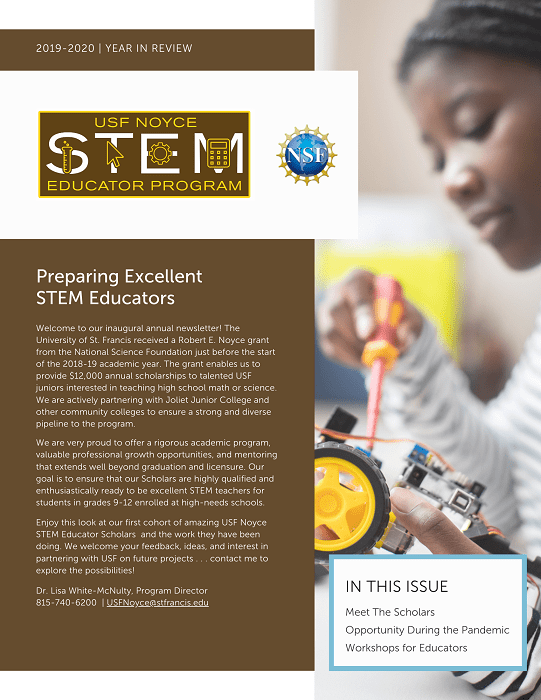 Like most institutions and schools, the University of St. Francis closed its campus in March in response to the COVID-19 pandemic. As a result, several STEM Service Learning projects scheduled for spring as well as the STEM camp planned for the summer were canceled.
Rather than throwing in the towel, the USF Noyce Team pivoted, with an eye toward helping teachers struggling with teaching STEM topics in a remote environment. Read the entire story (and much more) in our inaugural annual newsletter!