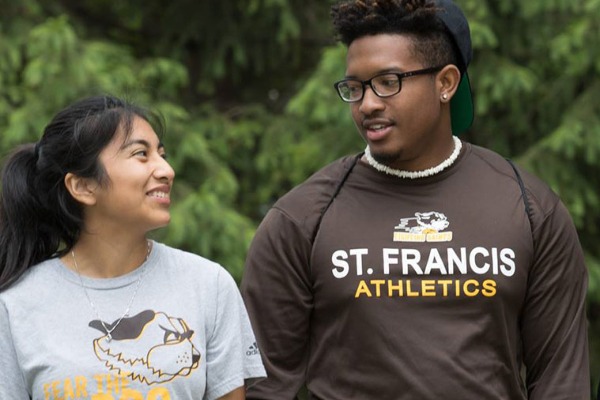 We are excited for you to visit campus and see firsthand everything the University of St. Francis has to offer! In an effort to provide a safe and healthy environment for the University of St. Francis community and our visitors, we have put in place the following that are included in the USF Preparedness Plan, which was reviewed and approved by the Will County Health Department:
Before Your Visit
Out of an abundance of caution and in an effort to keep the USF community safe and healthy, we are not currently allowing walk-in campus visit appointments. We are requiring all prospective students & guests to  schedule their campus visit at least 24 hours in advance. To schedule for a campus visit, go to stfrancis.edu/visit. To ensure physical distancing we are limiting all families to three (3) members: the prospective student and two (2) guests.
COVID-19 Symptom Screening
Each person in your group is required to complete a COVID-19 symptom screening before arriving on campus. Please visit https://safereopen.stfrancis.edu and log in as a Public Guest to complete the pre-screening questions on the morning of your visit (there is also a guide on the page in case you need help setting up your Public Guest profile). Once you complete the symptom screening, you will receive a campus pass via email that you will be asked to show once you arrive in the Welcome Center. You will also be asked to pass a touchless temperature scanning station upon your arrival.
Please refrain from visiting campus if you do not feel well or if you have been in contact with someone who has contracted COVID-19.
Face Coverings & Hand Hygiene
USF employees and guests are required to wear a face covering while on campus. Face coverings should cover both your nose and mouth (face shields are not an acceptable substitute, per CDC guidelines). We strongly encourage abiding by all public health guidelines, including washing your hands with soap and water for 20 seconds or using hand sanitizer that contains at least 60% alcohol. Physical distancing of at least 6 feet will be practiced, as well. Please note that, again out of an abundance of caution, our admissions staff will not be shaking hands with guests, but we are excited to host you for a personal campus visit.
Details About Your Visit & Tour
Please check-in at the Welcome Center no more than 10 minutes prior to your visit time.
Tour groups will be limited to one (1) family per tour guide. For the safety of our campus community, we are limiting the number of interior buildings that tour groups will enter.
While the University of St. Francis is taking all precautions to safeguard our community, we cannot eliminate the risk of COVID-19 exposure and infection on campus. Please be reminded that you are undertaking your visit at your own risk. If any visitor shows symptoms and tests positive for COVID-19 within 48 hours of visiting campus, that individual is encouraged to contact their healthcare provider for guidance.
Questions?
If you have any questions about your upcoming visit, please email welcomecenter@stfrancis.edu or call 815-740-2270. We look forward to meeting you soon!
We are very happy & excited to welcome prospective students and families back on the USF Campus!!
Register for a Personal Campus Visit
The Welcome Center is following the CDC & USF COVID Guidelines as a basis for our Personal Campus Visit policies and procedures. The health, safety and well-being for all is our number one priority. Scheduling your on-campus visit to USF is simple, quick & easy!!  Simply scroll down to the calendar and select the day & time that is convenient for you to visit! In order to maintain a healthy, safe environment, visits must be scheduled 24 hours in advance.  If you have questions about scheduling your visit, please contact our Welcome Center at 815-740-2270 and they will be happy to assist you.