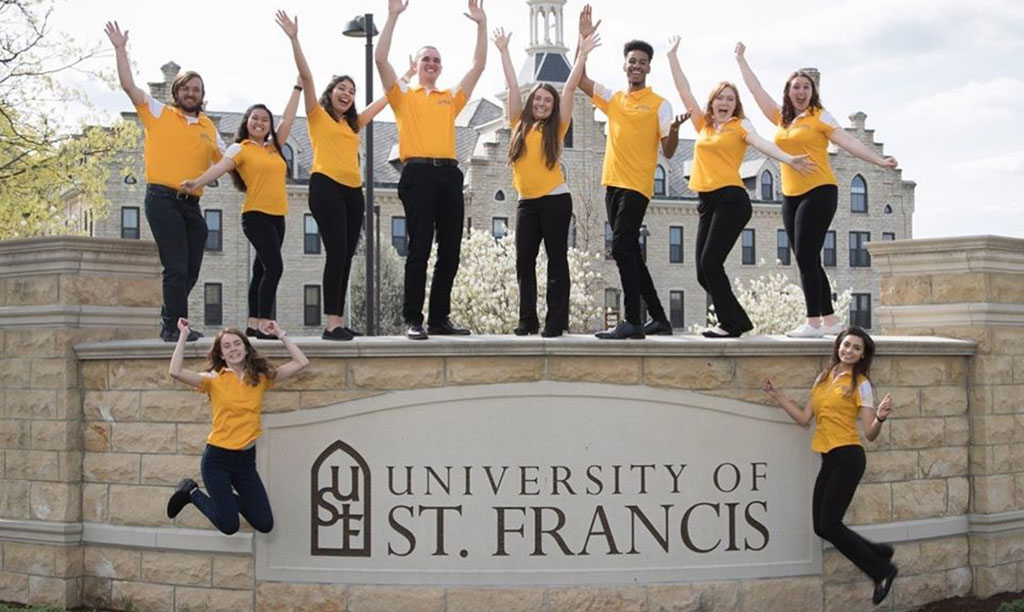 The Saints Ambassador Corps began in 1989 when an Admissions Counselor saw a need for student recruiters. The group had no formal structure, and any student could volunteer to give a campus tour at their leisure. In 1991, the Saints Ambassador Corps became a campus organization in which students could no longer freely join, but had to interview for a limited number of spots.
Since it was founded, the program has developed immensely. The Saints Ambassador Corps has become an elite group on campus and has earned the respect of the university community. Through hard work and dedication, the Saints Ambassadors have been able to serve our prospective students with outstanding customer service and in a warm, friendly demeanor.
There are 54 total Saints Ambassadors: 10 seniors, 17 juniors, 12 sophomores and 15 freshmen.
37 ambassadors commute and 17 live on campus.
Together, we are pursuing 17 majors and 10 minors.
We have 13 bilingual ambassadors.
13 ambassadors are student athletes.
We have 22 ambassadors in the Duns Scotus Honors Society.
During the 2018-2019 academic year, the Saints Ambassadors gave over 200 personal campus tours!
Join the Saints Ambassador Corps
The hiring process for new Saints Ambassadors takes place in spring each year for fall membership. If you have any questions, please email us at saintsambassadors@stfrancis.edu or call us at 815-740-5093. We look forward to talking to you!
Dear USF Student,
Thank you for showing interest in becoming a USF Saints Ambassador!  We are happy to see you taking the first step and initiative to begin your involvement at USF by applying to be a member of our ambassador team.
By now you have probably seen firsthand what we as Saints Ambassadors do. Yes, we give tours of USF and assist at our campus events, however Saints Ambassadors do so much more. As members of the Saints Ambassadors Corp (SAC), we serve as the official hosts of USF, welcoming guests to campus and providing them with outstanding customer service and insight on what it is like to be a student at USF. We have the rewarding opportunity to change lives one tour at a time by sharing our experiences at USF with future students and their families.
As current Saints Ambassadors, we are more than happy to address any questions or concerns that you may have regarding the Ambassador program. Please do not hesitate to contact us using the information provided below! You can also find more information about the Ambassador program online at www.stfrancis.edu/sac. The Saints Ambassadors program provides an incredible opportunity for you to share your love of the university with others while gaining valuable experience in communication, teamwork and leadership.
We hope you will seriously consider applying to be an Ambassador and look forward to receiving your completed application.  We wish you the best of luck in the application process and in all your endeavors at USF!
Sincerely,
Lauren Gould – Student Coordinator
Avery Hanning – Assistant Student Coordinator
William Mastin –Student Assistant
Saintsambassadors@stfrancis.edu | 815-740-5093
Meet the Saints Ambassadors