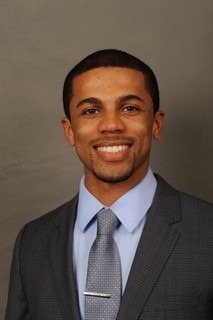 Political Science alumnus Tevin Hopkins is making a name for himself as an associate attorney in Chicago. Below he answers a few questions about his professional journey and how life at USF prepared him for it. 
What is your current position and employer?
I am currently an associate attorney at Nixon Peabody LLP in Chicago.
What has been your professional journey?  
My professional journey is still rather short! I'm currently a second year associate and I practice general commercial litigation. Being so young still, I'm doing a lot of learning and still have a lot to learn about how to be a good attorney. Thankfully, I've had some amazing to people to learn from and I've never regretted my choice to go to law school and become an attorney. 
What drew you to studying law?
I've always been fascinated with solving complex problems. The thought of going to law school first crossed my mind while I was at USF. I was involved in several campus organizations which all required problem solving skills. Solving problems while serving in leadership roles in these organizations was especially satisfying to me and, as an attorney, our primary goal is to solve problems for our clients.
How has the University of St. Francis prepared you for your career?
USF gave me unique opportunities to get involved in clubs, organizations, and sports that gave me several opportunities to think critically, problem solve, and grow my leadership skills. That, along with an effective curriculum helped prepare me for the difficulties of law school and, ultimately, my career. 
How have you stayed engaged with USF as an alumnus?
I am in the process of becoming a mentor for students seeking to follow similar career paths as mine. Now that I'm back in the Chicago area, I also plan on attending more alumni events. 
What is your advice to USF students hoping to enter law school?
Get involved! USF gives its students several opportunities to get involved in clubs and organizations. I think this is what sets USF apart from other universities. While these clubs provide for great social outlets, you also learn invaluable skills that will one day transfer over to your career and beyond. Being able to communicate and solve problems with groups of people will be skills you develop (whether you know it or not) and will be useful to you for the rest of your life. I would even say that developing these skills is just as important as getting good grades in the classroom. Good luck!