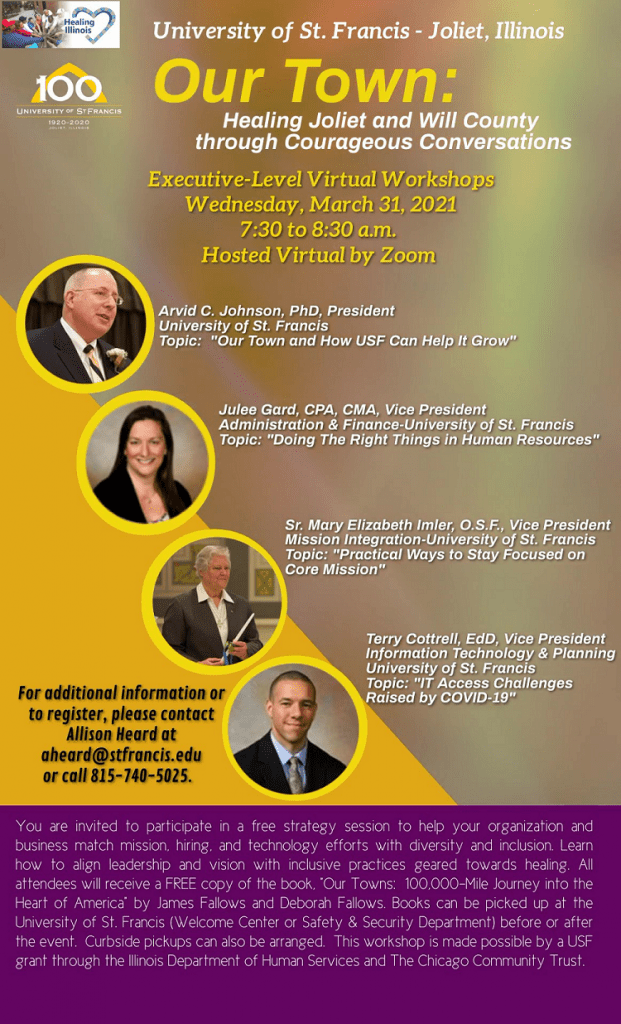 Joliet, Ill. – The University of St. Francis will host a free executive-level virtual workshop and strategy session to help Joliet/Will County area organizations and businesses match mission, hiring, and technology efforts with diversity and inclusion. The workshop, made possible by a grant through the Illinois Department of Human Services and The Chicago Community Trust, will take place virtually on Wednesday, March 31, 2021 from 7:30 a.m. to 8:30 a.m.
During the workshop, participants will learn how to align leadership and vision with inclusive practices geared towards healing. Sessions during the workshop include:
"Our Town and How USF Can Help It Grow" with Arvid C. Johnson, Ph.D. (USF President);
"Doing the Right Things in Human Resources" with Julee Gard, CPA, CMA (USF Vice President for Administration & Finance);
"Practical Ways to Stay Focused on Core Mission" with Sr. Mary Elizabeth Imler, OSF, (USF Vice President of Mission Integration & University Ministry) and;
"IT Challenges Raised by COVID-19" with Terry Cottrell, Ed.D. (USF Vice President for Information Technology & Planning).
All attendees will receive a free copy of the book, "Our Towns: 100,000-Mile Journey into the Heart of America" by James Fallows and Deborah Fallows. Books can be picked up at the main USF campus in Joliet, either at the Welcome Center (located at 520 Plainfield Road) or the Safety & Security Department (located at 605 Taylor Street) before or after the event.
For additional information or to register, please contact Allison Heard, USF Director of Institutional Diversity & Title IX Coordinator, by email at aheard@stfrancis.edu or by phone at 815-740-5025.
: :
The University of St. Francis, in Joliet, Ill., serves close to 4,000 students nationwide and offers undergraduate, graduate, doctoral and certificate programs in the arts and sciences, business, education, nursing and social work. There are over 51,000 USF alumni across the globe. For information, call 800-735-7500 or visit stfrancis.edu.
University of St. Francis: Bigger thinking. Brighter purpose.
# # #