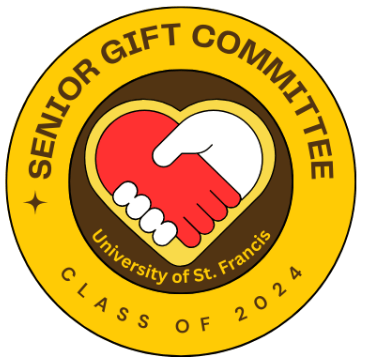 What is the Senior Class Gift?
The University of St. Francis is a community of learners and doers that hope to develop their education and skills to make a great impact on their community. This student-led initiative aspires to show current senior students the great importance of giving back. With the hundreds of programs, clubs, and activities that take place on-campus, this program allows students to donate to those activities that had the greatest effect on them or that they enjoyed the most. Not only will this ensure the existence of such activities for future students, but this will help every student build a legacy at the university.  
Why participate?
This is an opportunity for the senior class to come together and celebrate the opportunities that USF has provided for them. Since everyone has a different experience and or interest, USF believes that every student should have the liberty of deciding where their contribution goes to. Every donation will be unique and impact different areas of the university, just like every senior student did in their time at USF.
As a token of appreciation for participation in this initiative, participating seniors will be awarded a brown and gold graduation cord!
How much am I giving?
A one-time donation of $20.24 by members of the Class of 2024 will will help future students and leave a legacy at USF!
How to give?
ONLINE:
Visit the 2024 Senior Class Gift giving form.
CHECK:
Made out to 
University of St. Francis
500 Wilcox Street
Joliet, IL 60435
IN-PERSON:
Look out for SCG committee members at USF events or around school and they can answer questions or help with concerns.
Get Updates
"It is in giving that we receive."
-Francis of Assisi