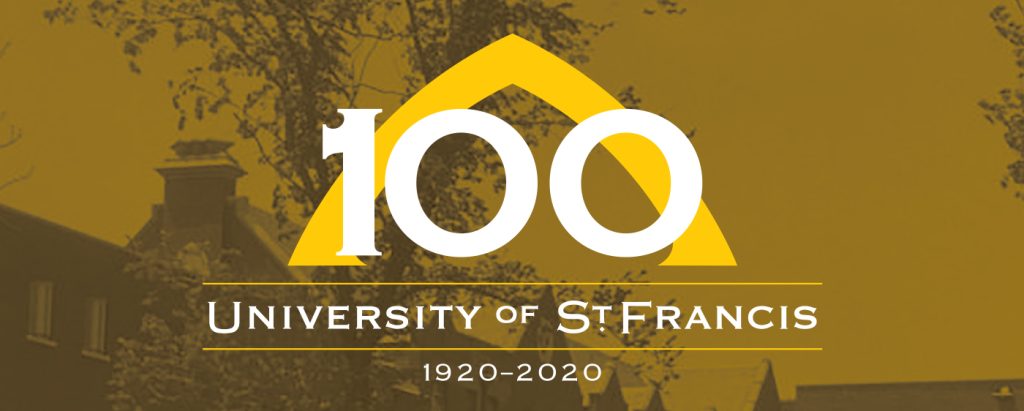 About the Centennial
The University of St. Francis has come a long way since it was established in 1920. Founded by the Sisters of Saint Francis of Mary Immaculate, known as the Joliet Franciscans, the institution was first called "New College," then "Assisi College," followed by the "College of St. Francis," and finally reaching university status in 1998.
The university has a rich history. Over the years, the institution transitioned from exclusively preparing the Sisters to teach, to becoming an all-women's college, to becoming coeducational in 1971, to becoming an affiliate of the Saint Joseph College of Nursing in 1997. Throughout the years, it has maintained its focus on offering a Catholic, comprehensive educational experience, focused on Franciscan values and rooted in the liberal arts, to each and every student.
With over 50,000 alumni in 50 states and over 20 foreign countries, all of us at the University of St. Francis are excited to celebrate this milestone. As we celebrate our first 100 years, we renew our commitment to build a Franciscan future!
Building a Franciscan Future…Together, in Our Second Century!
Special Events
Centennial Campaign
All year long!
As part of its 100-year celebration, USF is embarking on a Centennial Campaign with strategic initiatives that will help beautify campus, increase scholarships and honor our heritage. This campaign is an important part of how USF is enhancing the learning environment, showing its commitment to affordable excellence and ensuring a USF education remains within reach of bright, hard-working students and their families. Donations to the Centennial Campaign make meaningful tribute gifts that honor the university's 100-year history. Click here to learn more!
Caritas Centennial Scholarship Gala
Saturday, January 25, 2020 | 6 p.m. Sullivan Recreation Center
This 63rd annual black-tie scholarship dinner will return to the campus for a very special Centennial celebration, including photos, mementos and memories from the first 100 years!
Father Augustus Tolton Multimedia Production
Thursday, February 27, 2020 | 4 p.m. Sexton Auditorium
In honor of Black History Month, gather for a special multimedia production of Tolton: From Slave to Priest. Filled with music, drama, and inspiring performances, this production brings a message of hope and healing, a universal message for all. Hosted by the Anti-Racism Committee of the Sisters of St. Francis of Mary Immaculate and the USF Office of Institutional Diversity.
USF Pilgrimage to Assisi
March 6-14, 2020
Gather together with other USF alumni, faculty, staff and friends on a spiritual and educational trip to Italy to visit the hometown of the university's patrons, Saint Francis and Saint Clare of Assisi.
Mass of Peace Concert
Friday, April 24, 2020 | 7:30 p.m. Cathedral of St. Raymond Nonnatus
A performance including a collection of original musical compositions by Dr. Robert Kase, former dean of the College of Arts & Sciences and friend of USF, performed in the inspiring setting of the beautiful Cathedral of St. Raymond Nonnatus.
Centennial Convocation
Thursday, August 27, 2020 | 2:45 p.m.  Cathedral of St. Raymond Nonnatus
Opening academic convocation and mass welcoming incoming new students and marking the beginning of the school year.
Celebration of the Century
Thursday, August 27, 2020 | 4:15 p.m. Centennial Gateway (corner of Plainfield Rd. & Wilcox St.) & Centennial Quad (Main USF Campus)
The Centennial celebration continues with the dedication of the new Centennial Gateway and Centennial Quad, followed by a picnic and entertainment.
An Oral History of USF
Friday, September 18, 2020 | 5:30 p.m.  Joliet Historical Museum
An evening of moving and informative presentations, videos and displays, honoring the first 100 years of the university.
Tuesday, October 20, 2020 | 7:30 a.m. Turk Theater (Main USF Campus)
A gathering of community business and governmental leaders and friends of the university for a special Centennial address by our president, Dr. Arvid C. Johnson.
"100 Years of Philanthropy" Donors Dinner
Thursday, November 5, 2020 | 6 p.m.  San Damiano Hall (Motherhouse)
A "by invitation" gathering of individuals who have supported the university during its first 100 years.
Historical Timeline
1865 – The Congregation of the Sisters of St Francis of Mary Immaculate established on August 2 by Mother Alfred Moes.
1869 – Boarding school opened in Motherhouse for high school girls called "St. Francis Academy" (SFA).
1874 – The Sisters' Normal Institute of higher learning—an institution created to train high school graduates to be teachers—was accredited.
1912-1913 – A new academic wing on Taylor Street was added to Motherhouse to house the growing educational programs.
1915 – During construction, the curriculum of St. Francis Academy grew and SFA reopened in a new space in September, affording more separation between academy students and the Sisters.
1920 – The first college department formed as an extension of the academy by the Congregation of the Third Order of St. Francis of Mary Immaculate. The original 1874 charter from the State of Illinois was amended in 1920 to read, "The object of the Association shall be: to found, establish and maintain institutions of learning devoted to the education of young ladies, and divided into several departments or Colleges of Liberals Arts, Science, Philosophy, Literatures, Fine Arts, Music, Domestic Arts and Sciences, and the various commercial branches." That same year, a nurses' training school that, since 1911, had only educated Sisters was opened to the laity under the name "Saint Joseph School of Nursing"—a separate entity sponsored by the Franciscan Sisters of the Sacred Heart.
1922 – Sponsors built Tower Hall to provide additional space for the academy and to free up space in the Motherhouse for the growing college. A cornerstone ceremony was held on August 20 and a dedication of the completed structure was held on Octobter 14, 1923. On October 27, 1922, the first nursing class graduates with a total of 18 students (ten Sisters and eight laywomen).
1924 – Sr. Priscilla Sapp, OSF, R.N., Ed.D., a Franciscan Sister of the Sacred Heart, was appointed director of the School of Nursing—a position she held for over forty years.
1925 – The college department became a formal two-year junior college called Assisi Junior College.
1926 – Mother M. Thomasine Frye, OSF served as first president, with an enrollment of twelve students and eight teachers.
1930 – A senior college curriculum was established, and a new name, the College of St. Francis (CSF), was adopted. CSF was given bachelor's degree-granting authority.
1933 – The Alumni Association was formed.
1935 – A course affiliation program between CSF's College of Nursing and the St. Joseph Hospital School of Nursing began.
1936 – Faculty member Dr. Frank Weberg instigated the Papal Peace Program and arranged for the Midwest International Peace Conference of the Catholic Association to be held on campus. Shortly after, the Red Cross depended on CSF for training preparedness and the college was later designated as a Civil Defense Shelter.
1938 – Sr. M. Aniceta Guyette, OSF was named the second president of CSF. 
1938 – Accreditation recognition was received from the North Central Association of Colleges and Universities.
1943 – Two new Bachelor of Arts degrees in Spanish and Science were approved. The Cadet Nurse Training program instituted to prepare nurses to meet the needs imposed by World War II.
1944 – Art was announced as a major and cooperative program began with extension classes from DePaul and Loyola Universities.
1945 – An all female, student-run radio station, WCSF, began in 1945. Broadcasts were prepared by students and aired on Joliet's local station, WJOL. "In 1976, WCSF was created to educate students in all aspect of running an FM radio station. It originally broadcast only to the dorms, but in 1988 it was licensed by the Federal Communications Commission (FCC) to air on 88.7 FM in the Joliet area." 
1946 – Temporary off-campus student housing was acquired, located in three homes on Bridge Street: Marian Hall, Angela Hall and the Sehring Mansion. These added to the housing options in the south wing of the Motherhouse.
1953 – Sr. M. Elvira Bredel, OSF was named the college's third president. The college inaugurated the Seraphic Institute of Theology (also known as the Franciscan Institute), conferring 205 certificates and 35 Master of Arts degrees in Theology over its 12 years. The School of Nursing was also accredited by the National League for Nursing.
1955 – An expanded residence wing was built adjoining Tower Hall.
1956 – St. Francis Academy discontinued operation in Tower Hall when new facilities were built on Larkin Avenue in Joliet. (N.B. In 1990, Joliet Catholic High School and St. Francis Academy merged to form Joliet Catholic Academy.)
1957 – The first Caritas fundraiser gala was hosted at St. Francis to raise money for student scholarships.
1959 – St. Albert Hall became the third separate building as Sr. Joan Preising, OSF, chemist-turned-author, realized the completion of her personal project: raising of funds.
1962 – Sr. Anita Marie Jochem, OSF was named the college's fourth president and the last president from the congregation. Upon being advised by ACCU, the college officially incorporated as its own institution, separate from the congregation, with its own charter and by-laws.
1965 – The Sisters marked a century of progress in education in the evolution of the College of St Francis.
1966 – Marian Hall, the first "stand alone" residence hall on campus, was built.
1968 – The new library opened with books that were moved from the college wing of the Motherhouse.
1969 – Dr. Francis Kerins was appointed as the college's fifth (and first lay) president.
1970 – Merger talks began with Lewis University in the hopes to establish a south and north campus of the potential "Lewis-St. Francis of Illinois." (The merger ended in May 1972 when Lewis trustees could not agree on naming the new institution's president.)
1970 – A Bachelor of Science degree program in Health Arts began.
1970 – A three-year degree program was initiated.
1971 – The college became coeducational.
1972– Men's intercollegiate athletics were established. Elmer Bell became the first full-time athletic director and CSF started its first athletic programs – baseball and men's basketball. Both teams employed the nickname "The Falcons." The first male students were admitted to the School of Nursing.
1972 – The first off-campus degree programs began.
1973 – Men's cross-country became CSF's third athletic program. The men's marathon running team was nationally recognized (cited in the U.S. Congressional Record).
1974 – Dr. John C. Orr was named the college's sixth president.
1975 – CSF's athletes became "The Fighting Saints."
1976 – Women's sports resurrected. Women's basketball, tennis and volleyball started at CSF along with men's tennis programs. Cheerleading began as a student activity in 1976 with seven cheerleaders who cheered for the men's basketball team, forming the CSF Spiritline.
1979 – Men's golf and softball were added to CSF's growing list of sports.
1980 – CSF gained graduate degree-granting authority and a master's program in health services administration was offered. In the 1960s, a master's degree in Franciscan Studies was offered.
1980 – CSF pushed to grow African American student representation, as reflected in the demographics of the local community.
1982 – The Computer Science program began.
1982 – CSF men's soccer and women's cross-country began competing.
1986 – A recreation center was constructed for the athletic program and the men's football program was created. Tower Hall was deeded to CSF.
1987 – The School of Nursing approved to award a Bachelor of Science degree in Nursing (BSN) and changed its name to Saint Joseph College of Nursing (SJCN), with Lois Benich serving as its first president. Since 1920, 1,860 students graduated from the SJCN diploma program. Cheerleading became another CSF intercollegiate sport.
1993 – The Moser Performing Arts Center was built as an addition to Tower Hall. 
1993 – CSF's baseball team claims the school's first-ever NAIA National Championship. Head coach Gordie Gillespie becomes college baseball's all-time winningest coach.
1995 – Dr. James Doppke was named the college's seventh president.
1995 – The athletic department adds women's soccer.
1997 – Saint Joseph College of Nursing's affiliation with CSF began effective January 1, 1997. The Board of Trustees of the College of St. Francis voted in May to move to university status, effective January 1, 1998.
1998 – The College of St. Francis gained university status and adopted a new name: the University of St. Francis. Colleges within the university were created: College of Arts & Sciences, College of Business & Professional Studies, Saint Joseph College of Nursing & Allied Health, College of Health Arts, and College of Graduate Studies.
1998 – USF, a pioneer in online learning, offered its first online courses and degree programs.
1999 – VP of Mission Sr. Rosemary Small, OSF and a broad committee identified USF's four core values of respect, integrity, compassion and service.
2000 – USF pushed to grow Latino/a student representation, as reflected in the demographics of the local community.
2000 – Teacher education programs are separated from the College of Arts & Sciences to establish a College of Education. Restructuring creates this college with the College of Health Arts, Graduate & Professional Studies, College of Nursing & Allied Health, and College of Undergraduate Programs.
2000 – A physical campus and programs were added in Albuquerque, New Mexico for a newly created Physician Assistant program, and 40 acres were purchased in Joliet on Ridge Road for possible future expansion. Graduate nursing education program begins for advanced practice nurses with tracks as clinical nurse specialist or nurse practitioner.
2000 – Women's golf and women's track & field programs started.  
2002 – Dr. Michael J. Vinciguerra was named the university's eighth president.
2003 – The historic Motherhouse building and adjacent land was acquired by the university from the Sisters of St. Francis of Mary Immaculate. 
2003 – A new mission statement was adopted by the Board of Trustees.
2004 – USF became the property owner of 17 acres on Wilcox and Taylor Street.
2005 – The Joliet Symphony Orchestra at USF was established.
2007 – The City of Joliet erected the Mother Alfred Moes statue in the roundabout in front of Tower Hall, to honor of the Sisters of St. Francis of Mary Immaculate.
2007 – USF offered a four-course online certificate in Franciscan Studies, initiated through an AFCU grant.
2007 – USF athletics adds men's track & field.
2008 – College of Education programs were accredited by the National Council for Accreditation of Teacher Education (NCATE). 
2008 – The College of Nursing, which moved from the Saint Joseph Medical Center complex to the newly acquired and remodeled south wing of the Motherhouse.
2009 – USF granted doctoral degree-granting authority. The university's first doctorate, the Doctor of Nursing Practice, was established.
2009 – The Art & Design Department opened the Center for Art & Design in a renovated space in downtown Joliet's historic Rialto Square Theatre building.
2009 – The south wing of the Motherhouse was renamed Donovan Hall.
2009 – USF's new Alma Mater, "Our St. Francis," was composed and first performed by Dr. Robert Kase, Grammy-nominated dean of College of Arts & Sciences.
2009 – An agreement with the Veterans Administration was developed, and USF became a "Military Friendly School."
2010 – The Welcome Center opened in the Motherhouse.
2010 – USF dedicated the campus as a peace site and ritualized it with the placement of a peace pole on the Quad.
2011 – The nursing college was re-named "Cecily and John Leach College of Nursing" and the library was named "LaVerne & Dorothy Brown Library."
2011 – The Doctor of Education program was established.
2012 – Men's cross country won the NAIA National Championship (cited in the U.S. Congressional Record).
2012 – The recreation center was renamed the "Pat Sullivan Center" in recognition of Sullivan, a longtime basketball coach and athletic director.
2012 – USF pushed to grow international student representation.
2012 – The Board of Trustees approved a Sustainability Statement on February 9.
2013 – Dr. Arvid C. Johnson was named the university's ninth president.
2013 – The university's first overseas MBA program was established with Brno University of Technology in the Czech Republic.
2013 – The USF Art Gallery opened at 25 E. Van Buren Street in Joliet.
2013 – USF men's and women's bowling teams began competition.
2014 – The "St. Bonaventure Campus" opened in downtown Joliet with the added dedication of the Robert W. Plaster Center in Joliet's old Mode Theatre building. The Business Incubator opens on the first floor.
2014 – USF welcomed Greek life to campus as a new student activity.
2014 – The Alumni Center and Alumni Gathering Room were dedicated in the Motherhouse.
2015 – USF began anti-racism training, following the corporate stance of the Sponsors.
2016 – Guardian Angel Hall opened to students at St. Clare Campus, located at 1550 Plainfield Road. It became the new home of the Leach College of Nursing, and the College of Education moved into the nursing college's former Donovan Hall location.
2016 – Competitive dance became USF's 22nd sport.
2017 – The USF women's bowling team won the NAIA Invitational in its fourth season of competition.
2018 – The LaVerne & Dorothy Brown Science Hall opened to students on USF's Main Campus.
2020 – Centennial celebrations began at the University of St. Francis to celebrate 100 years of Catholic, Franciscan education.
100 Stories from the Archives
We invite you to listen to and view segments of our past through the University's archival collections maintained in the University's Brown Library.
Quick links to these online resources are found below:
Student Newspapers/Magazine:
100,000 Hours of Service for Our Centennial Year!
Every 1,000 hours of service will represent 1 year of the University of St. Francis history!