Centennial Gateway & Commons
About the Centennial Gateway and Benoit Commons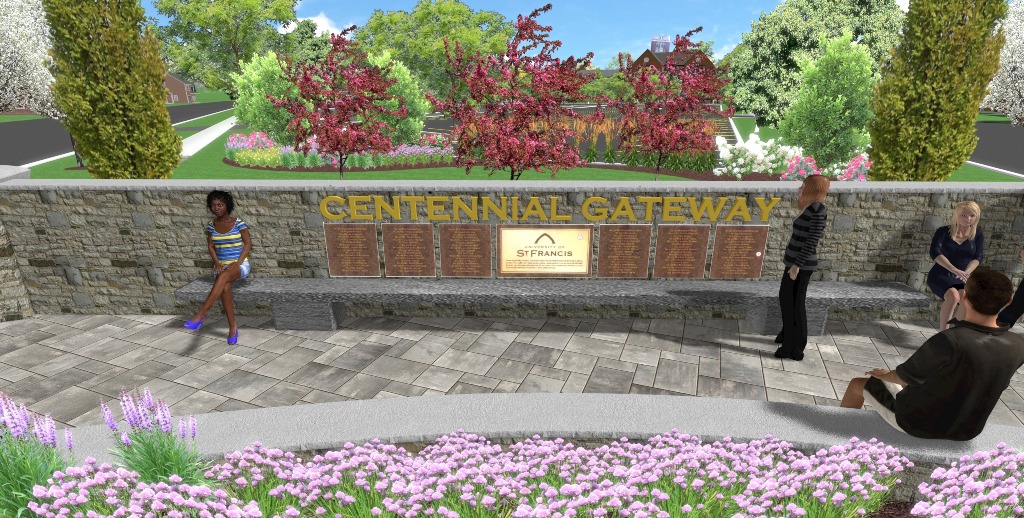 The Centennial Gateway honors the university's 100-year heritage, recognizes USF supporters and provides a warm welcome to campus. The landscape design features a stone gateway and signage, a stone patio and seating area, a bronze statue of Saint Francis of Assisi with USF mascot Bernie St. Bernard, and thriving plants and trees. These special features welcome current students, faculty, staff, alumni and visitors to campus. Statues on college campuses become an important way to communicate heritage, pride and tradition. USF believes the statue of Saint Francis and the area around it enhances the campus environment and helps bolster recruitment efforts. The university also believes the charm, color, and beauty of the landscaping is a fitting remembrance of USF's patron, who was known for his love of nature and creation. Spaces, such as this one, are the heart of USF's mission as a welcoming community of learners.
The Benoit Commons creates an attractive, western entrance to the Quad between the Sullivan Center and Tower Hall, and a beautiful outdoor gathering area, which is needed now more than ever before. Margaret '69 and Bill are long-time friends of USF, and Margaret recently celebrated her 50th Class Reunion. The Benoit Commons, complete with a water feature, provides the USF community with a space to study, reflect, collaborate, dine, and enjoy fellowship.
:::::::::::::::::::::::::::::::::::::::::::::
Centennial Gateway Donors
Gloria and Edward J. Dollinger
Nancy and James A. Doppke, Sr.
Mary Ann (Bonkowski '68) and Peery Duderstadt
Eisenbrandt Family Foundation
Cynthia and Robert J. Erickson
The Filotto Family
Franciscan Sisters of the Sacred Heart
Rebecca and Marc Fry
Michelle and Art Galli '80
Paul E. Gantzert
Julee and Michael Gard
Debbie and Edward W. Gosselin
Diane (Felbinger '77) and Bill Habiger
Allison Heard
Nancy '79 and Lyle Hicks
Susan (Shih) Huang '58*
Judith and Mark Inserra
Johansen & Anderson, Inc.
Joliet Rotary Club
Anne M. and Arvid C. Johnson
Mara and Christopher Johnson
Wanda S. Johnson
William P. Johnson
Michael J. Kalata '87
Dolores (Torres '56) and Jerome Kenney
Cristina and Ronald Kenny '81
Linda Kilroy '72
Barbara (Franey '64) and Wayne Klasing
Dee (Carpenter '71) and Duane Krieger
KSKJ Life
Thomas J. Kujawa '84*
Dave Laketa '90
Kathleen J. '81, '96 and Michael V. LaRocco
Bernice B. (Borek '62) and Edmund Leracz
Rosemary Lucas '49
Mack & Associates, Certified Public Accountants
Virginia and Joseph Mallof
Susanne and John Manner
Carol A. (Ardaugh '65) and Thomas McCafferty
Wilhelmine (Hammel '38), Maureen '71, and William McCarley
Cheryl '86 and Kevin McCarthy
Vincent K. McGirr
Lora and Patrick McGuire '87
Maureen (Briscoe '84) and Steve Morrissette '83, '86
Amy and Michael Mravle '97
Carolyn (Tomecek) Murphy '65
Marianne (Herringer '62) and Dennis Murphy
Frances (Tures) Naal '58
Sandra (Novak '61) Montrose Olivier and Joseph Olivier
Madonna (Plese '56) and John C. Orr
Maria (Jevitz '66) and Ronald Patterson
Rita Pawlik*
Ann (Reedy '80) and Steven Randich '79
Dorothy Ann Ritter '66
Candice (Polovina '88) and Steven Rosen
Beth and David Roth
Mary Kay (Walter '69) and Joe Rowe
Lucille* and Gerald Ruder*
Jodi (Zier '96, '02) and Scott Schager
James R. Sefcik, Jr.
Sentinus, LLC
Gina and Brian Sharp '97, '01
Kristin S. and M. David Short
Sisters of St. Francis of Mary Immaculate
Kathleen and Frank Slattery '80
Ana Rossetti and Damon Sloan '20
Stephanie and Daniel Streitz
Kathleen Sullivan '95
Patricia (Kahn) Tobin '53*
Rita (Baranowski) Tylka '60*
Cecilia (Trizna) Vargo '59
Wilhelmine (McCarley '68) and John Vidmar
Grace* and Michael Vinciguerra
Donna (Guderyahn '91) and Andrew Weis '90 and Family
Tricia '08 and Nicholas Weis '91
Margaret (Rozman '61) and Ronald Weiss
Patricia (Sexton '67) and Robert Wheeler
Erin and Jason Whiteside '20
Susan and Lawrence W. Wiers
The Wignall Family
Phyllis Wilson
Colleen Wyse '75 and Stephen Klasko
Nancy and Anthony Zordan
[ *Deceased ]
Scholarships
Student support is the highest priority of the university. Throughout USF's 100-year history, we have welcomed students based on their talent and academic potential. By raising $1 million in new scholarship support by 2020, the University of St. Francis Centennial Campaign demonstrates USF's commitment to affordable excellence and will ensure a USF education remains within reach of bright, hard-working students and families. USF is emphasizing two scholarship support areas that are critical to the university's recruitment success and the overall quality of USF's student body.
NEED-BASED SCHOLARSHIPS
While 96 percent (1,240 out of 1,291) of traditional, full-time undergraduate students receive some form of financial assistance and 40 percent (520 out of 1,291) of traditional, full-time undergraduate students qualify for Federal Pell Grants, the university is only able to meet a fraction of the growing student financial need that exists. This is the university's greatest need.
MERIT-BASED SCHOLARSHIPS
USF aims to strengthen its ability to attract the best and brightest students from Illinois, the region and the country through competitive scholarship support.
The Centennial Campaign goal for this initiative is $1 million.
Centennial Quad
The Quad on the main campus will be transformed. The space will create an attractive outdoor gathering area and a walkable link between USF's LaVerne and Dorothy Brown Science Hall, Tower Hall, the Pat Sullivan Recreation Center and the Motherhouse. With the removal of St. Albert Hall, the campus will be opened up and the Quad will create a peaceful setting conducive to learning. Illinois native plants and gardens will be incorporated into the landscape design as well as a new water feature that will enhance the overall beauty of the campus. The commons seating area will provide space for students to study, collaborate, dine and enjoy fellowship.  Spaces like these, where relationships flourish, are a critical means by which student success is made.
The Centennial Campaign goal for this initiative is $500,000.
Giving Opportunities
There are many recognition and naming opportunities available in the Centennial Campaign that will transform students' lives for the better. A priority is to offer scholarships to offset the cost of higher education for deserving students. Donors can name an endowed scholarship for gifts of $25,000 and above. Donors can also add investments to the Professor LaRocco Scholarship and the Centennial Scholarship. With a $5,000 investment, you will help build the Centennial Gateway and have your name on the donor wall. There are many other naming opportunities for the quad, water feature, and more. Please contact Kristin Short at 815-740-3613 for a listing of opportunities.
Recognition & Naming Opportunities, as of October 2, 2018
Scholarships
Endowed Scholarships – $25,000 each
Centennial Scholarships – Varied
Centennial Gateway 
Seating Commons – $100,000
Centennial Gateway Sponsorship – $5,000
Saint Francis Statue – Named
Centennial Quad
Quad – $500,000
Seating Commons – Named
Water Feature – $50,000
Heritage
University Seal on Flooring – $100,000
Centennial Collage – $50,000
Founders' Bell – $50,00025
About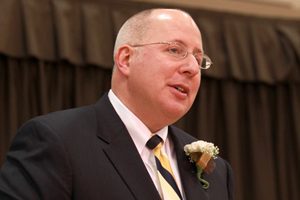 The University of St. Francis has come a long way since its establishment in 1920 by the Sisters of St. Francis of Mary Immaculate. Since that time, USF became a coeducational institution in 1971, developed an affiliation with the Saint Joseph College of Nursing in 1997, and was re-named the University of St. Francis in 1998. Each year along the path, this academic institution has maintained its focus on offering a Catholic, comprehensive educational experience, focused on Franciscan values and rooted in the liberal arts, to each and every student. All of us at USF are excited to celebrate this milestone.
As part of its 100-year celebration, USF is embarking on a Centennial Campaign with strategic initiatives that will help beautify campus, increase scholarships and honor our heritage. This campaign is an important part of how USF is enhancing the learning environment, showing its commitment to affordable excellence and ensuring a USF education remains within reach of bright, hard-working students and their families.
Donations to the Centennial Campaign would make meaningful tribute gifts to the university's 100-year history. To those of you who have invested in the strategic priorities of this campaign, thank you. If you have not yet made a gift to our Centennial Campaign, I urge you to join us as we turn the initiatives into realities.
With your help, your participation and your prayers, I know that we will fulfill the needs of our university today as we continue to build a Franciscan future.
Pace e Bene,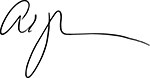 Arvid C. Johnson
President