About the Centennial Gateway and Benoit Commons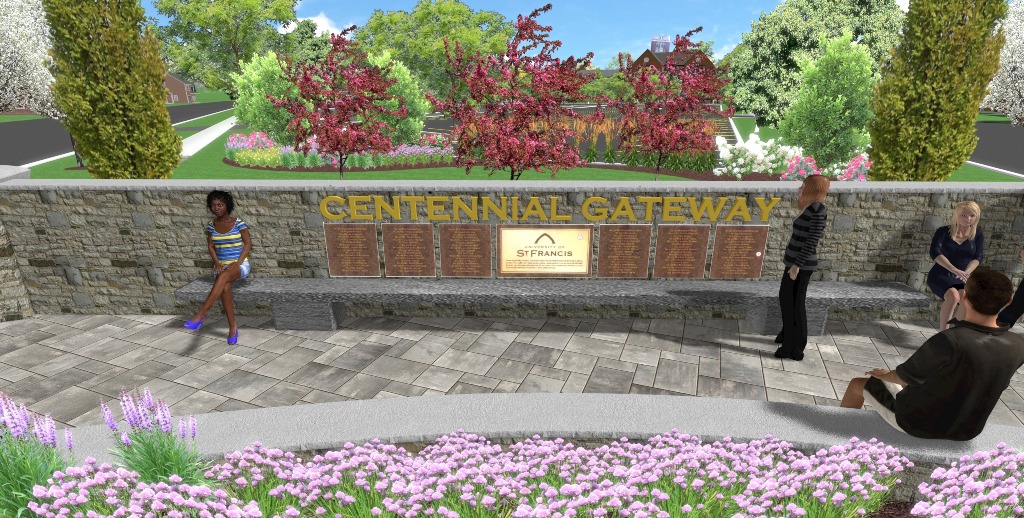 The Centennial Gateway honors the university's 100-year heritage, recognizes USF supporters and provides a warm welcome to campus. The landscape design features a stone gateway and signage, a stone patio and seating area, a bronze statue of Saint Francis of Assisi with USF mascot Bernie St. Bernard, and thriving plants and trees. These special features welcome current students, faculty, staff, alumni and visitors to campus. Statues on college campuses become an important way to communicate heritage, pride and tradition. USF believes the statue of Saint Francis and the area around it enhances the campus environment and helps bolster recruitment efforts. The university also believes the charm, color, and beauty of the landscaping is a fitting remembrance of USF's patron, who was known for his love of nature and creation. Spaces, such as this one, are the heart of USF's mission as a welcoming community of learners.
The Benoit Commons creates an attractive, western entrance to the Quad between the Sullivan Center and Tower Hall, and a beautiful outdoor gathering area, which is needed now more than ever before. Margaret '69 and Bill are long-time friends of USF, and Margaret recently celebrated her 50th Class Reunion. The Benoit Commons, complete with a water feature, provides the USF community with a space to study, reflect, collaborate, dine, and enjoy fellowship.
:::::::::::::::::::::::::::::::::::::::::::::
Centennial Gateway Donors
Anonymous
Marilyn J. and Anthony R. Arellano
Jo Ann (McDonald) Barber '52
Patricia '83 and William Bellah '82
Regina and George Block '79
Laura and Mike Brennan
Busey Bank
Margaret (Kennedy '69) and William Benoit
Kimberly and Michael Bryant '83
Marietta and William Carroll Richard
Gloria and Edward J. Dollinger
Nancy and James A. Doppke, Sr.
Mary Ann (Bonkowski '68) and Peery Duderstadt
Eisenbrandt Family Foundation
Cynthia and Robert J. Erickson
The Filotto Family
Franciscan Sisters of the Sacred Heart
Rebecca and Marc Fry
Michelle and Art Galli '80
Paul E. Gantzert
Julee and Michael Gard
Debbie and Edward W. Gosselin
Diane (Felbinger '77) and Bill Habiger
Allison Heard
Nancy '79 and Lyle Hicks
Susan (Shih) Huang '58*
Judith and Mark Inserra
Johansen & Anderson, Inc.
Joliet Rotary Club
Anne M. and Arvid C. Johnson
Mara and Christopher Johnson
Wanda S. Johnson
William P. Johnson
Michael J. Kalata '87
Dolores (Torres '56) and Jerome Kenney
Cristina and Ronald Kenny '81
Linda Kilroy '72
Barbara (Franey '64) and Wayne Klasing
Dee (Carpenter '71) and Duane Krieger
KSKJ Life
Thomas J. Kujawa '84*
Dave Laketa '90
Kathleen J. '81, '96 and Michael V. LaRocco
Bernice B. (Borek '62) and Edmund Leracz
Rosemary Lucas '49
Mack & Associates, Certified Public Accountants
Virginia and Joseph Mallof
Susanne and John Manner
Carol A. (Ardaugh '65) and Thomas McCafferty
Wilhelmine (Hammel '38), Maureen '71, and William McCarley
Cheryl '86 and Kevin McCarthy
Vincent K. McGirr
Lora and Patrick McGuire '87
Maureen (Briscoe '84) and Steve Morrissette '83, '86
Amy and Michael Mravle '97
Carolyn (Tomecek) Murphy '65
Marianne (Herringer '62) and Dennis Murphy
Frances (Tures) Naal '58
Sandra (Novak '61) Montrose Olivier and Joseph Olivier
Madonna (Plese '56) and John C. Orr
Maria (Jevitz '66) and Ronald Patterson
Rita Pawlik*
Ann (Reedy '80) and Steven Randich '79
Dorothy Ann Ritter '66
Candice (Polovina '88) and Steven Rosen
Beth and David Roth
Mary Kay (Walter '69) and Joe Rowe
Lucille* and Gerald Ruder*
Jodi (Zier '96, '02) and Scott Schager
James R. Sefcik, Jr.
Sentinus, LLC
Gina and Brian Sharp '97, '01
Kristin S. and M. David Short
Sisters of St. Francis of Mary Immaculate
Kathleen and Frank Slattery '80
Ana Rossetti and Damon Sloan '20
Stephanie and Daniel Streitz
Kathleen Sullivan '95
Patricia (Kahn) Tobin '53*
Rita (Baranowski) Tylka '60*
Cecilia (Trizna) Vargo '59
Wilhelmine (McCarley '68) and John Vidmar
Grace* and Michael Vinciguerra
Donna (Guderyahn '91) and Andrew Weis '90 and Family
Tricia '08 and Nicholas Weis '91
Margaret (Rozman '61) and Ronald Weiss
Patricia (Sexton '67) and Robert Wheeler
Erin and Jason Whiteside '20
Susan and Lawrence W. Wiers
The Wignall Family
Phyllis Wilson
Colleen Wyse '75 and Stephen Klasko
Nancy and Anthony Zordan
[ *Deceased ]