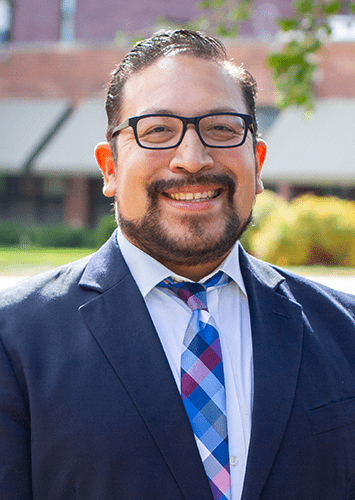 Joliet, Ill. – The University of St. Francis (USF) announced today that Eric Ruiz, '07, '09, has been named the University's new vice president for admissions and enrollment services. In his vice president role, Ruiz will oversee the areas of financial aid, enrollment support services, admissions (undergraduate, graduate, adult and international), and marketing services.
USF President Arvid C. Johnson, Ph.D., commended Ruiz for his recent work in his interim vice president role over the past two months.
"A double-alumnus of the University of St. Francis, Eric has held a variety of admissions positions of increasing responsibility for over fifteen years – including serving as the interim vice president for the past two months. Even in his interim role, Eric ensured a smooth, successful transition – including finalizing our Spring 2023 new student enrollments, laying the groundwork for a successful Fall 2023, and working to capture increased value from our strategic initiative with Education Advisory Board (EAB)," Johnson said.
"Eric has also been an up-front leader for our push to become a 'Hispanic Serving Institution' – achieved this past January 2023 – and continues to be an on-campus advocate for our support of our undocumented students through initiatives such as 'TheDREAM.US'," noted Johnson.
As he officially gets started in his new role, Ruiz's primary focus will be on his team, their needs and their engagement.
"There are many priorities that need to happen as I get started, but an initial one is to ensure that I understand my team's needs and ensure that they continue to use their voice to create positive change at USF and for USF students. We will certainly be focused on USF's enrollment, but the bigger job is to enhance 'how' we are driving enrollment. I am often asked the question by USF employees, 'how can I help?', and the hope is to be able to answer that question every time in a strategic way. In order to be successful, we all have to be in it together, and I need to show everyone that is not in admissions how their respective roles can and do affect enrollment. Once everyone understands where they fit on the admissions map, they will be able to better navigate toward the goal of a better USF," he said.
While he has served at USF for over fifteen years, Ruiz's commitment to Joliet's university is as strong as it has ever been.
"After fifteen years at one place of employment, one may think that the fire might start to wear out. That is not the case with me. My fire is strong and my motivation is fierce. Every time I've asked myself if USF is where I am supposed to be, I've always come back to knowing that because I can help to create positive change and affect someone positively each and every day, this is where I am called to be," Ruiz said.
"Affecting someone's life positively, helping them to realize the dream of earning a college degree, helping someone pursue a second chance to finish what they started, or being able to help one of my fellow co-workers grow professionally, are just some of the things that reinforce my calling to be here. I'm so thankful that USF continues to be able to provide that to me," Ruiz added.
Ruiz also placed high value on the place of USF's mission in its admissions efforts.
"The thing that USF has been able to get better at year after year is understanding the importance of our mission. That means, we take pride in being able to say 'we will be with you every step of the way', regardless of any challenges, we know 'we can get you there'. Yes, the higher education arena is more competitive than ever, but thankfully we have already been identified as a strong competitor. We have an opportunity to implement strategic tools that would be able to help spread our USF good news even further by reaching a little further while still paying attention to the details that make USF's mission come to reality," Ruiz said.
Ruiz is grateful for the ongoing support given to him by his family throughout his career.
"I am eternally grateful to my wife, Jennifer '10, and my two daughters, Izidora and Evelyn, for their patience and for keeping me on my toes as I balance being a professional, a husband and a father. I could not have gotten here without their support. I also need to give gratitude to my father, Flavio (retired USF employee), my mother, Teresa (retired USF employee), and my brother, Ivan, as they were my rock when I first went to college at the University of St. Francis. I would not have tried the college path if it wasn't for them. Because of their desire to advance their family, I was able to gain the love for this profession and for USF. iGracias mi familia!," Ruiz said.
Eric Ruiz earned a BBA in accounting and finance from the University of St. Francis in 2007, and his MBA from USF in 2009. Ruiz and his family live in Joliet.
: :
The University of St. Francis, in Joliet, Ill., serves close to 4,000 students nationwide and offers undergraduate, graduate, doctoral and certificate programs in the arts and sciences, business, education, nursing and social work. There are over 53,000 USF alumni across the globe. For information, call 800-735-7500 or visit stfrancis.edu.
University of St. Francis: Bigger thinking. Brighter purpose.
# # #