Perhaps it's a parent, or a sibling, or a friend of yours… or your own experiences that sparked your interest in helping those who struggle with substance use disorders. Substance use disorders are complex and fascinating to study, with new research emerging regularly on how best to assist people and their families in overcoming their misuse of alcohol and other drugs. By majoring in substance abuse counseling at USF, you will become part of the cutting edge of specialists learning how to cure the damaging substance use disorders.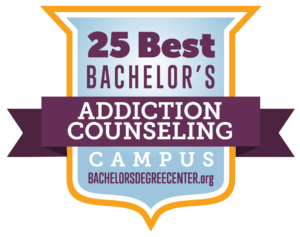 Currently the only B.A. program in substance abuse counseling in the Chicago area, the University of St. Francis Substance Abuse Counseling program provides an opportunity for many students with a high school diploma or an associate degree in this field to obtain a B.A. degree, while meeting a strong demand for substance abuse counselors in a dynamic market.
Nationally, the field of substance abuse/addictions counseling is expected to enjoy faster than average job growth (United States Department of Labor, Bureau of Labor Statistics). Thus, the field of substance abuse counseling represents a wise choice for students interested in entering this helping profession.
The University of St. Francis is accredited by the Higher Learning Commission (hlcommission.org), a regional accreditation agency recognized by the U.S. Department of Education.
The Substance Abuse Counseling program is accredited by the Illinois Certification Board (iaodapca.org).
"USF has given me an unforgettable experience. Faculty members have allowed me to grow both intellectually and as a person. Each professor has supported me and my goals, and was more than willing to help me achieve anything I set my mind to. I was pushed and motivated to learn, grow, and become a better person. This incredible support system has surrounded me with an incredible group of colleagues, mentors, and friends."
–Autumn Lee
What Can You Do With This Degree?
Substance abuse counselors work in a wide variety of settings, such as hospitals, nonprofit state funded treatment centers, mental health centers, community health centers, prisons, drug courts, and private practice. They also work in halfway houses, detox centers, or in employee assistance programs (EAPs). EAPs are behavioral health programs provided by some employers to help employees deal with personal problems. Some addiction counselors work in residential treatment centers, where clients live in the facility for a fixed period of time. Others work with clients in outpatient treatment centers. Some counselors work in private practice, either alone or with a group of counselors or other professionals.
Grow Through Real-World Experience
Students are required to complete two field practicums as well as a capstone experience. As an Advanced Accredited Training Program, the student, upon graduation, is prepared and meets all requirements to take the certification exam to become a Certified Alcohol and Other Drug Counselor by the Illinois Certification Board. The graduate is also prepared to begin a master's program in the fields of psychology, social work, criminal and social justice or many others if so desired.
In addition, upon completion of the BA Substance Abuse Counseling degree program and having achieved the CADC credential, the student will have fulfilled the education requirements for the Co-Occurring Substance Use and Mental Health Disorder Professional Level 1 Registration (CODP-1) as credentialed by the Illinois Certification Board.