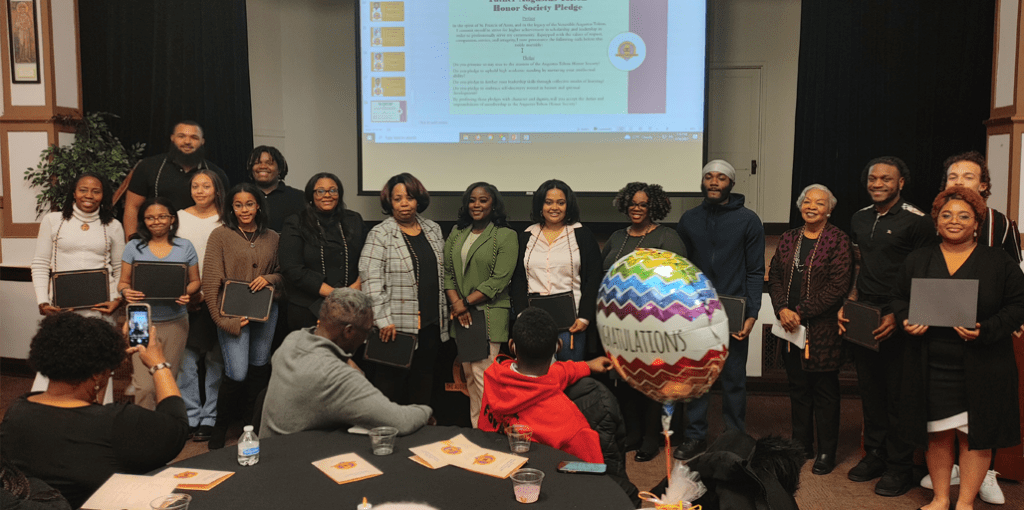 Joliet, Ill. – The University of St. Francis (USF) recently inducted twenty student members of the Augustus Tolton Honor Society. The induction ceremony took place on February 24, 2023, in USF's San Damiano Hall.
The Augustus Tolton Honor Society (ATHS) is named after Fr. Augustus Tolton, the first recognized African American Catholic priest, and aims to nurture one's intellectual ability, to promote leadership development, to foster knowledge of self, and to provide service to the community. The ATHS exemplifies the leadership and academic excellence of Black Scholars while upholding the values recognized by the University of St. Francis: Respect, Compassion, Service, and Integrity.
This year's student inductees, which included the 11th cohort of undergraduate students and the 4th cohort of graduate students, were: (undergraduate) Jalen Cooper, Le'lani Harris, Nyambi Marsh, Daniel McLaurin, Terrance Nicholson, Asia Owens, Bryanna Portis, CJ Reeves, Tia Scott, Darius Wright, (graduate/doctoral) Monique Bell, Nicole Bell-Woodfork, Lauren Bennett, Kelly Cook, Brenda Hammonds, Evera Ivy, Ryan King, Caprisha Neal, Carolyn Ross, and Tanesha Wheat.
Dr. Billie Terrell, Professor Emeritus of Social Work, was recognized as an honorary inductee and was the event's speaker.
USF ATHS advisors include: Deborah Glenn, Ed.D. (Director of Institutional Diversity); Evera Ivy (Student Employment Coordinator); Leia Levy, Ed.D. (Associate Professor of Radiation Therapy), and; Alicia Watkins, Ph.D. (Professor of Social Work).
: :
The University of St. Francis, in Joliet, Ill., serves close to 4,000 students nationwide and offers undergraduate, graduate, doctoral and certificate programs in the arts and sciences, business, education, nursing and social work. There are over 53,000 USF alumni across the globe. For information, call 800-735-7500 or visit stfrancis.edu.