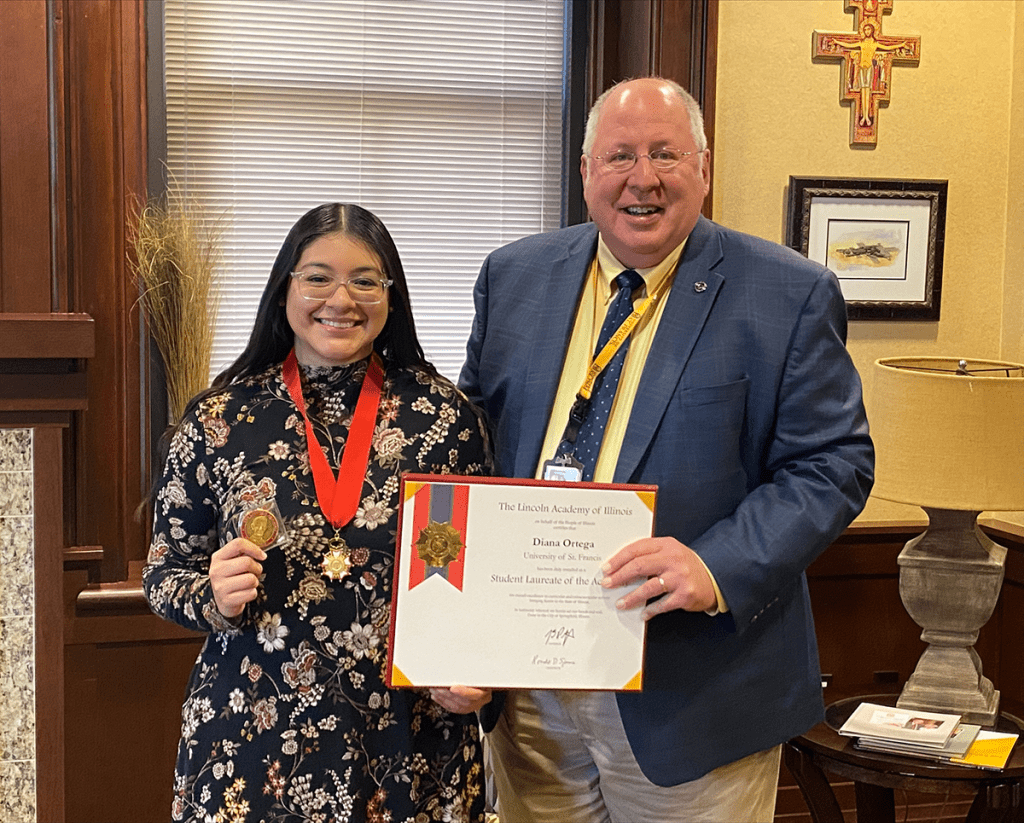 Joliet, Ill. – The University of St. Francis (USF) is pleased to announce that senior education major Diana Ortega from Joliet has been selected as this year's Student Laureate of The Lincoln Academy of Illinois. Through this special program, the Lincoln Academy of Illinois honors Student Laureates from each of the participating Illinois colleges and universities for their leadership and service in the pursuit of the betterment of humanity and for overall excellence in curricular and extracurricular activities.
This year's honorees were invited to watch an online program that included a congratulatory statement from Illinois Governor J.B. Pritzker and words of encouragement from past Lincoln Laureates. Honorees also received a letter of congratulations from the Academy, a certificate signed by Governor Pritzker, a medallion, a challenge coin, and a monetary grant.
Ortega, who was nominated for the honor by USF history professor Cathleen Schultz, Ph.D., the USF history department, and USF dean of student life Mollie Rockafellow, Ed.D., was surprised to learn that she was selected as this year's honoree from USF.
"I was shocked. When I was told, I thought I was coming in to help with a project but soon found out that I was called in to be told that I was this year's Lincoln Laureate," said Ortega.
"I was so happy. I immediately called my dad (Pedro) and he was so happy and so proud. And as my friends and other USF staff members heard the news, they we so happy for me, as well," she added.
While leadership and service at USF have been laced throughout her college experience, these characteristics for which Ortega is known extend beyond the past four years. She was also an active student during her time at Joliet West High School, where she participated in Student Council, class committees, choir, new student mentoring, and was a member of the National Honor Society.
However, even with that level of leadership and service through high school, Ortega originally planned to attend a large university where it would be easy to be "just another student".
"I really thought that I would end up at a large school in a big city like Chicago. I didn't like attention and wanted to be independent," Ortega said.
All that changed, though, when she toured USF.
"I wasn't planning on checking out USF because I wanted to get away from where I had grown up. Still, I decided to visit USF and ended up completely falling in love with it. The atmosphere was amazing and everyone was just so welcoming and friendly. It felt right from the first day that I set foot on campus," she said.
Since then, Ortega created a path for herself at USF that was similar to her high school experience. During her time at USF, she has been active in many capacities at USF, including roles as a resident assistant supervisor and a Saints Ambassador. She is also active with the USF Student Government Association and is a Schmitt Scholar.
With graduation only six months away, Ortega offered advice for next fall's freshman class at USF.
"Make your USF experience what you want it to be. Go to club meetings, reach out to people, and look at on-campus work opportunities. I go back to the motto I follow: you won't know until you try. When you are willing to put yourself out there, you'll be amazed at what you might find," Ortega said.
Following her graduation in the spring, Ortega plans to stay at USF for one more year to earn a master's degree in education through a 4+1 program offered through the university. During that time, she will also complete her student teaching. After earning her master's degree, she plans to work for a low-income school district as a high school history teacher or middle school science teacher for five years as part of her academic scholarship through Golden Apple.
: :
The University of St. Francis, in Joliet, Ill., serves close to 4,000 students nationwide and offers undergraduate, graduate, doctoral and certificate programs in the arts and sciences, business, education, nursing and social work. There are over 53,000 USF alumni across the globe. For information, call 800-735-7500 or visit stfrancis.edu.
University of St. Francis: Bigger thinking. Brighter purpose.
# # #