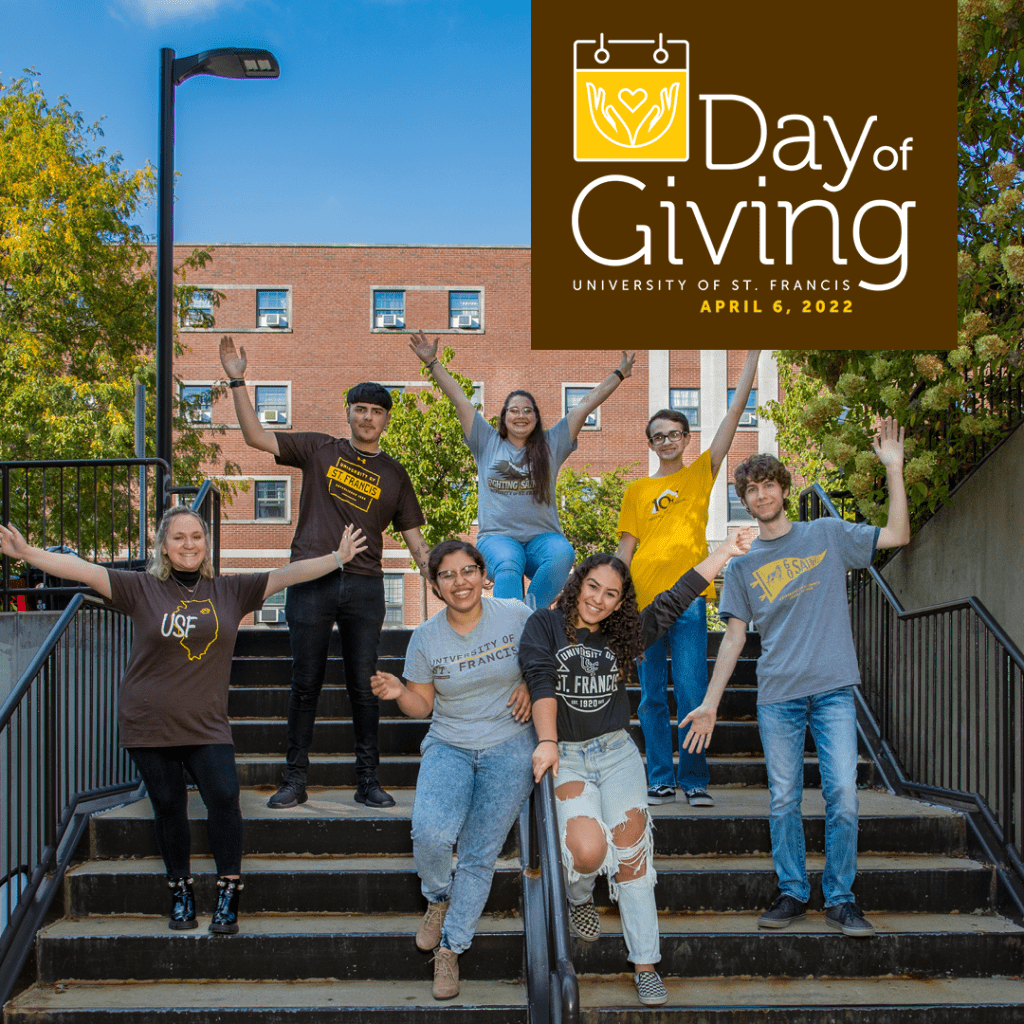 Joliet, Ill. – The University of St. Francis (USF) will celebrate Day of Giving on Wednesday, April 6, 2022, and invites alumni, parents, students, friends and the community to support USF students as they continue on their journey of servant leadership.
"Day of Giving is a special 24-hour time period during which USF invites our entire university community to make a gift and, more importantly, make a difference," said Kim Kalafut, USF Director of the Annual Fund.
In 2021, 100% of USF's incoming freshmen received financial assistance. This financial assistance is made possible through many efforts throughout the year, including the Caritas Scholarship Ball, the fall and spring annual fund appeals, and special events such as Day of Giving.
"Every single gift provides the much needed support for our students at USF.  Approximately 51% percent of this year's freshman class is comprised of first generation college students – that is, they are the first in their family to attend college. In fact, over the course of the past decade, an average of 59% of each of our incoming freshman classes were first-generation college students. Without scholarship opportunities, their continued education would not be possible. Today's students are faced with academic unpreparedness as an outcome of COVID. Today's students need more support than they have ever needed before. Gifts made as part of Day of Giving support our students in their effort to think bigger and pursue a brighter purpose at the University of St. Francis," added Lisa Sampalis, USF Vice President for Advancement.
To make your gift, please visit stfrancis.edu/dayofgiving or call Kim Kalafut, USF Director of the Annual Fund, at 815-740-3610.
: :
The University of St. Francis, in Joliet, Ill., serves close to 4,000 students nationwide and offers undergraduate, graduate, doctoral and certificate programs in the arts and sciences, business, education, nursing and social work. There are over 52,000 USF alumni across the globe. For information, call 800-735-7500 or visit stfrancis.edu.
University of St. Francis: Bigger thinking. Brighter purpose.
# # #