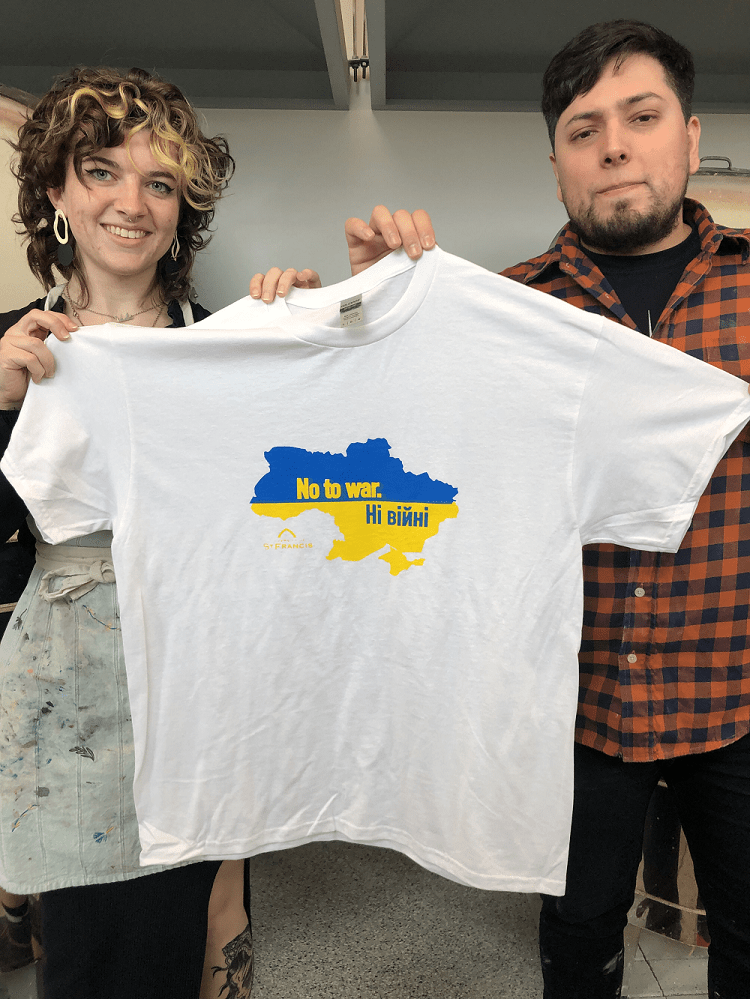 Joliet, Ill. – WCSF 88.7-FM, the University of St. Francis' (USF) radio station, is hosting a live radio fundraiser for Ukraine on Friday April 8, at three locations across the City of Joliet. Custom t-shirts and WCSF stickers and magnets will be for sale with all proceeds benefitting USF's international students and Ukraine relief organizations. The fundraiser is in association with the USF Social Work, Art & Design and Communication & Media Arts departments and the USF Office of Institutional Diversity. The fundraiser locations include:
Disc Replay (1701 N. Larkin Ave., Crest Hill) from 11 a.m. – 1 p.m.
Audio Phil's Records (17 E. Van Buren St 17 E., Joliet) from 12 p.m. – 1 p.m.
Uno Student Lounge (University of St. Francis – 500 Wilcox, Joliet) from 11 a.m. – 1.p.m.
WCSF DJs will be broadcasting live at all three locations. Stop by to purchase t-shirts, magnets, and stickers with proceeds going to USF students impacted by the war in Ukraine. Any remaining funds will be being donated to reputable non-profit organizations providing humanitarian aid in the region. This merchandise is being sold while supplies last!
The t-shirt design was created by Communication & Media Arts student Jessica Scroppo. The t-shirts are being screen-printed by USF professor Paul Erschen and his students. The University of St. Francis Social Work Club is coordinating the fundraiser and the distribution of proceeds.
WCSF 88.7 FM is an FCC-licensed college radio station broadcasting from the University of St. Francis. The station can also be accessed from streaming devices by searching the link listen.streamon.fm/WCSF. For more information, visit the WCSF website at wcsfradio.com or call 815-740-3697.
: :
The University of St. Francis, in Joliet, Ill., serves close to 4,000 students nationwide and offers undergraduate, graduate, doctoral and certificate programs in the arts and sciences, business, education, nursing and social work. There are over 52,000 USF alumni across the globe. For information, call 800-735-7500 or visit stfrancis.edu.
University of St. Francis: Bigger thinking. Brighter purpose.
# # #