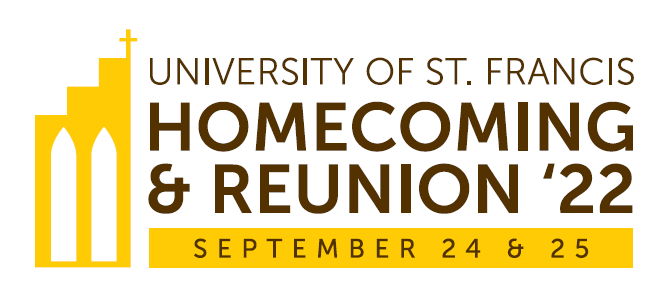 Joliet, Ill. – The University of St. Francis (USF) has announced its plans for USF Homecoming & Reunion with events that will take place from Friday, September 23, through Sunday, September 25. With the variety of events set to take place, there is something for all alumni and friends of USF to enjoy.
This year's Homecoming & Reunion events include: (on Friday, September 23) Alumni Baseball Game; (on Saturday, September 24) Alumnae Volleyball Game; Homecoming Tailgate & Football Game (vs. Siena Heights); USF History in Photos; Campus Tour; Communication Reunion; Alumni Memorial Mass; and Distinguished Alumni Dinner; and (on Sunday, September 25) the Nursing Tour and Brunch.
Visit stfrancis.edu/hcrw for more information on Homecoming and Reunion events, to register for a specific event, and for information on lodging and directions to campus. Alumni are asked to note the event reservation cutoff date of September 21, 2022.
Lisa Sampalis, USF vice president for advancement, is excited to offer once again a full slate of homecoming activities to USF alumni.
"The University of St. Francis is delighted to welcome our students and faculty back to campus. You can feel the synergy on campus with bright smiles and big dreams," Sampalis said. "We welcome our Alumni and the entire Joliet community to Homecoming & Reunion weekend September 23-25. Return home to your alma mater for a weekend of celebrating and reconnecting with faculty and friends."
New this year is a Homecoming & Reunion outreach goal to raise funds that will provide financial assistance for current USF students.
"Our Homecoming & Reunion outreach goal is $25,000 in support of the Jane Engleton Snyder '35 Scholarship, the Academic Resource Center (ARC) and the Francis Fund. Scholarships help students realize the dream of education, and the ARC helps support that dream. We have a group of alumni who have committed to match gifts received through December 31, 2022," said Kim Kalafut, USF director of the annual fund.
Gifts toward the Homecoming & Reunion Outreach goal can be made by visiting stfrancis.edu/hcrw.
For more information or if you have any questions, please contact the Alumni & Family Relations Office either by email at alumni@stfrancis.edu or by phone at 877-811-ALUM (2586).
: :
The University of St. Francis, in Joliet, Ill., serves close to 4,000 students nationwide and offers undergraduate, graduate, doctoral and certificate programs in the arts and sciences, business, education, nursing and social work. There are over 53,000 USF alumni across the globe. For information, call 800-735-7500 or visit stfrancis.edu.
University of St. Francis: Bigger thinking. Brighter purpose.
# # #