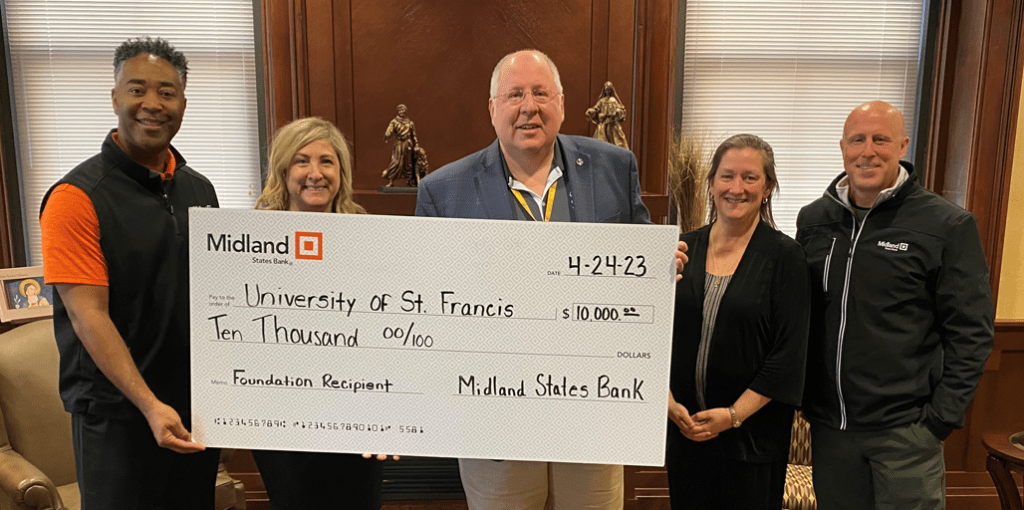 Joliet, Ill. – The University of St. Francis (USF) is pleased to announce it is the recipient of a $10,000 contribution by the Midland States Bank Foundation. The contribution will support projects and administration of the USF Center for Nonprofit Excellence (CNE).
"The USF CNE is impacting the people served by the nonprofits in Will County and the nonprofits, themselves, by making them stronger and better able to fulfill their own missions. We sincerely thank Midland States Bank for supporting our efforts to help these organizations focus on their mission-driven efforts," said Maribeth Hearn, Ed.D., director of the USF Career Success Center and co-director of the USF Center for Nonprofit Excellence.
The USF CNE provides efficient and value-added professional services to Will County nonprofit organizations with limited financial resources and whose missions are aligned with the Franciscan core values of respect, integrity, service, and compassion. This allows the nonprofit organizations to focus primarily on their core mission-driven objectives in the community.
In addition to professional services, the USF CNE a, the USF CNE recently partnered with Shorewood HUGS during Women's History Month to collect toiletry items for women at MorningStar Mission in Joliet.
"Together with our Community Impact Investment Statement, the Midland States Bank Foundation is a powerful way for us to give back to our communities," commented Jeffrey G. Ludwig, President and CEO of Midland States Bancorp, Inc. "The funds we set aside from the Bank's profits help us put our company's culture in action to benefit the communities we serve."
The Midland States Bank Foundation supports the general welfare, education and health of the communities where the Bank operates. Since its creation in 2011, the Foundation has contributed more than $1,700,000 to non-profit organizations throughout Midland's footprint.
About Midland States Bancorp, Inc.
Midland States Bancorp, Inc. is a community-based financial holding company headquartered in Effingham, Illinois, and is the sole shareholder of Midland States Bank. As of December 31, 2022, the Company had total assets of approximately $7.86 billion, and its Wealth Management Group had assets under administration of approximately $3.60 billion. The Company provides a full range of commercial and consumer banking products and services and business equipment financing, merchant credit card services, trust and investment management, insurance and financial planning services. For additional information, visit https://www.midlandsb.com/ or https://www.linkedin.com/company/midland-states-bank.
: :
The University of St. Francis, in Joliet, Ill., serves close to 4,000 students nationwide and offers undergraduate, graduate, doctoral and certificate programs in the arts and sciences, business, education, nursing and social work. There are over 53,000 USF alumni across the globe. For information, call 800-735-7500 or visit stfrancis.edu.
University of St. Francis: Bigger thinking. Brighter purpose.
# # #
Photo identification (left to right): Cornell D. Lurry Sr., NE Regional Community Development Relationship Manager at Midland States Bank; Dr. Maribeth Hearn, USF Career Success Director and USF Center for Nonprofit Excellence Co-Director; Arvid C. Johnson, Ph.D., USF President; Julee Gard, CPA, CMA, USF Vice President for Administration and Finance, and; Adam Vander Woude, MBA, Commercial Relationship Manager at Midland States Bank.