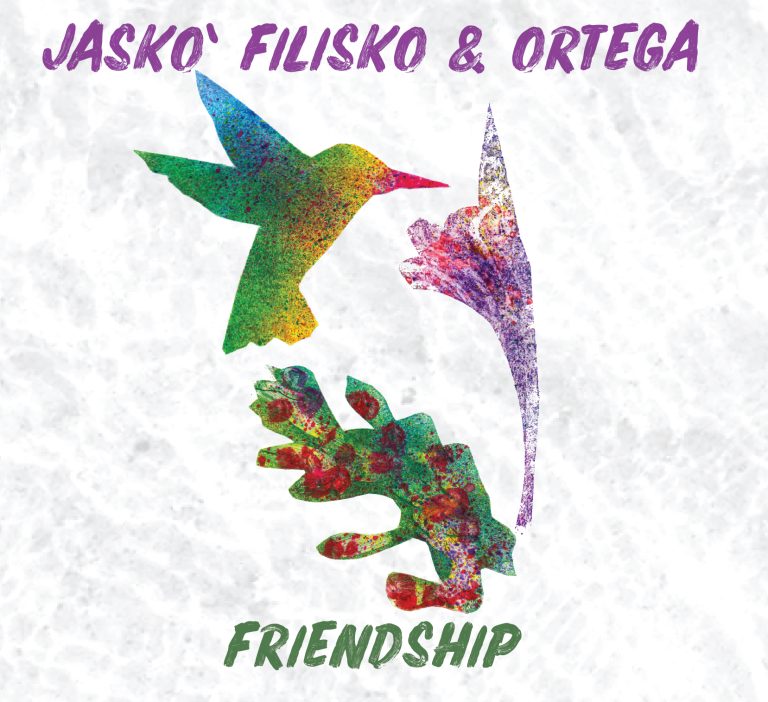 Joliet, Ill. – True friendship can be an endeavor of love, heart, passion, perseverance and timing. Friendship, the new album by USF digital audio recording arts instructor Jeff Jaskowiak and his trio-mates Joe Filisko and Larry Ortega, fits that definition, as well.
Friendship, available now on CD and as a digital download at jaskomusic.com and jaskomusic.bandcamp.com, is a collection of songs drawn from the past five decades. The thirteen-track, 70-minute album opens with the energetic "Rejoice", which sets the tone for a diverse collection of songs that showcase the talents of each band member while also telling musical stories about Jaskowiak's life experiences. Some of the album's tracks such as "Song for the Princess" and "Even in Their Sleep" (the album's oldest song) reflect themes of love and faith, while other tracks including "Big Skies, Majestic Lands" and "Bisbee Rain" pay homage to Jaskowiak's travels to Arizona and New Mexico.
Jaskowiak provided all guitar and bass work for the album, along with the vocals for the album's only song with lyrics, "Delight". Filisko provided all harmonica work and Ortega provided drums and percussion. Together, the trio produces a style Jaskowiak refers to as "thrashing acoustic".
"Our style is very rhythmic and very responsive. On each track, you can hear the conversational energy as the individual instruments work together and off each other. The idea is simple: revere the groove. There is something inherent with good music. When we hear it, we can't help but start moving to it." Jaskowiak said.
Some parts of Friendship were recorded in the 1990s and from 2000 to 2007, but the process was paused as Jaskowiak focused on his priorities as an instructor and as a student (he earned a master's degree in music technology from Indiana University-Purdue University Indianapolis in 2015). The recording process resumed in 2016 and concluded in 2020, followed by the mixing and mastering of the album in 2021.
About Jasko', Filisko and Ortega
As the new album's title, Friendship, indicates, these three real-life friends and music contemporaries reflects a true respect that each member has for one another.
"I met Joe at Joliet Junior College in 1984 as a guitar student and he has been a dear, encouraging and steadfast friend since. He is a melodic force, performing melodies and solos with power, grace and bronco agility. This album shows the wide breath of possibilities of the harmonica in colors, textures, orchestrations, ferocity and beauty, like no other harmonica album ever recorded," Jaskowiak said.
Jaskowiak has shared a friendship with Ortega since the late 1970s.
"Larry has been a life-long friend since 1979. He is a drummer and percussionist extraordinaire, and it was an honor and a joy to work on this project with a giant in the rhythm and creative music world. He has blessed this recording with unbelievable performances with the strength and elegance of Shadowfax, driving creative, responsive, rhythmic energy and nuance making it a listening pleasure every time," Jaskowiak said.
As for himself, his first studio album serves as a capstone project for studies that began when he was just 10 years old.
"I started playing guitar with my cousins and friends when I was ten and have been bitten since then. I was extremely lucky to study with Mick Goodrick, Gary Burton and Pat Methney at the Jamey Aebersold Jazz clinics in my late high school and early college years. These teachers shined the lights and pointed to the paths that my understanding of and ability to develop chops. Some of my compositional inspirations are Michael Hedges, Antoine Dufour, Joe Satriani, Vicente Amigo, Broce Cockburn, Sting, Jaco Pastorius, Michael Manring, Louis Johnson, Victor Wotten and Bill Coleman to name a few. As you can see my love is for guitar and bass, especially acoustic guitars, and great composers. These are ineffable mentors to stand on the shoulders of," he said.
On Thursday, Nov. 18, at 8 p.m. CST, Jaskowiak and Ortega will be guests on the Music & Conversation webinar hosted by Filisko and Eric Noden for a conversation about Friendship. Visit jaskomusic.com to register for a free ticket.
Jaskowiak's Career at USF
Jaskowiak began his USF career in 1996 as an adjunct instructor and became a full-time instructor and administrator in 2010. In 2009, Jaskowiak created USF's Digital Audio Recording Arts program that began as a concentration that grew to become its own major in 2015 (Jaskowiak also led the build out of the USF recording studio during the summers of 2010 and 2011). Through the program, Jaskowiak is able to share his expertise as a recording engineer, artist, guitar instructor and music industry consultant.
"The goal of the Digital Audio Recording Arts program at USF is to produce musically sophisticated and sensitive professionals who have sufficient technical knowledge to excel in the technology based production industry, helping to define quality using both musical and technical criteria. Students in the program will acquire the knowledge, principles and practices of engineering methodology and creative music production techniques to permit them to adapt quickly and effectively to the rapidly changing world of music creation, production and distribution," Jaskowiak offered.
: :
The University of St. Francis, in Joliet, Ill., serves close to 4,000 students nationwide and offers undergraduate, graduate, doctoral and certificate programs in the arts and sciences, business, education, nursing and social work. There are over 52,000 USF alumni across the globe. For information, call 800-735-7500 or visit stfrancis.edu.
University of St. Francis: Bigger thinking. Brighter purpose.
# # #