The ability to communicate ideas and information is one of the most valuable skills you can have. The English language is a powerful tool, and those who master it are well-prepared for the multiple career changes most college graduates experience in their lives.
English majors develop sophisticated abilities in communicating, listening, speaking, reading, writing, critical thinking, information gathering and understanding a broad spectrum of human cultures.
USF's goal is to heighten and intensify student reading experiences, and help students reflect upon the ways in which written and spoken words deliver meaning. Through this discovery, students can develop the ability to recognize authoritative analysis and question authority. They can even become authoritative critics themselves.
Skilled writing begins with skilled listening and speaking. Through spontaneous and focused exchanges that entertain wide-ranging ideas in a respectful way, USF English majors become confident speakers and can present their ideas in formal and informal settings. Critical thinking skills are honed in every class and assignment, enriched by discovery, originality, humor, creativity, and the pleasure of reading.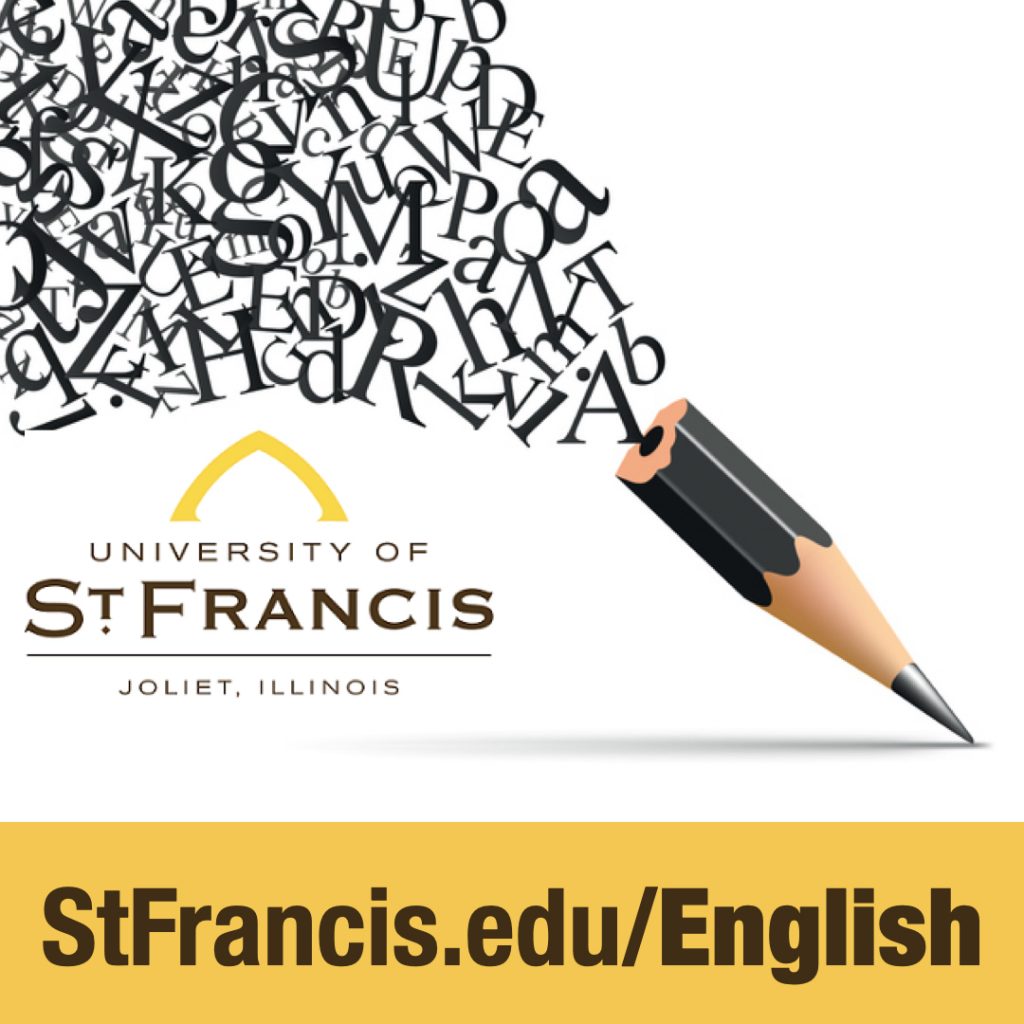 Annual St. Francis Writer's Conference
Date: TBD
Location: University of St. Francis in Joliet, IL.
Every year the University of St. Francis holds its Writers' Conference with guests that range from novelists to U.S. Poet Laureates, from marketing experts to award winning book editors. USF's annual St. Francis Writers' Conference (formerly known as the English Language and Literatures Conference) is a place where undergraduates annually present their own scholarship to an audience of peers and professors. Click here for conference details!
Comparative Literature
English Literature
English/Language Arts Secondary Education (9-12)
Writing
The University of St. Francis is accredited by the Higher Learning Commission (hlcommission.org), a regional accreditation agency recognized by the U.S. Department of Education.
"A variety of courses and small class sizes served as hallmarks of the USF English program for me, but my experience was greatly enhanced because of the commitment and dedication of my professors. Small class sizes helped them get to know us as students better and allowed us to open up and share ideas. Because of their influence, I have been more successful in applying effective teaching methods within my own career as a high school English teacher."
-Nikki Arendell
What Can You Do With This Degree?
English majors can end up in any number of places—in advertising, journalism, law, politics, business and publishing. They are thrilled by the challenge of writing with playfulness, imagination and critical rigor and become writers and teach in high schools and universities. English majors pursue advanced degrees in a broad range of fields, from literature and languages to library science and other humanistic fields. Like all humanistic disciplines, English is a broad platform from which to launch many different careers that depend on astute thinking, critical reading, excellent oral and written communication, confidence and authority.
Grow Through Real-World Experience
It's all about internships at the University of St. Francis! Employers often say they look for students who have an internship on their resume, so obtaining one is always recommended for ultimate student success. USF English majors have earned internships at Steppenwolf Theatre in Chicago, the Options Trading Corp., Easter Seals and numerous regional law firms to name a few.
The writing internship allows students to earn academic credit for applying their skills in real-world settings. Students can also elect to study abroad to expand their cultural awareness and writing experience. The USF International Programs Office offers study abroad opportunities that range from two weeks, one semester or a full academic year.