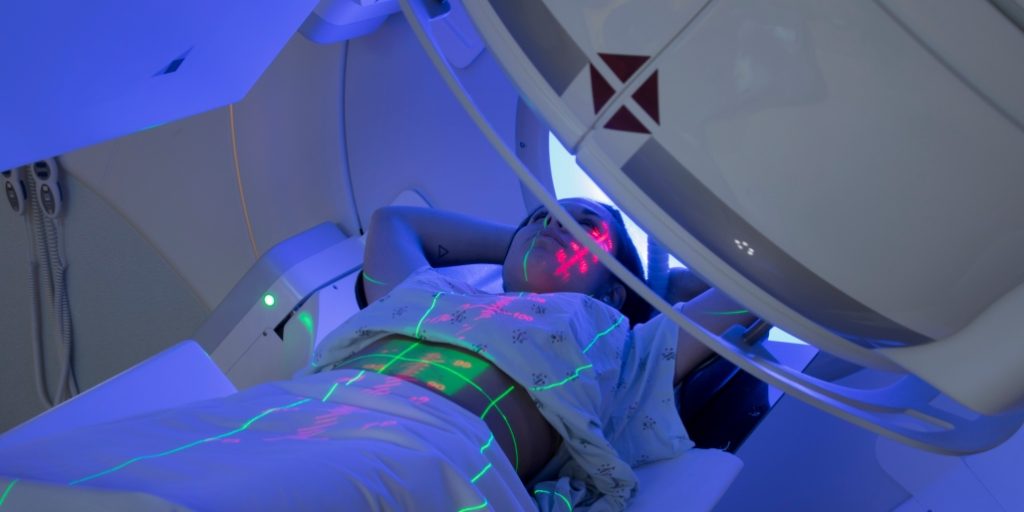 Radiation therapy is an allied health profession which employs radiation in the treatment of disease, especially cancer. The Bachelor of Science in Radiation Therapy is a four-year, "2+2" program. Students first complete two years of liberal and pre-professional science education courses at the University of St. Francis, followed by two years of professional coursework and clinical education at an affiliated hospital or cancer center.
The curriculum is designed to provide for balanced didactic and clinical components in order to produce students with a well-rounded education in radiation therapy. Successful completion of the professional education component of the program, makes the graduate eligible to take the national certification examination of the American Registry of Radiologic Technologists (AART).
The job outlook for radiation therapists continues to be promising. According to the U.S. Department of Labor Statistics, employment in the field is projected to rise 14 percent by 2024. As the population of our country ages, the need for radiation therapists will likely increase. The median annual wage for a radiation therapist was $80,220 in May 2015.
Students are accepted into the professional sequence of courses every spring and begin coursework in the fall semester. Applications into the professional component are due by December 15th yearly.
Toward the fulfillment of our program mission, there are four main goals with a focus on student learning.
Goal 1: Facilitate clinical competence:
Students will demonstrate technical knowledge and skill commiserate with level of education such as: timely completion of procedures, record keeping, verification of parameters before procedures, and manipulation of devices and aids
Students will demonstrate cognitive abilities in the clinical setting, appropriate to level of education such as: application of theory to clinical activities, verbal expression of thought processes when making decisions, appropriate use and operation of equipment
Students will integrate and apply theories and principles to Phase IV Physics rotation clinical assignments that require comparison and contrast of treatment plans for specific anatomic areas
Goal 2: Foster and develop critical, analytical and problem solving skills
Students will show progressive, relative proficiency in describing the rationale for therapy planning during simulation procedure journaling
Students will show progressive, relative proficiency in describing rationale for treatment delivery strategies during written case study assignments
Goal 3: Foster and develop oral and written communication skills
Students will orally present with progressive, relative proficiency in content, organization and delivery
Students will successfully conduct written research on topics related to radiation therapy with appropriate content, organization, and use of reference materials
Students will demonstrate effective communication skills with patients, peers and patient care team in clinical settings
Graduates will demonstrate effective communication skills with patients, peers and patient care team
Goal 4: Instill ideals supportive of professional growth and development
Students will accurately describe the roles of professional organizations, certification, licensure and accreditation agencies
Students will successfully prepared and display campaign for career promotion and patient advocacy
Graduates will demonstrate professional characteristics in the workplace including professionalism and adherence to the profession's ethical code
The clinical education portion of the program is designed to assure that graduates are prepared to successfully complete the ARRT exam in radiation therapy technology, meet licensure requirements, and assume the duties and responsibilities of an entry level therapist.
Students are given a copy of the clinical handbook during program orientation. Students also will review the components of the clinical handbook on the first day of their clinical rotation. Students will be assigned to a minimum of 2 affiliated clinical sites during the program according to geographic proximity to residence; rotation through 3 sites may be scheduled for each student completing objectives successfully.
At each clinical site, students will spend time in the following areas of the radiation oncology department:
Linear accelerator
Physics and Dosimetry
Simulator
Patient Care and Nursing
Supervision
A clinical supervisor is designated for each affiliated clinical site. Further, each student is assigned to at least one clinical instructor during a rotation. Students are under the direct supervision of their clinical instructor and are evaluated periodically by instructor(s) and supervisor. The student shall report to his/her clinical instructor at the beginning of each clinical day. It is the students' responsibility to inform the clinical supervisor and instructor of any scheduled class or activity, which will require release from the clinical area. Under no circumstance will a student be substituted for paid staff nor take on the responsibilities of staff in the clinical area.
Evaluation
The components of clinical evaluation are: completion of semester specific clinical objectives, written performance evaluations, clinical competency examinations, journals, case studies and laboratory assignments. More detailed information may be found in course descriptions for Radiotherapy Clinical Experience I- IV listed in the program catalogue.
Affiliated clinical sites include:
Advocate Christ Medical Center: Chicago, Illinois
Beloit Cancer Center: Beloit, Wisconsin

Morris Hospital/Cancer Center: Morris, Illinois
Presence Mercy/Joliet Oncology Hematology Associates
(JOHA): Joliet, Illinois
Presence St. Joseph's Hospital: Joliet, Illinois

Rockford Memorial Hospital: Rockford, Illinois
South Suburban Cancer Center: Hazel Crest, Illinois
Southland Oncology: Mokena, Illinois
University of Chicago: Chicago, Illinois
University of Chicago/Silver Cross Hospital: New Lenox, Illinois
The University of St. Francis is accredited by both the Higher Learning Commission (hlcommission.org) and the Illinois State Board of Education (ibhe.org). The Radiation Therapy program is accredited by the Joint Review Committee on Education in Radiologic Technology (JRCERT).
"USF has given me an unforgettable experience. Faculty members have allowed me to grow both intellectually and as a person. Each professor has supported me and my goals, and was more than willing to help me achieve anything I set my mind to. I was pushed and motivated to learn, grow, and become a better person. This incredible support system has surrounded me with an incredible group of colleagues, mentors, and friends." 
–Autumn Lee
What Can You Do With This Degree?
Radiation therapists work with radiation oncologists and physicians in planning and delivering the course of treatment for each patient. Radiation therapists are responsible for implementing the daily administration of prescribed doses of radiation for treatment, as well as performing calculations for the correct patient dosages. Because radiation therapy procedures are planned in advance, most radiation therapists work a day-shift schedule, and there is rarely the need to work night shifts, on weekends or on holidays. Employment opportunities for radiation therapists are in hospitals, private practice offices, outpatient centers, and comprehensive cancer centers.
Grow Through Real-World Experience
The mission of the Radiation Therapy program at the University of St. Francis is to provide academic, clinical and professional education of exceptional value to students, and to graduate radiation therapy majors with desired, required, entry-level employment skills. As part of the curriculum, students will complete four radiotherapy clinical experiences over the course of four semesters. During this period, students will gain hands-on experience in the field at an affiliated clinical site, working with patients and professionals. Additionally, dedicated faculty with years of professional experience guide students throughout the program, helping students become top qualified radiation therapists.