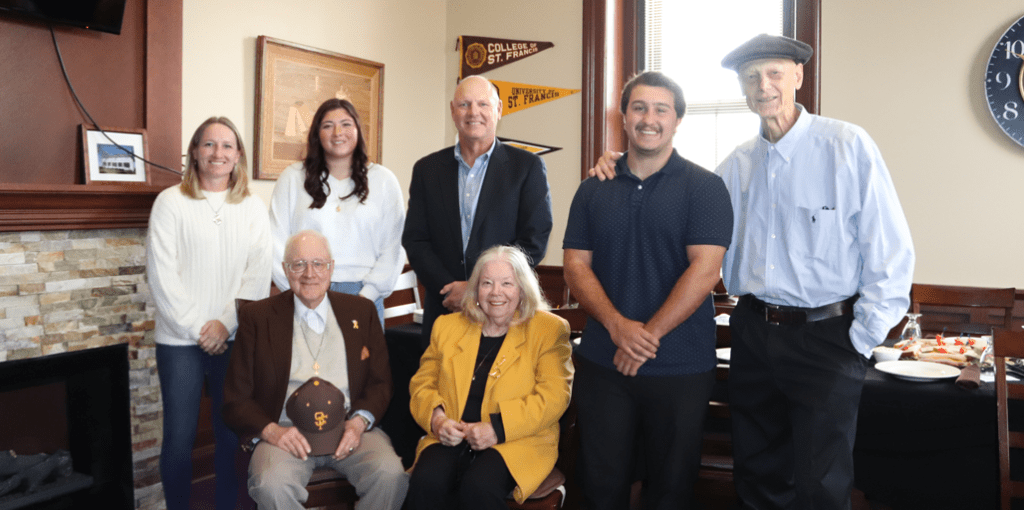 photo identification: (seated left to right) James R. Sefcik, Jr. (longtime USF donor and scholarship funder), Jo Ann Delgado (Tony Delgado's wife), (standing left to right) Amanda Jensen (head USF softball coach), Isabella Landeros (USF softball recipient), Brian Michalak (head USF baseball coach), Matt Lopez (USF baseball recipient), and Michael Slovick (friend and former head football coach)
Joliet, Ill. – In late October, the University of St. Francis (USF) University Advancement office presented the new Joseph "Tony" Delgado Scholarship to its inaugural recipients during a special luncheon event. USF baseball player Matthew Lopez of Morris, Ill., and USF softball player Isabella Landeros of Frankfort, Ill., were named as the first two recipients of the scholarship.
The luncheon event was a special occasion filled with stories of Delgado, his love for athletics, St. Francis, and his community. During the event, longtime USF donor James R. Sefcik, Jr., explained that he started the scholarship in memory of Delgado and the impact he created.
"Coach Delgado was a lifelong friend who made an incredible impact on so many lives. I wanted to ensure that his legacy lives on," Sefcik said.
Amanda Jensen, head women's softball coach at USF, echoed the importance this new scholarship has in sustaining Delgado's legacy.
"These scholarship recipients are carrying the light that Coach Delgado lit in the world," Jensen said.
Aindrea Hogan, USF Director of Advancement and Alumni Relations, added that scholarships create a tremendous amount of impact for the students who receive them.
"The gift of scholarship is an incredibly impactful gift of generosity for our students. Scholarship funds open doors, allowing goals to be accomplished and dreams to come true. I hope that one day, our scholarship recipients will continue this tradition of generosity by supporting other future Saints," Hogan said.
Individuals can support the Joseph "Tony" Delgado Scholarship by visiting stfrancis.edu/give or by contacting the University Advancement Office at 815-740-2266.
About Joseph "Tony" Delgado
Joseph "Tony" Delgado, one of only five individuals to have their number retired in the 51-year history of the University of St. Francis athletics program, passed away unexpectedly this past June. Delgado, who celebrated his 80th birthday just one day prior to his passing, was the co-architect of seven NAIA World Series teams alongside head coach Gordie Gillespie for 15 years at St. Francis, including the 1993 national championship baseball team.  Delgado and Gillespie worked together on the diamond for 20 years in all, including five seasons at nearby Lewis University, where they won another two NAIA championships together.
About Scholarships at USF
Approximately 96% of full-time undergraduate students at USF receive some form of financial assistance in the form of over $19.5 million in scholarships and grants annually. To learn more about scholarships and grants at USF, visit stfrancis.edu/scholarships. If you are interested in establishing a scholarship in honor or in memory of a loved one, visit stfrancis.edu/give or contact the University Advancement Office at 815-740-2266.
: :
The University of St. Francis, in Joliet, Ill., serves close to 4,000 students nationwide and offers undergraduate, graduate, doctoral and certificate programs in the arts and sciences, business, education, nursing and social work. There are over 53,000 USF alumni across the globe. For information, call 800-735-7500 or visit stfrancis.edu.
University of St. Francis: Bigger thinking. Brighter purpose.
# # #