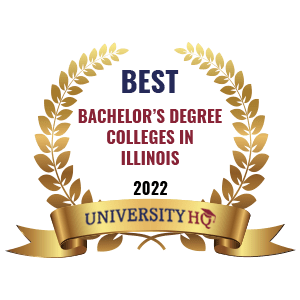 Joliet, Ill. – The University of St. Francis (USF) was ranked at number four on a list of colleges and universities with the top bachelor's degree programs in Illinois according to University Headquarters (University HQ), an industry-leading, independent educational organization. The list, Best Bachelor's Degree Colleges in Illinois 2022, cites the top higher education institutions across Illinois through a ranking system that considers program and faculty quality, return on investment, and other criteria.
"This is a great way to start the new year. The best universities in Illinois also happen to be some of the best in the country, and the Chicago region is home to some of the finest. Being ranked in the top five by University HQ is another honor for the university that we are proud to share with our community and students," said USF vice president for admissions Eric Wignall.
Wignall offered that USF's bachelor's degree programs cover an array of areas of study.
"Our top bachelor's programs, by enrollment, include business, nursing, education, health administration, management, and the biological and biomedical sciences. USF is accredited to offer 52 bachelor's degrees and has 11 specialized accreditations for programs as wide-ranging as radiation therapy to substance abuse counseling to recreation and sports management," Wignall said.
"Our undergraduate students have access to learning resources on our campus, in the library and through a rich set of online resources. We want to offer the best learning and teaching resources to our students no matter where they are," he added.
To view the complete listing, visit universityhq.org/best-colleges/illinois/#bachelors.
University Headquarters is an independent educational organization that lists and reviews higher education institutions around the United States. It is one of several online resources students can use to find information on colleges, college entrance requirements, and career paths. Visit universityhq.org for more information.
USF has tallied eleven different state, regional, and national rankings for undergraduate, graduate, and doctoral programs in the past year, including accolades from publications including U.S. News & World Report, Money magazine, and the Princeton Review.
: :
The University of St. Francis, in Joliet, Ill., serves close to 4,000 students nationwide and offers undergraduate, graduate, doctoral and certificate programs in the arts and sciences, business, education, nursing and social work. There are over 52,000 USF alumni across the globe. For information, call 800-735-7500 or visit stfrancis.edu.
University of St. Francis: Bigger thinking. Brighter purpose.
# # #