Values-Based Management is a degree program that leads to career opportunities in many industries. With this major, you'll get the opportunity to explore and enhance your leadership, quantitative analysis, oral and written communication skills while developing a solid business background in accounting, economics, finance and marketing. You'll also apply theory to real world cases.
Developing exceptional communication and public speaking skills are important to achieving success in this field. You'll also be encouraged to develop and utilize a personal network of contacts. Confidence, knowledge, and strong connections will help you learn to design operational systems that give companies a competitive advantage in the marketplace.
An added benefit, seniors who feel inspired to keep studying to obtain an MBA or M.S. degree may take graduate-level courses during their last two semesters for dual undergraduate and graduate credit. That means students can take nine graduate-level credit hours during senior year, and can complete their MBA or M.S. one year after graduating if they attend full time. See course catalog for additional details about the "3 to Degree" program.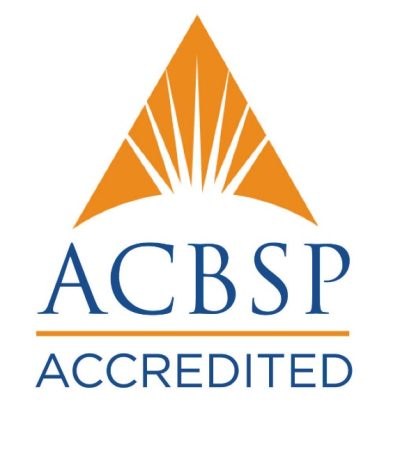 The University of St. Francis is accredited by the Higher Learning Commission (hlcommission.org), a regional accreditation agency recognized by the U.S. Department of Education.
USF's Management program is also accredited by the Accreditation Council for Business Schools and Programs (acbsp.org).
What Can You Do With This Degree?
The possibilities are endless! 
Students earning a Values-Based Management degree have wonderful opportunities in a variety of areas. Some fields and types of organizations you may end up working in include manufacturing, human resources, supply chain/logistics, consulting, training, banks and financial institutions, health care organizations, government, retail stores, restaurants, hotels, service providers, not-for-profit organizations and more.
Grow Through Real-World Experience
Faculty members and administrators in USF's College of Business & Health Administration are extremely involved in the regional business community. That means they've got connections, and they're constantly being exposed to companies offering impressive internship opportunities. So many, in fact, that there are typically more opportunities than students to fill them! 
This is a key advantage to becoming a business major at USF. While not a requirement for graduation, internships are strongly encouraged because they offer junior and senior students invaluable real-world learning experiences. Most internships are paid experiences (though some are unpaid) and involve 10-25 hours of work per week for academic credit.