USF's Supply Chain Management degree prepares you to solve problems and meet organizational goals in settings including business logistics, distribution, supply chain management and domestic and international transportation management.
Supply Chain Managers are responsible for the entire flow of supply for a business, creating and delivering the products and services to the customer.
Supply Chain Management includes demand planning, supplier management, manufacturing, operations, logistics, transportation and distribution. This degree prepares you to solve problems and meet organizational goals in settings including corporate logistics, business expansions, and both domestic and international transportation management.
Best yet, USF's Joliet location in Will County is home of North America's largest inland port. This transportation hub area has eight major rail lines, important truck freight distribution routes, and extensive warehouse and distribution facilities. Logistics and related businesses are the county's third largest employer, with continuing growth expected. In the U.S., supply chain jobs encompass over one third of all employment (HBR 2018).
Online or on-campus learning
You can earn your degree in either fully online classes or join us on-campus in Joliet. The faculty who teach your classes are the same professionals who teach in our  online and face-to-face classes.
USF has created an interactive and engaging way to learn online, where you will engage and learn with your class and instructor through our online learning management system, discussion forums and webinars. Learn where you live!
A growing professional future
The pandemic reminded us how critical supply chain and logistics are across every part of the world's economy. From computer chips to cars, food to pharmaceuticals– physical goods simply can't reach their destination without the systems and logistical services needed to get them there.
In Logistics Management's Annual Salary Survey for 2020, researchers noted that logistics salaries skyrocketed. The recent Supply Chain Salary and Career Survey Report from ASCM showed that supply chain professionals with at least a bachelor's degree reported a median salary of $78,750, according to ASCM's Survey Report. That is 24% higher than the national median salary.
A short step to a graduate degree
An added benefit, seniors who feel inspired to keep studying to obtain an MBA or M.S. degree may take graduate-level courses during their last two semesters for dual undergraduate and graduate credit. That means students can take nine graduate-level credit hours during senior year, and can complete their MBA or M.S. one year after graduating if they attend full time. See course catalog for additional details about the "3 to Degree" program.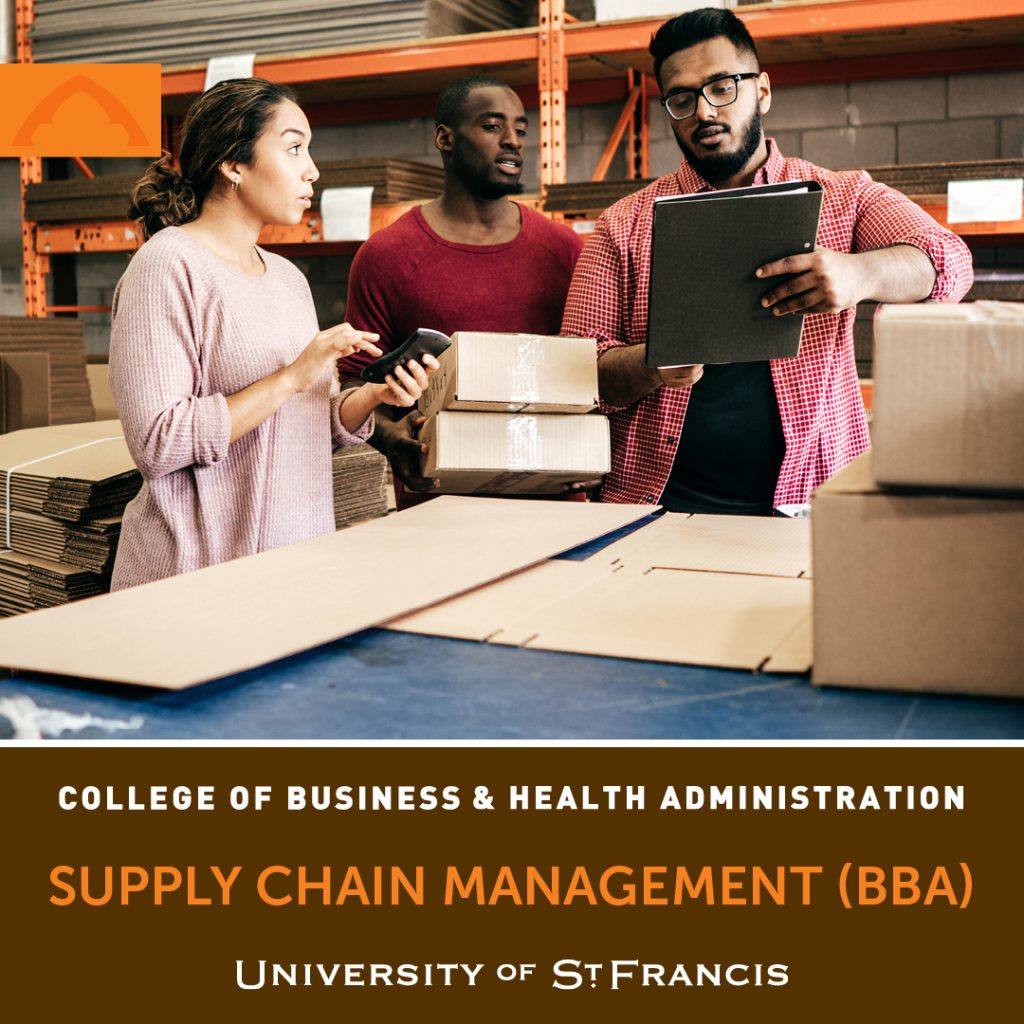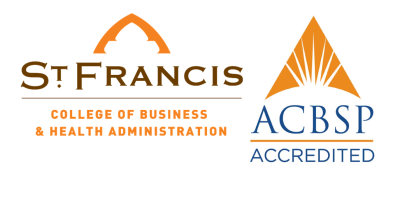 The University of St. Francis is accredited by the Higher Learning Commission (hlcommission.org), a regional accreditation agency recognized by the U.S. Department of Education.
USF's Supply Chain Management program is also accredited by the Accreditation Council for Business Schools and Programs (acbsp.org).
"USF has given me an unforgettable experience. Faculty members have allowed me to grow both intellectually and as a person. Each professor has supported me and my goals, and was more than willing to help me achieve anything I set my mind to. I was pushed and motivated to learn, grow, and become a better person. This incredible support system has surrounded me with an incredible group of colleagues, mentors, and friends."
–Autumn Lee
Grow Through Real-World Experience
Faculty members and administrators in USF's College of Business & Health Administration are extremely involved in the regional business community. That means they've got connections, and they're constantly being exposed to companies offering impressive internship opportunities. So many, in fact, that there are typically more opportunities than students to fill them! This is a key advantage to becoming a business major at USF. While not a requirement for graduation, internships are strongly encouraged because they offer junior and senior students invaluable real-world learning experiences. Most internships are paid experiences (though some are unpaid) and involve 10-25 hours of work per week for academic credit.
USF students have had internships at Disney World, Chicago Bears, Enterprise Rental Car, Caterpillar, Route 66 Raceway, the Joliet Slammers Pro Baseball team, and Mistwood Golf Club, just to name a few.