Joliet, Ill. – The University of St. Francis (USF) recently honored five outstanding alumni through the annual Distinguished Alumni Awards program in San Damiano Hall on Saturday, September 30, as part of the University's 2023 homecoming festivities. Five awards were presented to USF alumni, including The Presidential Alumni Award, the most prestigious of the Distinguished Alumni Awards, and one award from each of the university's four colleges in highlight of the diverse disciplines of a comprehensive university. The event also included the recognition of this year's honored year alumni (the classes of 2022, 2018, 2013, 2008, 2003, 1998, 1993, 1988, 1983, 1978, 1973 and before) and celebrated the University's 50th reunion alumnae as they were inducted into the USF Assisian Club.
The 2023 USF Distinguished Alumni Award winners include: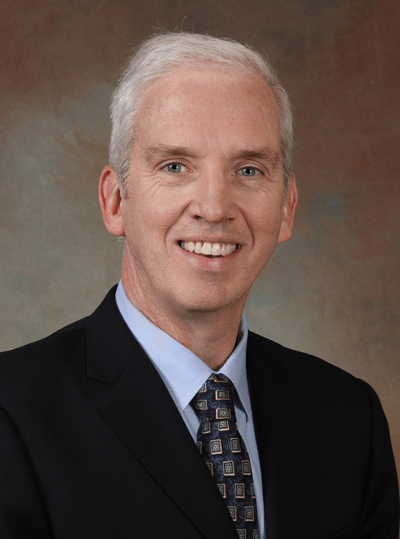 Presidential Alumni Award – Mike Brennan '81
Mike Brennan transferred to the University of St. Francis back when it was the College of St. Francis. He majored in Business Administration and was a member of the basketball team, where he made many lifelong friends and was lucky to have Pat Sullivan as his coach and mentor.
After graduating in 1981, Mike got a job at First Options of Chicago working on the Chicago Board of Options Exchange trading floor. In 2000, First Options was acquired by Goldman Sachs where Mike worked as a vice president until he retired in 2016.
Mike served as a trustee at the university for six years, co-chairing the finance and investment committees for two years. He experienced firsthand the collaboration and dedication that trustees bring to the university.
Mike is most proud to have contributed to and championed the capital campaigns in the naming of the Pat Sullivan Center and the Pat Quigley Court.
Currently, Mike is enjoying retirement by splitting his time between Arizona and Illinois with his wife Laura. They enjoy hiking, spring training baseball games, and any chance to see their sons, Joe, Dan and David.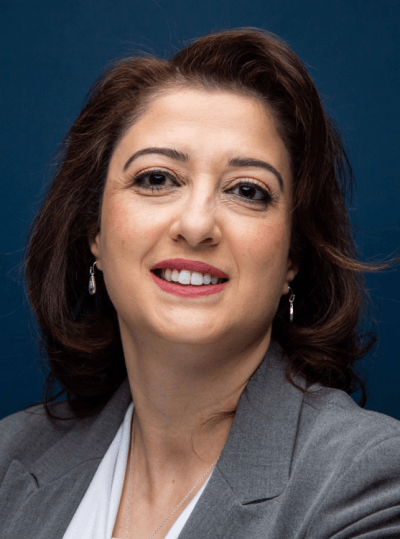 College of Education Alumni Award – Dr. Abir Othman '21
Dr. Abir Othman is currently the principal of Andrew High School in District 230, after serving as associate principal for 11 years and dean of students prior to that. She has been an educator for 26 years, serving the last 20 in District 230.
Dr. Othman was named Assistant Principal of the Year by the Illinois Principals Association in 2020 and the IPA South Cook Assistant Principal of the Year in 2019. She received the Illinois High School Theatre Festival Administrator Support Award in 2017, and the Outstanding Activity Director Award from the Illinois Directors of Student Activities in 2016.
Prior to joining District 230, she was an English teacher, academic advisor and administrator at Universal School in Bridgeview. Dr. Othman also served as head dean of students at Stagg High School in Palos Hills.
Dr. Othman is passionate about helping the community and making a difference for all students. Given her background as an immigrant looking to empower others, Dr. Othman has served for over ten years on the Board of Directors for Arab-American Family Services in Worth, an organization dedicated to helping families improve their quality of life. She is recognized as an emPower10 Women leader by the Arab American Business Professionals Association as one of ten most inspirational and empowering women in the state. She is also the first Arab American public high school principal in Illinois.
Dr. Othman earned Doctorate in Educational Leadership with Superintendent Endorsement from the University of St. Francis. The opportunity at St. Francis changed her life. She feels blessed for her wonderful experience at the College of Education. Additionally, the strong relationships fostered in her cohort with her peers and professors are unparalleled. Servant leadership is not just a token word used but was emulated by everyone in the College of Education. Dr. Othman also received a Master of Arts in Educational Administration from Lewis University and a Bachelor of Arts in English Secondary Education from Governors State University.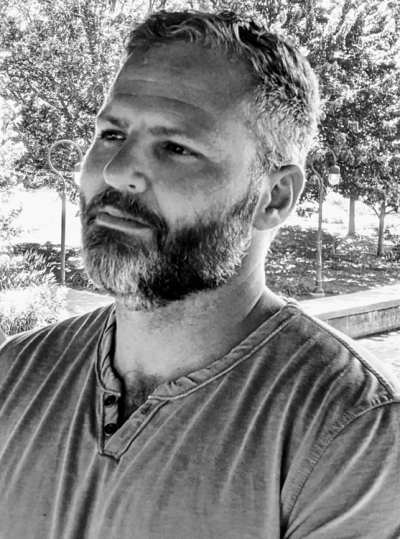 College of Arts & Sciences Alumni Award – Victorio Pellicano '04
Victorio Pellicano is the founder and CEO of Avianna, the most revolutionary AI software on the planet today. Born out of his relentless pursuit to make robots smarter and humans safer, Avianna is the world's first autonomous artificial intelligence software for robots that enables full autonomy and natural language communication between the robot and its operator. Avianna is revolutionizing how AI can be used for good, creating a transformative impact on our world through the intersection of robotics and AI.
Victorio is a veteran in software manufacturing whose path to founding Avianna was shaped by overcoming personal loss and navigating the founding, growth, and eventual sale of his first company to Oracle. Today, Victorio stands shoulder to shoulder with his team dismantling preconceived negative notions surrounding AI and actively enhancing the power of robots, data collection and surveillance, human safety, and the future of work. Beyond envisioning this future, Victorio is a devoted father of four (and counting), a loving husband, serial investor and active philanthropist.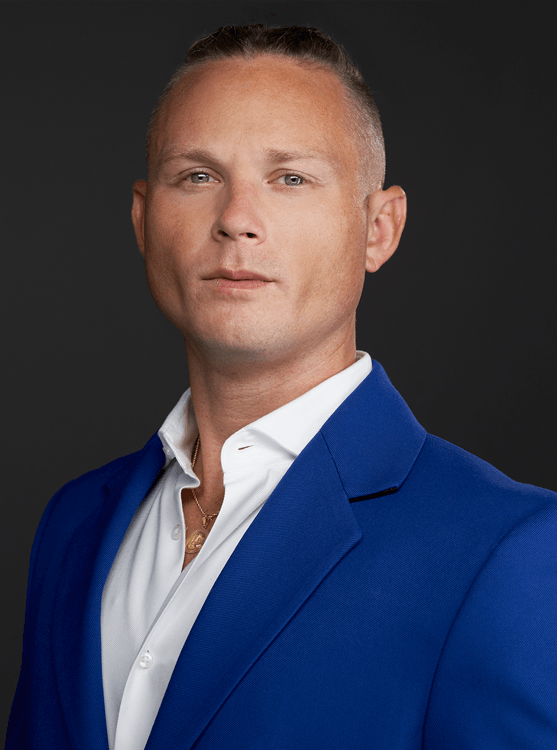 College of Business & Health Administration Alumni Award – Drew Wolfer '17
Drew Wolfer came to USF in 2015 when he was offered a soccer scholarship by Coach Ko Thanadabouth. He participated as a student athlete for the next two seasons before graduating in 2017.
While a student, he participated in Student Government Association as the CFO of his class, as well as being the economics and finance tutor. During his first year, Dr. Shannon Brown, now dean of the College of Business & Health Administration, invited Wolfer to work with her to assist a local company in better understanding their corporate culture and values utilizing SPSS software. He received the Support for Research Excellence "SURE" Grant. In the following year, he worked at Providence Advisors with another esteemed professor, Dr. Steve Morrissette. Wolfer advised a surgicalist group based out of Arizona on whether to expand, merge, or allow itself to be acquired. Both of these opportunities, as well as experiences he had through organizations and activitied he participated in at USF, helped Wolfer acquire countless skills that supported his growth as a soon-to-be entrepreneur. He graduated Summa Cum Laude and was inducted into the Phi Theta Kappa and Delta Mu Delta honor societies.
Upon graduation, Wolfer was hired by Liberty Mutual. He eventually transitioned to a position in cyber security and technology at the IronShore division of Liberty Mutual in Chicago. In 2018, he started an e-commerce business and expanded it to over eight figures within the first year. That afforded him the ability to gracefully exit Corporate America to pursue his passions in entrepreneurship. He founded a wholesale and distribution company in the suburbs of Chicago that serviced clients across the United States, importing products from Europe.
When the COVID-19 outbreak happened in 2020, Wolfer's import/export and wholesale/distribution companies took a backseat to e-commerce, which sparked and funded his entrepreneurial entrance into the blockchain industry in 2021. Since that time, he has founded multiple social media brands and channels, as well as a blockchain infrastructure company called Wolfer Finance in 2022. He was then approached with an opportunity to create and found a Silicon Valley-style technology startup company, PreSend, that now has a pending patent for transaction security processes inside the blockchain sector.
"My dream is to leave an impact on the world where my name will live on far after I have left this Earth, while also leaving a legacy and roadmap for my next generation of Wolfers," he says. "PreSend and Wolfer Finance might just be that opportunity for me, and with the help of the countless people that love and support me—whether present or past—I will continue to build and innovate where I see fit, as well as attempt to provide the best life I am able to afford for my family along the way."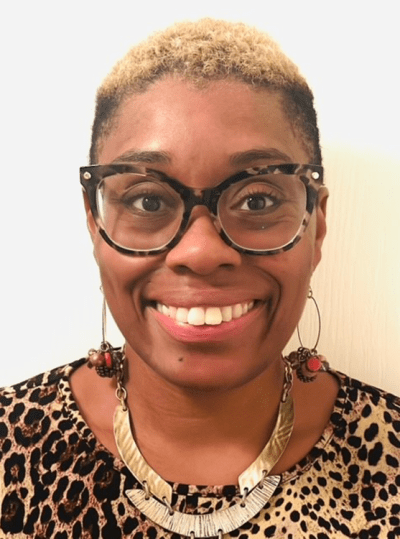 College of Nursing Alumni Award – Kayla Worley '17, '19
Growing up in the greater Joliet area, Kayla's grandparents and mother always instilled the value and importance of education. Upon completion of her bachelor's degree from Illinois Wesleyan University, she knew there was no question that she wanted to continue exploring her educational trajectory. She spent her early years as a nurse working on medical, telemetry, and post-operative units in Bloomington/Normal Illinois. In time, she was fortunate to have a once in a lifetime opportunity when she was relocated as an ER/trauma nurse at Northwestern Memorial Hospital in the Windy City. It was during this time that she found herself surrounded by colleagues and patients that continually whispered "keep going!"
She enrolled in the nursing program at USF with the intention to "test the waters" in online learning. "I've always loved learning," Kayla shares, "but I still wasn't convinced that I could be successful in a primarily asynchronous educational learning environment." Despite initial hesitations, Kayla did surprisingly well and quickly took a liking to the often despised "3 P" courses. Through the encouragement of some of the greats (Dr. Prince, Dr. Nardi, and Dr. Terrell), she quickly learned that she wanted to be active; not only on the education side of the nursing profession, but also clinically. This decision is what ultimately led to her to applying for the MSN-FNP track. A "few courses" eventually turned into a master's degree, and that turned into a prestigious doctorate! Kayla beams: "I've never had any regrets on becoming a USF Saint!"
Because of USF, she's enjoyed career opportunities in both primary care and urgent care settings over the last five year. She also served as a university faculty member in various online learning communities over the last two years. Kayla presented her USF doctoral thesis on "Structuralized Racism in Health Care: The Impact on African Americans" during the Doctors of Nursing Practice Conference 2019 mini podium presentation series in Washington D.C. She currently is embarking on a new journey as a complex chronic care provider in correctional medicine. This which has inspired her to revise her doctoral thesis and focus on the health of incarcerated African American males. She adds,"Thanks to USF, the support of my family, and loyal standardized patient (now husband), I have been blessed with many opportunities to unapologetically explore my passions and shine my inner light in health care communities around me!"
: :
The University of St. Francis, in Joliet, Ill., serves close to 4,000 students nationwide and offers undergraduate, graduate, doctoral and certificate programs in the arts and sciences, business, education, nursing and social work. There are over 53,000 USF alumni across the globe. For information, call 800-735-7500 or visit stfrancis.edu.


University of St. Francis: Bigger thinking. Brighter purpose.
# # #