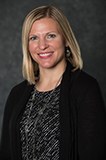 Angie, an Illinois native and Joliet resident since 2003, grew up in a family that hosted many foreign exchange students. Since then, her life and career have been devoted to promoting cultural and linguistic understanding between people all around the world. She received B.A. degrees in International Studies and Political Science from Loyola University Chicago, where she also received her M.A. in Political Science (International). She also has a M.A. in TESL (Teaching English as a Second Language) from Northeastern Illinois University. Angie studied abroad in Rome, Italy for a year and has traveled to more than 20 countries. Before coming to USF, Angie held positions in a refugee resettlement organization, a translation agency, and the international office at Rush University Medical Center, and she has taught or tutored ESL and academic English to very diverse students and refugees for more than 15 years. She is very excited to welcome international students to USF and to help facilitate unique cultural and academic experiences during their time in the United States.
Please contact Angie for information about:
English Language for Academic Purposes
International University Partnerships
English language support for USF students
Academic support for international students
Short-term intensive English language programming or cultural exchanges
Inter-departmental collaboration
Study Abroad
International student events and services
OPT, CPT, and international student employment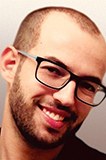 As a trilingual son of immigrants, Mike has considered himself a philosopher of language his whole life. His journey in higher education began in the Middle East and continued in the United States. He received a B.A. in Philosophy at Purdue University, where he started working with international students and fell in love with his work, and the rest is history. He obtained his M.A. in Teaching English to Speakers of Other Languages at Northeastern Illinois University, where he started formally teaching and recruiting in higher education. Mike has worked in many ESL and international programs and considers himself a proud advocate for immigrant and international students. His calling in life is to attend to the intersectional needs of students and helping them break through linguistic, academic, and social barriers. Mike started working with USF international students in September 2018 and is determined to have a global impact on the entire University of St. Francis community.
Please contact Mike for information about:
English Language for Academic Purposes
Language support for new and current USF students
Proof of language proficiency
Academic support and advisement for international students
International student services and events
Cultural transition and social adaptation in the U.S.
Academic/College Writing for international students
Short-term intensive English language programming or cultural exchanges
Inter-departmental collaboration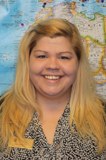 Lisa, an Illinois native, is a passionate and dedicated ESL instructor. Lisa received a B.A. degree in English writing from Elmhurst College and went on to pursue an M.A.E.D in Adult Education and Curriculum from the University of Phoenix. Since finishing her M.A., Lisa has been diligently teaching in the ESL field, covering topics from basic English acquisition to advanced academic English courses like American literature or Business English. With over six years direct teaching experience, Lisa likes to challenge her students and incorporate technology into every class she teaches. In fact, when not working inside the classroom, Lisa teaches ESL students from around the world online for Rosetta Stone as an English Coach. Lisa's motto is to make each learning experience engaging, enjoyable, and memorable. Lisa is also dedicated to professional development for herself and her colleagues, currently serving as Illinois TESOL's publicity chair. In her free time, Lisa enjoys traveling, reading, and cuddling on the couch with her husband and cats.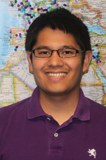 Dustin earned his Master's degree in Teaching English as a Second Language from Southern Illinois University Edwardsville in 2011. He began his teaching career at World Relief Chicago where he taught survival English to immigrants and refugees. A native of the Philippines, he enjoys immersing himself in other cultures, learning other languages, and sharing his heritage with others. He is currently learning the Thai language because one day he plans to live in Thailand. His teaching philosophy is based on teacher-student communication where students should never suffer in silence; he highly encourages students to ask questions all the time. When he is not teaching or preparing for classes, Dustin spends his time playing on Facebook and Tumblr. He also enjoys going to the cinemas despite the rising cost of entertainment.
Fernanda, born in Mexico but raised in Illinois, is the International Program's Student Worker. She is heavily involved on campus; she is the Vice-President of Diversity for the Student Government Association, is the Vice-President of the International Club, and is a Writing Tutor for the Academic Resource Center. She is a psychology undergraduate and is an ambitious advocate for diversity. Fernanda is very enthusiastic about making sure students of all backgrounds feel welcomed and find their place at USF.
Ana, from Switzerland, graduated in Media Science and Communication from the University in Zurich. Ana is currently a Graduate Student at the University of St. Francis and a Graduate Assistant here at the IPO office. She also completed her Undergraduate Senior Year here at USF and enjoys being part of the USF family. Before coming to USF, she was studying in Los Angeles and had the opportunity to gain some working experience in Switzerland. Ana enjoys traveling, meeting new people from all over the world, spending time with friends and family, and learning more about different cultures. She is very excited to help new students that are joining USF and do her best to make them feel welcome and comfortable. As an international student, Ana knows exactly how it feels like being far away from home and wants to help other international students to enjoy their experience in the U.S. Joliet is a beautiful and historical place close to Chicago and the family orientated atmosphere here on campus will make every new student feel like home.
---
The International Programs Office also works closely with the USF Admissions Office. For specific questions about academic programs offered at the University of St. Francis or admissions requirements, please contact intladmissions@stfrancis.edu.