Alumni Spotlight: Madison Blackwood '15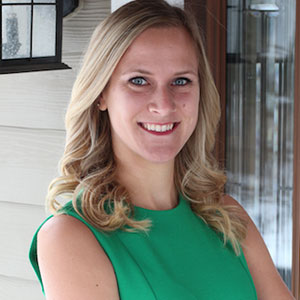 USF SAM Mentor of the Year is a multi-talented businesses owner with big dreams and an even bigger heart.
Our Student Alumni Mentoring (SAM) Mentor of the Year, Madison Blackwood '15, is a Jane of all trades. Not only is she a full-time real estate agent for Baird & Warner, but also runs her own photography business, Madison Paige Photography, and is an adjunct professor at USF, teaching Speech classes. She credits USF, in part, for her success.
"USF has allowed me to meet people and expand my professional circle, leading me to more opportunities. Being a small campus, alumni are always willing to help their own and hire them because they know the type of education that was received," she said.
Even with all this on her plate, Madison had time to volunteer in the Student Alumni Mentoring (SAM) program and earned the title of SAM Mentor of the Year. She genuinely enjoyed working with her mentee and helping reach her goals.
Madison reflected on her experience with the SAM program, saying, "I loved the SAM program this semester. My background and experiences meshed perfectly with where she wanted to see her career and future go. I was able to offer a different perspective and allow her to feel more comfortable with the choices she was making when coming to her internship opportunities. Talking through choices with someone who has been there before makes the decision easier, and I'm glad I could be that sounding board for her."
Although Madison's wisdom benefited her mentee, giving back to USF via the SAM program was rewarding for the Madison too, who in hindsight wishes she would have been involved in the program as a student.
"I really enjoy getting to help a student plan for their future. When I was a student, I didn't get involved in the program and wish I would have. To have someone who had been there before to lend an ear and listen to what I was thinking would have been beneficial. It's so easy to get inside our own heads and what we want the future to look like; it makes it easier to have someone there to reel us back in to reality and realistic expectations," she stated.
Regarding the honor of being the SAM Mentor of the Year, Madison said, "This was CRAZY to me. I feel so honored to be awarded this title, because I was just doing what I would do anyways. I am always happy to help a current student. My mentee was incredible and really made the program this year very memorable."
Madison loves to come back to visit the MCOM/CMMA department, and she hopes to continue to give back to USF and grow professionally.
"I am really looking forward to next semester and future semesters on campus helping students in the classroom, but also in the SAM program. Plus, if the year continues the way it is, I am hoping to be in the Top 200 Agents within my real estate company which would be a huge honor," she said.
We know Madison will continue to achieve great things, and we are so proud to call her a USF alumna.