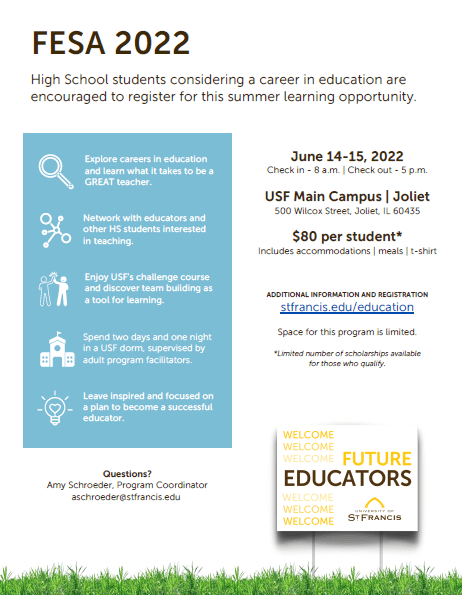 Joliet, Ill. – High School students considering a career in education and who are interested in a unique, on-campus leadership experience are encouraged to participate in the University of St. Francis (USF) College of Education's Future Educator Summer Academy 2022 in June.  
USF's Future Educator Summer Academy 2022 will take place on June 14-15, 2022, on the university's main campus in Joliet. The experience will provide opportunities for participants to:
explore careers in education and learn what it takes to be a GREAT teacher;
network with educators and other high school students interested in teaching;
enjoy USF's challenge course and discover team building as a tool for learning;
spend two days and one night in a USF dorm, supervised by adult program facilitators, and;
leave inspired and focused on a plan to become a successful educator.
"The Future Educator Summer Academy program is crucially important for two reasons. First, it allows high school students who are either dreaming of, or considering the possibility of, becoming a teacher have their dreams validated. Second, it inspires students to go into this profession with eyes wide open through inspiring and challenging activities," said Future Educator Summer Academy program coordinator and USF reading program coordinator Amy Schroeder.
"In 2021 over 6,200 education positions in Illinois remained unfilled. It is the College of Education's mission to provide the students of Illinois with the best teachers around, and recruiting the best and brightest from high schools is the first step," Schroeder added.
The program is open to high school students who have completed at least their sophomore year. The cost per participant for the program is $80 and includes accommodations, meals and a t-shirt. A limited number of scholarships are available to qualifying students. To register, visit stfrancis.edu/education. Space for this program is limited. Contact program coordinator Amy Schroeder at aschroeder@stfrancis.edu with any questions.
: :
The University of St. Francis, in Joliet, Ill., serves close to 4,000 students nationwide and offers undergraduate, graduate, doctoral and certificate programs in the arts and sciences, business, education, nursing and social work. There are over 52,000 USF alumni across the globe. For information, call 800-735-7500 or visit stfrancis.edu.
University of St. Francis: Bigger thinking. Brighter purpose.
# # #