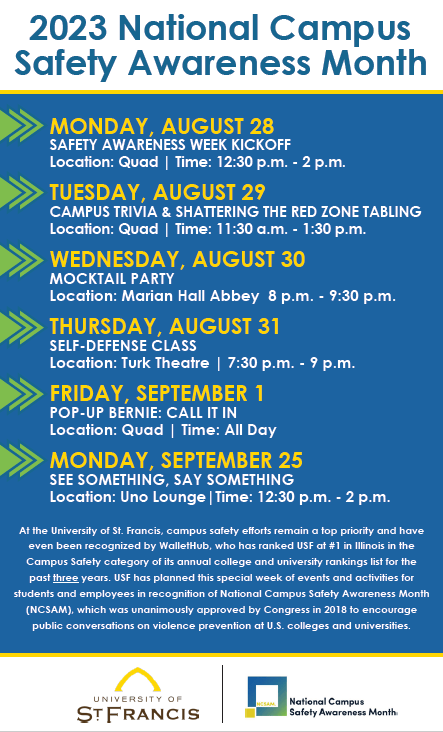 Joliet, Ill. – In 2008, National Campus Safety Awareness Month (NCSAM) was unanimously approved by Congress to encourage a public conversation on important topics in violence prevention at our nation's colleges and universities each September. At the University of St. Francis (USF), campus safety efforts remain a top priority and have even been recognized by WalletHub, who has ranked USF at #1 in Illinois in the Campus Safety category of its annual college and university rankings list for the past three years.
In recognition of 2023 National Campus Safety Awareness Month, USF has planned a special week of events and activities for students and employees, including:
Monday, August 28: 2023 National Campus Safety Awareness Week Kickoff (main campus quad and pavilion from 12:30 p.m. to 2 p.m.)
Tuesday, August 29: Campus Trivia & Shattering the Red Zone Tabling (11:30 a.m. – 1:30 p.m. on the main campus quad)
Wednesday, August 30: Mocktail Party (Marian Hall Abbey from 8 p.m. to 9:30 p.m.)
Thursday, August 31: Self Defense Class with Southwest Chicago Shotokan (Turk Theatre from 7:30 p.m. – 9 p.m.; students and employees wanting to participate will need to pre-register by emailing wlinz@stfrancis.edu)
Friday, September 1: Pop-Up Bernie – Call It In (all day on the main campus quad)
USF also has plans to offer an on-campus information table on Monday, September 25t, in recognition of National "If You See Something, Say Something®" Awareness Day through the U.S. Department of Homeland Security.
"USF's recognition of National Campus Safety Awareness Month is an opportunity for the university to remind everyone – students, employees, and our neighbors – of the critical role they have in helping to keep our campuses safe while also celebrating their efforts that have resulted in national recognition from WalletHub," said Dave DiLorenzo, USF Director of Community & Employee Relations.
: :
The University of St. Francis, in Joliet, Ill., serves close to 4,000 students nationwide and offers undergraduate, graduate, doctoral and certificate programs in the arts and sciences, business, education, nursing and social work. There are over 53,000 USF alumni across the globe. For information, call 800-735-7500 or visit stfrancis.edu.
University of St. Francis: Bigger thinking. Brighter purpose.
# # #