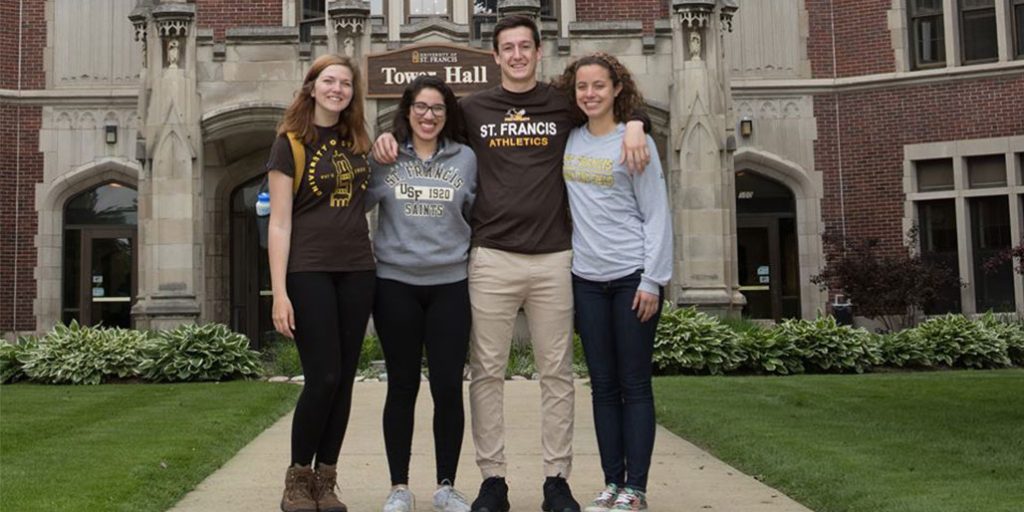 At the University of St. Francis, your admission experience will be individualized and you will be assisted by a personal admission counselor each step of the way. Once you have completed the items on this checklist, you are one step closer to being accepted to the University of St. Francis!
When you ARE accepted, visit this page to learn more about additional checklist items.
All transfer students must meet the following requirements:
2.5 cumulative GPA from all previous college coursework
Eligibility for continued enrollment at the last post-secondary institution attended
Students who do not meet this requirement must submit additional proof of education or experience from any of the following:

Military experience
Interruption of schooling for one or more years
Work experience
Previous academic performance

Graduation from a recognized high school or satisfactory completion of the GED (General Educational Development Test)
Demonstration of college-ready proficiency (grades of "C" or higher within the last three years) in:

Mathematics – through completed coursework equivalent or higher than the USF course MATH 099
English – through completed coursework equivalent or higher than the USF course ENGL 111
University of St. Francis is a participant in the Illinois Articulation Initiative (IAI) which is a statewide transfer agreement between colleges and universities in Illinois. IAI works best for students who know they are going to transfer but undecided on the college or university that will grant their baccalaureate degree. Visit itransfer.org for more information about IAI.
For students that are transferring from a community college, please review the Transfer Guides we've created for many area community colleges to prepare you for transferring.
Additional Admission Requirements for Nursing
If you have earned a minimum of the equivalent of 12 semester hours from another college or university and want to be considered for admission at the University of St. Francis, you need to submit the following:
Completed transfer admission application – Apply Online with no application fee!
Official transcript(s) from all previous colleges and universities attended
Official high school transcripts if you have earned less than 30 semester hours or those for which proficiency in specific course work is determined necessary
All application materials should be submitted online or mailed to:
University of St. Francis Office of Admission, 500 Wilcox St., Joliet, IL 60435
Click here to visit campus and see if USF is a good fit for you! We offer several visit formats on numerous dates throughout the year.
Contact Your Personal Admission Counselor
At USF, every prospective student is assigned a personal admission counselor. That counselor can be reached by email, phone, cell phone, text messaging, or instant messaging. They are available to answer any questions you might have, or issues you have going through the admission checklist. For a list of personal admission counselors and their contact information, click here.