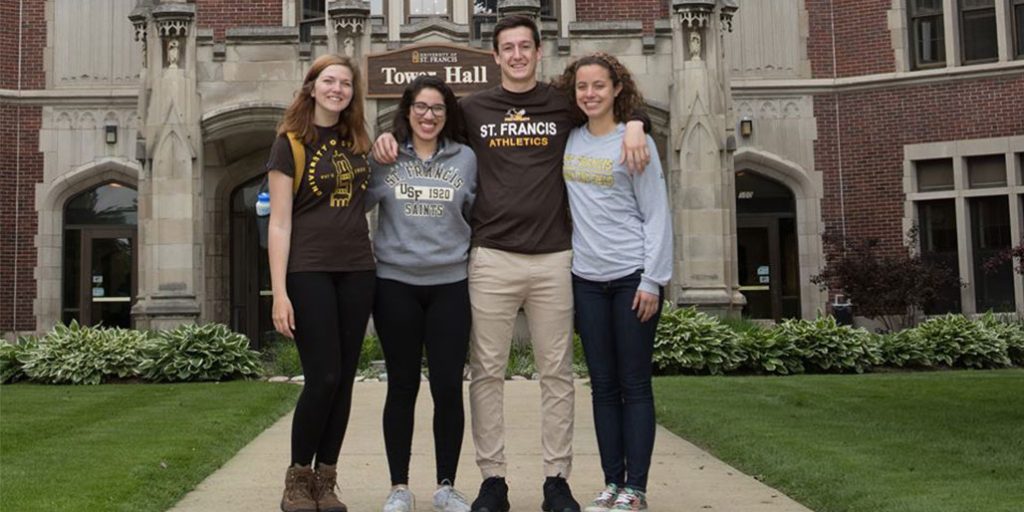 At the University of St. Francis, your admission experience will be individualized and you will be assisted by a personal admission counselor each step of the way. Once you have completed the items on this checklist, you are one step closer to being accepted to the University of St. Francis!
When you ARE accepted, visit this page to learn more about additional checklist items.
You need to provide high school transcripts, showing successful completion of a college prep curriculum, including:
English – 4 years
Mathematics – 3 years (Geometry and two additional courses including one full year of Algebra I or its equivalent,or any other courses above Algebra I)
Social Studies – 2 years
Science – 2 years (one with lab)
Foreign Language, Computer Science, or Music/Art – 3 years (courses from two of these three areas)
Electives – 3 years
And then answer these questions:
Do you have a 2.5/4.0 cumulative grade point average or higher?
Do you have a 1030 SAT/20 ACT score or higher?
If you meet these requirements, congratulations! Don't hesitate, apply right away! If you do not meet the above requirements, there are other entrance options– review additional admission requirement options here.
If you are a high school student wanting to be considered for admission at University of St. Francis, you need to submit the following documents:
Completed freshman admission application (no application fee) – apply online through USF or through the Common App
Official transcript sent from the high school last attended
SAT or ACT scores – if you haven't taken the SAT or ACT yet, visit ACT or SAT to register for the exam. To have your test scores sent directly to the University of St. Francis, enter code 1130 for the SAT or enter code 1000 for the ACT.
All application materials should be submitted online, or mailed to:
University of St. Francis Office of Admissions, 500 Wilcox St., Joliet, IL 60435
Visit our campus to help ensure that USF is the best fit for your educational goals. We offer several options, and strongly encourage you to schedule a personal visit. Click here for options to visit campus.
Contact Your Personal Admission Counselor
At USF, every prospective student is assigned a personal admission counselor. That counselor can be reached by email, phone, cell phone, text messaging or instant messaging. They will answer any questions you might have, or issues you have as you go through the admission checklist. For a list of personal admission counselors and their contact information, click here.